Mon people in Burma held colourful celebrations on Wednesday to celebrate the 68th Mon National Day.
Min Kyi Min, deputy-chairman of the organising committee of the Mon National Day celebrations, told DVB that hundreds of people attended the main event in the town of Ye in Mon State.
The celebrations in Ye included ceremonial flag hoisting, with speeches by a Buddhist monk and political party leaders. The event also saw awards conferred to Mon language teachers.
"We plan to honour teachers who have taught Mon language for the past 20 years," said Min Kyi Min.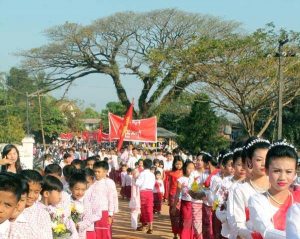 Mon groups have led a committed campaign to allow the teaching of ethnic languages in schools. According to Mon State's Minister of Culture Min Nwe Soe, Mon literature has been taught as a part of the curriculum since 2013, outside of school hours.
Mon National Day was first celebrated in 1947, commemorating the ancient founding of the last Mon Kingdom of Hanthawaddy.
The National League for Democracy, in its message to mark Mon National Day, said: "We are proud of the Mon people who have been prominent in Burma's history. They have actively participated in the effort to establish a democratic union of Burma, and contemporary movement for the country's development."
Next year's Mon National Day will be held in the Belu-kyun Township.
The Mon peoples are thought to be amongst the earliest of Indochinese groups, founding areas of civilisation as early as 550 AD. For the next few centuries, the Mons fought to retain independence under Pagan [Bagan] and then Bamar [Burman] rulers. The Mon people subsequently suffered persecution at the hands of the Burman rulers, and managed to survive the presence of British colonialists despite being heavily controlled by the administration.
[related]
Following independence from the British, the Mon launched a fight for autonomy but were brutally crushed by the ruler U Nu. A Mon state, known as Monland, was created in 1974, however conflicts between the Burmese regime and Mon armed groups continued until a ceasefire was announced in 1996, though sporadic violence still affects the region.