DVB Debate this week discussed the obstacles that stand in the way of the next generation's path to success.
Speaking on the panel at Pansodan studio in Rangoon were: youth writer Linn Thaik Nyunt; youth platform leader for the Myanmar Women Entrepreneurs' Association, Thinn Thinn Sett; and founder of Mingalar Myanmar, Dr. Phone Win.
Dr Phone Win suggested that to be successful, it is not enough to have skills, you also need to have close ties with the government.
"If you find someone who is rich and not a crony, point them out to me," he said.
"If you don't have the government in your pocket, there will be no water from the faucet."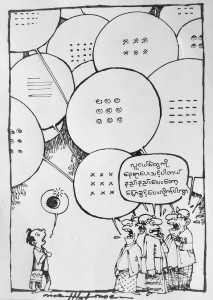 Writer Linn Thaik Nyunt said the conditions in Burma meant it would take a long time for Burma's future entrepreneurs to make it. He mentioned that Microsoft billionaire Bill Gates and former CEO of Apple, Steve Jobs, both dropped out of school but still became highly successful.
"In Burma, if you drop out in second year, you will become a beggar," said Linn Thaik Nyunt.
But Thin Thin Sett claimed young people needed to take an active role in pursuing opportunities.
"Sometimes opportunities come to you and sometimes you have to go grab them yourself. I do not agree with young people if they are just going to wait for the opportunities to come to them," said Thin Thin Sett.
One of the main arguments in the debate was the issue of cronyism. Panelists said corruption was a big problem in Burma and was the reason why so many of the country's brightest did not become successful.
"Cronies exist because of corruption. If young people continue to do things the way cronies do, corruption will never cease," said studio guest and National Democratic Force party member, Aung Ko Ko.
Salai Samuel from the Chin Youth Forum agreed and claimed only one in ten people are successful without having ties to cronies.
"I agree with the fact that we can only be successful if have ties with persons in power," he said.
[related]
The studio generally concurred that the younger generation would have a better chance of being successful when corruption was tackled. They also agreed that young people needed to work harder but said there needed to be societal systems in place that allowed young people to pursue opportunities.
Next week on DVB Debate: To what extent is Burma ready for refugees to return home?
You can join the debate and watch the full programme in Burmese at www.dvbdebate.com
Or share your views with us by commenting on our website at www.dvb.no