Burma is known for its use of forced labour. Conscription of local villagers by the government and the army to work without pay is a long-established practice in the country.
Under military rule, the Burmese army routinely forced civilians to work on state infrastructure projects, such as the building of roads, military bases or even towns. The army has also been criticised for recruiting villagers as porters – carrying military supplies from base to base – or for tasks such as camp work and preparing food for soldiers.
But these issues continue today. In 2013, a Global Slavery Index by the Walk Free Foundation reported that there are 384,000 Burmese people living in slavery.
"Forced labour and human trafficking happens in all 14 states and regions in Burma," said Chit Oo Maung, director at the Labor Rights Clinic. "According to media and research, we know that it occurs mostly in densely populated urban areas."
Audience member Ye Win, from Asia World workers' union, explained to DVB Debate's panel that slavery in the workplace, especially in factories, is widespread. The long hours and meager pay constitute modern slavery, he said.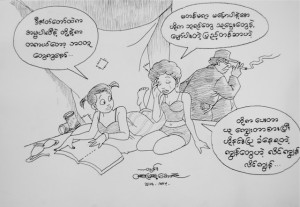 "While working in a factory I learned that modern slavery is endured by factory workers every day," he said.
Panellists discussed why forced labour continues to be such a pervasive issue in Burma. The chairman for Myanmar Trade Unions' Federation, Aung Lin, blamed the government's failure to crack down on abusers.
"Our country is like this because the government has failed to perform its task and take action," he said.
Chit Tin, senior programme officer for Forced Labour Affairs at the International Labour Organization (ILO), said it was up to the people to pressure the government to act.
"The people have a major responsibility. The government has failed to perform the duty that we have given them, but to make the government perform its duty, we the people need to have mutual respect, and we must follow the rules in order to have rule of law. Until we do this, reform will never progress," he said.
Aung Lin argued that this alone would not solve the problem.
"In only building people's capacity, we will not affect the central control of the government," he said. "It is more important that the government itself should increase its performance alongside the people."
Ongoing civil war, human rights abuses and poverty have led to mass migration in Burma – both internally and internationally.
Migrants are particularly vulnerable to modern slavery and many fall into the hands of traffickers.
"What some overseas employment agencies are doing is technically human trafficking," said Ei Shwe Sin Nyunt from the Labour Rights Defenders and Promoters.
But the secretary-general of the Myanmar Overseas Employment Agencies Federation, Kyaw Htin Kyaw, argued that human trafficking through employment agencies is a thing of the past.
[related]
"Previously, some brokers were committing human trafficking offences under the title of employment agencies. Other countries accepted it. But during that time, the recruitment was not controlled, and that is why these cases occurred," he said.
Trafficking is a common way of recruiting women for the sex trade, and deceptive recruitment has led to women sold as brides, or commercial sexual exploitation.
Panellists discussed the added risk for women who fall into the hands of traffickers.
"In modern slavery, sex workers are the major victims," said Aung Lin.
Daw Thiri from Sex Workers in Myanmar Network said that although there are hotlines women can call if they are in trouble, by the time they seek help it is often too late.
"There are numbers that victims can contact. But by the time they have a chance to contact someone, they have already been trafficked and their lives have already been destroyed," she said. "After that, all they can do is find a way to survive."
The studio generally agreed that more action needs to be taken to stop forced labour in all its forms. Panellists advocated that vulnerable people need to be made aware of the risks and their options.
You can join the debate or watch the full programme in Burmese at dvbdebate.com
Or share your views with us by commenting on our website below.