While Burma continues on a course of political liberalisation as the country transitions towards democracy, the legacy of judicial corruption remains at the forefront of public debate.
Under military rule extreme corruption and the politicisation of Burma's judiciary led to the destruction of rule of law in Burma.
Judges are well-known for accepting bribes and following instructions from the executive arm of Government and lawyers regularly face harassment and intimidation.
On the panel this week former Magistrate, Khin Than; Pyone Cho from 88 Generation Peace and Open Society; Advocate Maung Maung Win and MP Khin Saw Wai, from the Rule of Law Committee.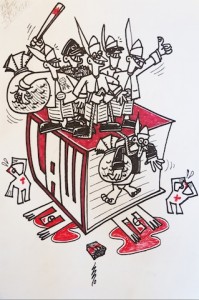 Panelists debate the biggest challenges to ending corruption in the legal system and raise concerns about the lack of independence in the Judiciary.
"The parliamentary judges and the state judges are appointed by the president and the parliament so those parties influence on the legal system is obvious," says former Magistrate Khin Than.
Advocate Maung Maung Win agrees, saying laws used to prosecute corrupt Judges are not enforced. "Since 1988 the anti-corruption law has almost never been used," he says.
Former political prisoner Bo Kyi insists that police are also above the law and sometimes use brutal methods to force false confessions from people . "The police files a case with the judge and they work together to come down with an unfair verdict.  So until we can charge them we cannot make real change," he says.
However, some argue that it is the system that has led to this situation, not the individuals  "People are corrupt, not just because of their personal ethics but because of the system.  In our system we fill it with employees whose mindset is set to this system, and we don't have any independent employees" says lawyer Ko Ni.
Lawyers in Burma have little protection within the system.  The country has not independent Bar council and lawers continue to face challenges, particularly in politically sensitive cases.
"Especially when a case involves politicians they set limitations for the lawyers so the defence can not do as much. So they actually itimidate the lawyer by trying to lay charges on them," says Pyone Cho who was arrested and imprisoned for political reasons.
[related]
In Burma's criminal justice system, more than 90 percent of accused are convicted, often under broad and loosely applied laws, seemingly irrelevant to their original arrest.
The panelists at least agree that corruption remains pervasive in the legal system as demand for proper rule of law continues throughout the country.
You can join the debate and watch the full programme in Burmese at dvbdebate.com
Or share your views with us by commenting on our website at dvb.no