Burmese puppetry in Bangkok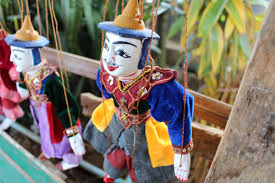 The famed Burmese art of puppetry – yoke thé – will feature at the Harmony World Puppet Carnival in Bangkok.  The popular art-form has a long-standing history in Burmese culture and was once reserved as the entertainment fit for royalty. The Rangoon-based Htwe Oo Myanmar Traditional Puppet Theatre will represent Burma at the event, which stretches across ten days from 1– 10 November, and will include a line-up of some 114 performances from 66 countries. Khin Maung Htwe, the art director of the Htwe Oo theatre, said that his team is scheduled to deliver a one-hour performance from 8– 9pm on 2 November. This will however be a shorter version of the traditional yoke thé, which usually lasts throughout the whole night. Khin Maung Htwe added that the Burmese marionette troupe will perform the performance in English, Thai and Burmese languages.
"We plan to open our session with
apyodaw yein
[dance] and also feature a drama about Thambula, a noble woman. We shrank it down into a 25-minute segment," said the art director. The show will end with a dance by U Shwe Yoe and Daw Moe. The
once lost art of yoke thé
is now regaining popularity with the tourist influx into Burma. With themes ranging from Buddhist and Hindu mythology to that of love stories, prince and princesses packed together with poems and ballads, a Burmese
yoke thé
typically exhibits folklore and drama at its best. The Harmony World Puppet Carnival was originally held annually in the Czech Republic, but later was exported across the world. In 2013 it was held in Indonesia. The Htwe Oo Myanmar troupe is also planning to showcase a performance for Burmese migrant workers in Bangkok's Mahachai during its trip to Thailand.