Controversial blogger not yet identified: MP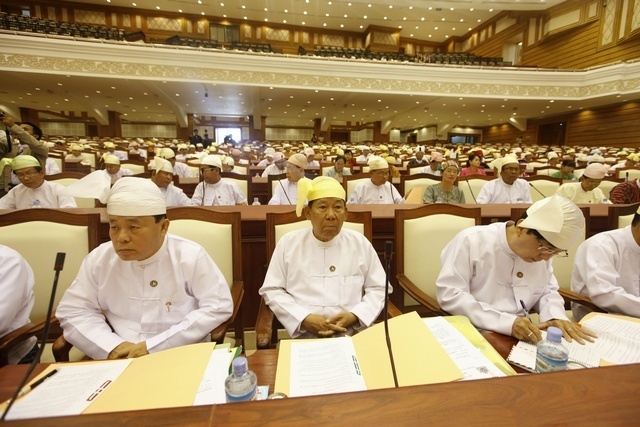 A controversial blogger, whose identity is reportedly set to be "exposed" by Burma's parliament in June for writing an article that criticised its legislative powers, has not actually yet been identified, an MP has told DVB.
It follows media reports that the blogger – known under the fictitious name Dr Seik Phwa – was identified by members of the parliamentary commission set up to "investigate and take actions" against him, although they refused to reveal his name.
But a commission member contacted by DVB on Thursday denied that the commission had identified a single individual as Dr Seik Phwa, but rather sent a list of suggested names to the speaker of Burma's union parliament, which will be reviewed in late June.
"We conducted interviews with around 30-40 individuals from government and military organisations, journalists and computer technicians, picked out information that should be taken into account and submitted it to the union parliament," said Phone Myint Aung.
"[But] none of the individuals we met confessed that he or she is Dr Seik Phwa."
Phone Myint Aung said that it will be up to the speaker of the union parliament to identify the blogger based on their report, but added that he still expected the name to be revealed at the start of the next parliamentary session.
Earlier this week, the commission's chair, Mya Nyein, suggested that the mystery blogger had been discovered.
"I don't want to say [Seik Phwa]'s [real] name because I don't want to inflict harm on the individual but the [parliamentary] speaker has drawn his conclusion," Mya Nyein told The Voice Daily, after submitting their report.
The commission was established in February after the blogger slated Burma's parliament in a blog post called "Is the parliament above the law?". It followed an escalating stand-off between parliamentarians and the president over the role of Burma's constitutional tribunal.
The case has drawn condemnation from both free speech advocates and parliament watchers who say the investigation is a waste of time. A political analyst based in Rangoon told DVB the case "signifies the problem of capacity in the parliament" and derided the notion that the blogger had been identified.
"How can you look for a needle in a haystack?", said the analyst, who asked not to be named. "I have treated the whole saga as a sick joke, because every time I hear the story it makes me laugh."
"My feeling is that [parliamentarians] take their jobs too seriously – this is a transitional disease. You have to understand the political side of transitions – [Dr Soe Yin, who tabled the motion against the blogger] is an expert at law, but I wonder if he really understands politics."
Although little is known about Dr Seik Phwa — who kept a popular blog that regularly criticised opposition leader Aung San Suu Kyi and ethnic minority rebels — the case appears to reflect growing rifts within the ruling political elite.
His articles have been featured in the military-backed website Myanmar Express and many insiders believe he is a regime crony close to President Thein Sein. Even the President's spokesperson, Ye Htut, has been forced to publicly deny being the mysterious blogger.
But the case has cast a heavy shadow on Burma's nascent steps towards media freedom. A spokesperson for the free speech advocacy group, Article 19, described the case as "witch-hunt aimed at silencing legitimate democratic discussion".
"No democracy in the world would contemplate the idea that a whole parliament can be defamed," Oliver Spencer told DVB. "Criticism and debate about the actions of a government is fundamental to democracy."
It is unclear what penalties Dr Seik Phwa would face if he were identified, although it is likely to include a "formal apology" issued to parliament. A report by Eleven Media, which has previously described the blogger as a "serial slanderer", suggests that Dr Khin Maung Nyo, an editor who allegedly re-published the offending article, could face criminal defamation charges on his behalf.
According to the report, the commission has recommended that Dr Khin Maung Nyo "has the responsibility to reveal the identity of Dr Seik Phwa and only he is responsible for the blogger's writings."
Spencer says the case illustrates that Burma's media is far from free.
"If the Burmese parliament really wanted to ensure democracy and development, they would stop hunting bloggers and start reforming laws," said Spencer. "Parliament is not there to dictate what people should think or punish those that think differently."
Burma currently ranks 151 out of 179 on the Reporters Without Borders media freedom index.
-Ye Thu provided additional reporting