Despite reforms, Burma's lawyers still live in trying times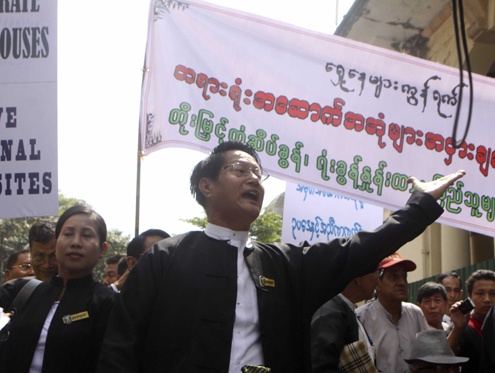 After decades of mismanagement, Burma's legal system remains subject to political pressures and a pervasive culture of corruption. This has a profound effect on the ability of lawyers to practice their profession independently, according to a report released Monday by the International Commission of Jurists (ICJ) in Rangoon.
The Geneva-based ICJ conducts research on legal issues pertaining to human rights worldwide, and works with legal professionals and national governments to "strengthen national and international justice systems." The ICJ played an instrumental role in formulating the 1990 UN Basic Principles on the Role of Lawyers, a comprehensive set of international norms and standards on rights to govern the legal profession worldwide, and much of its work is dedicated to promoting its standards.
By all measures, Burma has a long way to go. "Over the past four decades, in particular, in Myanmar [Burma], virtually every single one of the basic principles on the independence of lawyers were violated," said Sam Zarifi, the ICJ's Regional Director for Asia and Oceania. "The track record for the independence of lawyers… was quite poor. But it's also clear that since 2011, in particular, there have been significant improvements."
The legal profession in Burma declined in prestige over the course of four decades of military dictatorship, as the fundamental absence of the rule of law and a lack of government support for legal education have left courts incapable of fairly adjudicating disputes and meting out justice. The decline in standards became particularly pronounced after the failed 1988 uprising against military rule, when lawyers and law students used their professional skills to fight the regime.
Lawyers today are still subject to political pressures that interfere with their work, despite political reforms over the past two years. "The area of least improvement… has been in the activity of lawyers who work on politically sensitive cases," Zarifi said. "Cases that, essentially, challenge the authority of the government, in particular the security forces, and, increasingly, [challenge] the economic interests of the government and powerful figures."
Burma's lawyers lack an independent bar association to set rules and standards and look out for their interests, as the existing society is controlled directly by the attorney general's office. The Myanmar Lawyers' Network, an umbrella organisation that seeks to protect lawyers' rights and push for legal reform, was founded in November 2011 by prominent jurists, but it does not hold official status.
Thein Than Oo, the organisation's joint secretary, does not believe reform runs deep in Naypidaw. He hopes to see a truly independent bar association established, but refuses to take part in the current structure, which he deems a "puppet regime."
"Thein Sein is a former general. Now he is President Thein Sein. The same position. He is always wearing a smiling face. But his heart is genuine military junta. It's only a disguise," he said.
But Burma's bar association wasn't always so demure. In 1988, elements within the bar association were at the forefront of anti-government agitation – and Thein Than Oo served ten years in prison for his political activities starting in 1990. He was no stranger to incarceration, having already served a four-year stint behind bars in the 1970s for demonstrating against Ne Win, and he subsequently spent 21 days in detention during the "Saffron Revolution" of 2007.
"[Since] the 1988 uprising, the bar council has bravely fought them [the military]," he said. "So they don't like lawyers. They hate lawyers. They want to revoke our licences. We don't trust them."
Under the UN Basic Principles on the Role of Lawyers, advocates are supposed to be immune from politically-motivated sanctions against them. But harassment still occurs, and it's difficult for individuals embroiled in politically sensitive cases to secure representation. "One area where the numbers have not decreased – and have possibly increased – is in the cases of lawyers' ability to represent clients – particularly Muslim clients, and particularly Rohingya clients," Zarifi said. "This issue has actually grown sharper. The lawyers we spoke with uniformly said that they stay away from such clients."
Although it is rarer than it was in the past, the bar association occasionally strips 'activist' lawyers of their accreditation, and the process to re-secure it is far from clear. Thein Than Oo's licence to practice law was reinstated in 2012 after a year of petitioning, but other activists' rights to practice remain in limbo. Nyi Nyi Htwe, 36, serves as a case in point. Along with a partner, he runs a small legal clinic in northern Rangoon's Hlaing Township, but cannot directly represent his clients as he was stripped of his licence in 2007, and spent six months in prison for his role in the uprising. Despite repeated petitions to the President's office, the National Human Rights Commission and the Supreme Court after his release, his licence has not been reinstated. This, he feels, is a result of his ongoing work with displaced farmers seeking recourse against powerful economic interests – a brand of activism the government has little patience for.
The issue of land ownership in Burma has long served as an important flashpoint. Endemic under the old military regime, land grabbing has been exacerbated by the spoils promised by Burma's new economic openness, and the displaced have little recourse through the courts. Indignation surrounding the development of the Latpadaung copper mine project – a joint venture between the military's economic arm and a Chinese state-owned weapons manufacturer – is the most prominent example of the kind of negative feedback the government wants to avoid.
"Challenging the military, of course, remains hugely problematic in Myanmar because of the special impunity written into the constitution, and essentially the inability to challenge the military in civilian courts," said Zarifi.
But even though politicised cases are highly problematic, most of Burma's lawyers have more down-to-earth concerns to deal with. "Most of the challenges to the independence of lawyers actually have to do with systemic problems – not authorities directly going in and trying to block the work of lawyers, but rather 40 years of government repression… every lawyer we spoke with, regardless of where they worked… spoke about corruption," Zarifi said. In a system where corruption is the norm, going against the grain can have negative consequences, and with no mechanisms – like an independent bar association – in place to enforce professional standards, the cost of being clean is high. According to Zarifi, "lawyers who [refuse to] participate in corrupt practices become identified as troublemakers."
Transparency International's latest Corruptions Perceptions Index, released on Tuesday, ranked Burma 157th out of 177 countries surveyed – a full fifteen places ahead of its rank last year. That's a tremendous leap forward, but there is still work to be done.
"The overall picture is one of immense transition. There is significant hope for reform, and in this regard the ICJ is always pushing for improvements," Zarifi said.
"Not perfection… it's important for the government to put in short-term reforms."