Kachin groups invite Suu Kyi to visit camps for displaced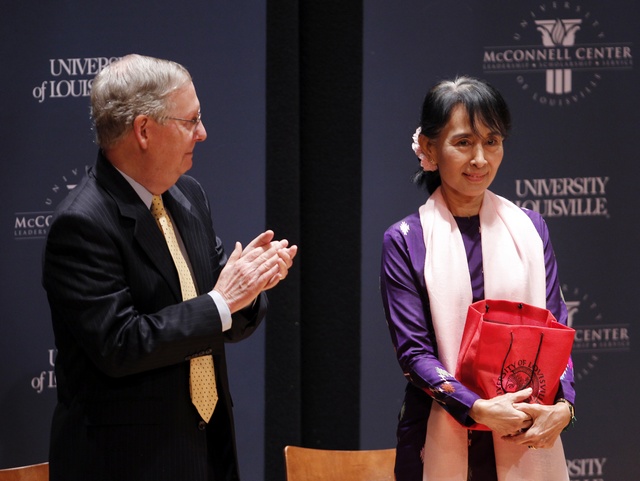 In an open letter to Aung San Suu Kyi, 23 Kachin organisations have asked the democracy icon to travel to Maijayang to visit camps that house people displaced by the ongoing fighting in Kachin state.
While Suu Kyi continues to enjoy popular support domestically and abroad, she has started to come under fire for her failure to condemn the Burmese government's offensive against the Kachin Independence Army [KIA] and the persecution of other minorities in the country.
"I don't know the real reasons why she's been silent," All Kachin Students and Youth Union's General Secretary Naw San said in a phone interview this week.
"I think for the peace of Burma and the people of Burma, if she sees the real situation of the people – the human rights violations, the torture and forced labour in [Internally Displaced Person's] areas – maybe she will speak about it."
Following the Nobel Laureate's recent remarks about the Burmese military and the country's unfolding civil conflicts during her European and US tours, several organisation's have begun to openly criticise Suu Kyi for failing to address the situation in Kachin state.
While speaking at the London School of Economics in June, she came under fire for saying the "the root, the cause of the (Kachin) conflict" still needed to be determined.
"To the Kachins, this displayed a stunning lack of understanding, or perhaps interest, in Kachin affairs," Pangmu Shayi, a political analyst for online news portal Kachinland News, stated in an editorial published on DVB's English website.
Fighting between the KIA and government troops erupted in June 2011 after a 17-year ceasefire broke down, resulting in the displacement of an estimated 90,000 people.
During a speaking engagement in Washington DC last week, Suu Kyi said she has "always been very fond of the military ", that was founded by her father General Aung San, which observers claim downplays the human rights abuses that are being committed by the military in conflict zones.
"Given the climate of violence, fear and suffering our people are enduring everyday, it is disheartening not to hear you speaking out against injustice for those who have been forcibly silent," the statement read. "Instead you declared you have a soft spot for Tatmadaw that your father founded, the very institution that is responsible for such miseries."
The Kachin groups demanded that Suu Kyi step into to help end the humanitarian crisis in the state, where authorities continue to prevent international organisations from delivering aid.
"In your position as Chair of the Lower House of Parliament's Rule of Law Committee you have the power to initiate and the responsibility to minimize the immense suffering of Kachin IDP [Internally Displaced Person]," read the statement.
"She has claimed she doesn't want to condemn anyone for fear of making matters worse. To avoid speaking out against atrocities in the interest of reconciliation is simply dodging the issue," said Matthew F. Smith, a researcher with Human Rights Watch.
"The wartime abuses in Kachin State are not merely a Kachin issue, they are a national and international issue, and politicians have a responsibility and a duty to unequivocally speak out against them."
Although Smith admitted he was disappointed by Suu Kyi's silence on the issue, he noted, "it's not too late for her to change course".
While rights organisations have started to ask questions of the newly minted parliamentarian, some observers have said that negative comments should be quelled during the country's fragile transition period.
"Too much public criticism of her is not necessarily helpful," Christian Solidarity Worldwide's Benedict Rogers told DVB in an interview earlier this week. "In my view, it is more useful to express concerns privately and constructively."
The All Kachin Students and Youth Union's General Secretary argued, however, that the realities on the ground deserve the most coverage.
"I think that is the most essential thing for Burma," Naw San said. "After she visits maybe she will speak about the situation in Burma."