MSF 'cautiously optimistic' about Arakan return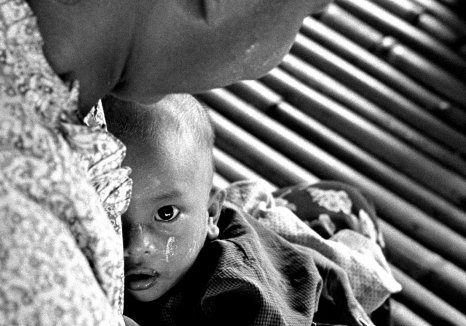 Médecins Sans Frontières (MSF) Holland, which was forced to suspend most of its relief activities in Arakan in late February, said on Friday that it welcomed a call from the Arakan State government for it to resume its operations but remained "cautious".
On Thursday, the Rakhine State Government invited MSF, along with the 24 non-governmental organisations (NGOs) currently operating in the state, "to participate in development, humanitarian, education, and healthcare programs in accordance with the wishes of the Rakhine [Arakanese] people."
Before it was forced to halt operations, MSF provided frontline healthcare for tens of thousands in areas of the state hardest-hit by communal conflict, principally Rohingya Muslims. The organisation has defended itself against criticism of its aid delivery amid allegations of bias towards the Rohingya at the expense of the state's Arakanese Buddhist majority. MSF maintains that its policies are guided by principles of humanitarian neutrality,
"MSF is cautiously optimistic about this development," Marcel Langenbach, MSF-Holland's Director of operations, said in a statement.  "Given that for many people in Rakhine, access to medical services remains a major challenge, we hope that MSF can restart treating patients as soon as possible."
No timeline has been announced for the resumption of MSF's activities in Arakan. Figures provided by the organisation claim that in 2013, its doctors performed more than 400,000 consultations across the state.
"We remain eager to resume activities throughout Rakhine State and have a team of national and international staff ready to provide medical care immediately," said Langenbach.
In late March, more than 170 staff members from international NGOs and UN agencies were evacuated from the state capital, Sittwe, following attacks by Arakanese nationalists targeting their offices and residences. Demands that aid delivery be "balanced" between the Rohingya and the Arakanese majority have raised concerns that future negotiations will be subject to political pressures, which may affect the ability of agencies to provide for the neediest.
The invitation to resume operations in Arakan came shortly after a significant political shake-up in the restive region when Maung Maung Ohn, the former deputy minister of border affairs, replaced Hla Maung Tin, an ethnic Arakanese politician, as the state's chief minister in late June.
Maung Maung Ohn served as the head of the union-level Emergency Coordination Centre for Arakan State, which is responsible for coordinating humanitarian activities between the government, NGOs and UN agencies.
The move met stiff opposition from Arakanese nationalists, who viewed Maung Maung Ohn's appointment as an unwelcome push by Naypyidaw to assert its agenda while ignoring Arakanese grievances.