US university offers 50 scholarships to Burmese students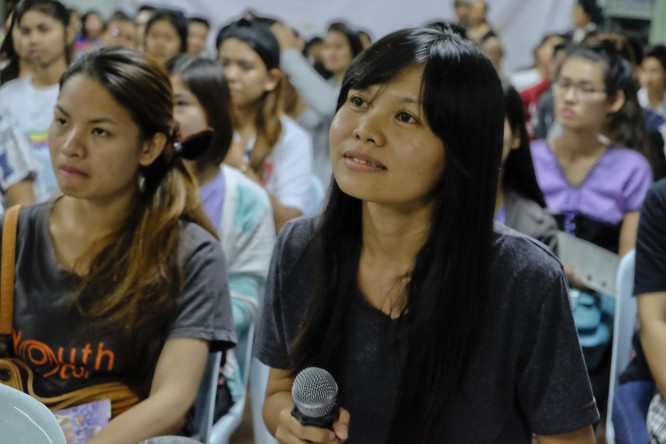 Fifty tuition-free scholarships have been announced for students in Burma to study online towards American-accredited degrees in Computer Science, Health Science and Business Administration.
On Friday, Shai Reshef, president and founder of the California-based University of the People (UoPeople), visited Mae Sot to announce that scholarships are open to any student from Burma, including those living at Thai-Burmese border refugee camps.
Speaking at Mae Tao Clinic, UoPeople president Reshef said, "We are very proud to have a special project for students from Myanmar, particularly after what they've gone through, and especially now, when their situation may be beginning to improve since repatriation has begun."
About 150 refugees and migrants attended the event in Mae Sot on Friday. In addition to announcing the scholarships, Reshef met with local NGOS to discuss support and access for students to computers.
"Bringing an accessible, affordable quality American higher education opportunity all the way to Burmese students fits in very well with the mission of University of the People," he said, "to open access to higher education globally to all qualified students, regardless of any geographical, physical, political, social, financial or personal constraints."
Students were encouraged to apply through the UoPeople website.
"We believe that the solution to the refugee crisis in the world in general, and for the Burmese in particular, is to provide access to higher education," Reshef told DVB by email.
Liberty Thawda, the deputy director of Child Protection and Education at Mae Tao Clinic, said she was impressed with the response from participants. "[They] were actively involved by asking a lot of questions," she said.
To date, the university has enrolled 1,000 refugee students from around the world. Whether students remain in their host countries, relocate or return home, they can continue their studies and qualify for their chosen degree.
Based in Pasadena, California, UoPeople was founded in 2009 by Israeli educational entrepreneur Reshef. It now supports 6,000 students from 180 countries. UoPeople is not linked to any Israeli government programme nor Israeli academic institutions and is therefore not blacklisted by the international Boycott, Divestment and Sanctions (BDS) movement. In 2012 the university moved its IT development operations to an office in Ramallah in Palestine.
Online classes in computer science, business administration and health science are free, but students must pay an online registration fee of just US$60 (80,000 kyat), plus $100 per exam for an associate degree or a bachelor's degree. Each student must take 20 exams for an associate degree, and 40 exams for a bachelor's degree – a total cost of $2,000 and $4,000, respectively. For a Masters of Business Administration degree, or MBA, a student has to pay a $200 exam fee per course for a total of 12 courses, which brings the total cost for the MBA to $2,460.