May 27, 2008 (DVB), The funeral for the late Karen National Union leader Pado Saw Ba Thin Sein was held yesterday in the headquarters of the Karen National Liberation Army,[…]
May 22, 2008 (DVB), Karen National Union chairperson Pado Saw Ba Thin Sein died at 2am this morning on territory controlled by the KNU, one of his colleagues told DVB.[…]
Mar 19, 2008 (DVB), A funeral for the son of the Karen National Union's former leader general Saw Bo Mya was held in the Karen National Liberation Army battalion headquarters[…]
Feb 18, 2008 (DVB), The Karen National Union said on Friday that a new general secretary has been appointed to replace the late leader Pado Manh Sha who was assassinated[…]
Feb 15, 2008 (DVB), A Karen National Union official said today that the group would continue to work for its aims despite the assassination of KNU secretary-general Pado Manh Sha[…]
Feb 14, 2008 (DVB), Karen National Union secretary-general Pado Manh Sha has been assassinated by two unknown men, according to early reports. At around 4.30pm today, two unidentified men entered[…]
Feb 1, 2008 (DVB), The Karen National Union marked the 59th anniversary of Karen revolution day yesterday in a celebration at the Karen National Liberation Army headquarters in KNU-controlled territory.[…]
Jan 31, 2008 (DVB), The son-in-law of a Karen National Union commander who defected to the Burmese government side was killed by a bomb yesterday in what is thought to[…]
Dec 4, 2007 (DVB), Twelve regiments of the ruling State Peace and Development Council army are heading for Karen National Union territory to launch an offensive, according to a KNU[…]
Oct 2, 2007 (DVB), Amid increasing army attacks on their armed wing, the Karen National Union Secretary has said that any Burmese army troops who want to defect to the[…]
Oct 1, 2007 (DVB), Padoh Mahn Shah, Secretary of the Karen National Union, has condemned the government's brutal response to the recent protests and expressed his belief that all the[…]
Riot police were firing shots into the air and set off stun grenades to forcely disperse the crowd protesting against the military, and had arrested the protesters including two journalists[…]
A meeting hosted by the recently military-formed Union Election Commission (UEC), between the political parties was held at the UEC office in NayPyiTaw this morning(Feb26). Of the around 91 total[…]
The military council has been appointed new administrators while the Pyidaungsu Hluttaw Representative Committee-CRPH is planning to form ward / village or township level public administrations. Across the country, there[…]
The KNU-Karen National Union, one of the largest ethnic armed political organizations, released a statement on Feb 14 concerning the Myanmar military coup. The statement expressed it condemned the military[…]
More than 80 detained protesters, arrested in yesterday's anti-coup demonstration in Mandalay were released this afternoon (Feb 10). Military-run media has described in its news release on Feb 9 "about[…]
The State Administrative Council, including 11 members, chaired by Senior General Min Aung Hlaing, including eight military leaders and three civilian leaders, was recently formed to assume gov't functions on[…]
As of 8 PM, 28 Jan, a total of 16,378 samples were tested and found more 350 new cases and 14 deaths. MoHS has reported 139,152 of total confirmed cases[…]
As of 8 PM, 27 Jan, a total of 16,556 samples were tested and found more 434 new cases and 7 deaths. MoHS has reported 138,802 of the total confirmed[…]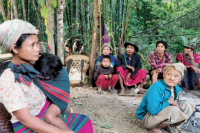 The launch of a Karen rights organisation's report has been blocked in Chiang Mai, Thailand, after authorities pressured a local university to cancel the event.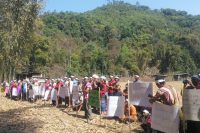 Joining a rising chorus of voices objecting to the encroachment of Burma Army troops into territory in Karen State, hundreds of villagers in the state's Hpapun Township staged a protest on Monday, calling on the military to withdraw its forces.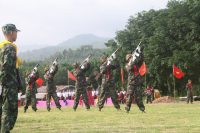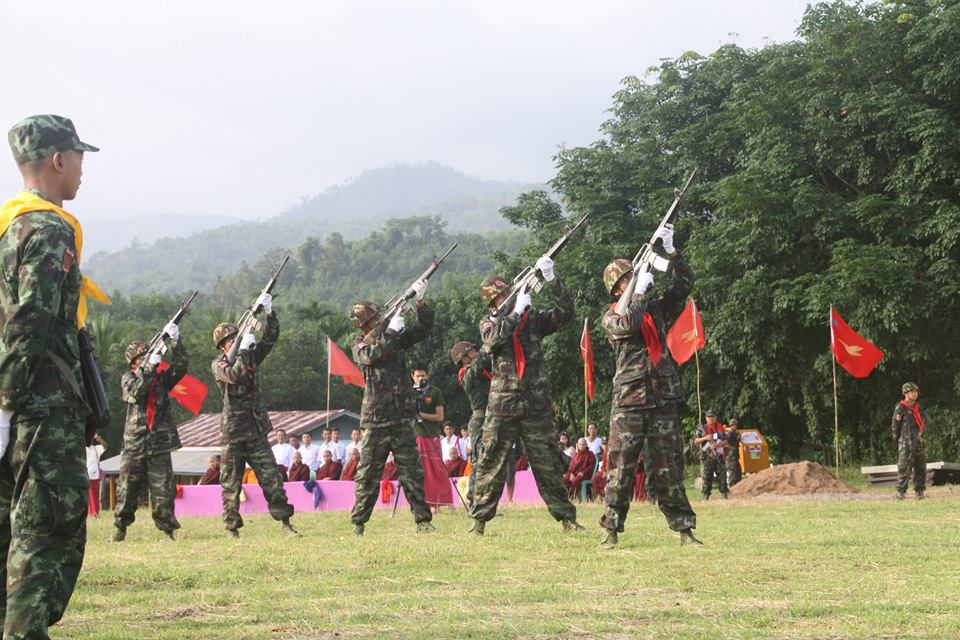 A clash between soldiers from the New Mon State Party (NMSP) and Battalion 16 of the Karen National Liberation Army (KNLA) reportedly erupted over the weekend near Mahn Aung village in Ye Township, Mon State. The skirmish flared eight miles away from the village.