Crime Lead Story News Refugees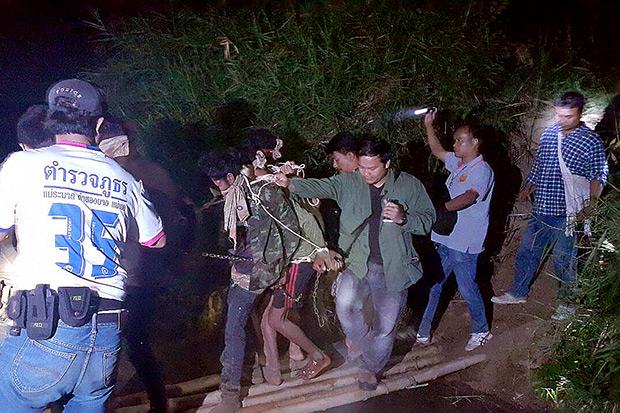 Four refugees from a camp on the Thai-Burma border have been arrested on charges of murdering a policeman.
Film star and UNHCR special envoy Angelina Jolie visited a Karenni woman and her family at a refugee camp near the Thai-Burmese border on Friday, to mark World Refugee Day.
More

Friday is World Refugee Day and on the Thai-Burmese border some 120,000 people are living in refugee camps, but Thai military officials have indicated that the repatriation of refugees may not be a distant prospect.

In a nine-point statement, the two countries agree to share information regarding border issues and establish a direct channel of communication between senior officials from both sides.

The construction of a fence along Burma's border with Bangladesh has resumed in Arakan State to stop people entering the country illegally.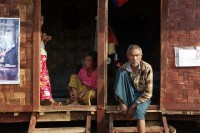 Burmese army troops have moved into conflict zones on the Kachin-Shan border, where locals say they plan to forcibly impose census taking.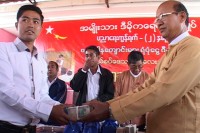 The National League for Democracy donated more than 12.8 million Kyat to migrant schools on the Thai-Burma border with money it raised during a controversial fundraiser

More than 3,000 people have been killed or injured by landmines in Burma since 1999. One of the worst-affected areas is the border between Thailand and Burma. Those injured are[…]

A spokesperson for China's Foreign Ministry expressed 'grave concern' at the situation in Kachin state and called on parties involved in the conflict to realise a ceasefire soon. Speaking at[…]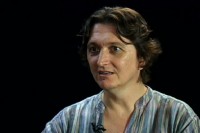 Following the publication of the Thailand-Burma Border Consortium newest report, DVB's David Stout spoke with the group's emergency response director Duncan McArthur about the country's ongoing peace process and how[…]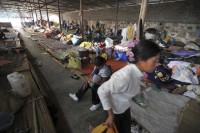 The International Labour Organization will begin operating in Burma's border regions to combat forced labour and end human rights abuses committed by the military
Members of the DKBA's infamous 999 brigade have defected to join BGF dissenter Na Kham Mwe of DKBA 5th brigade
Oct 14, 2009 (DVB), The pro-junta Democratic Karen Buddhist Army is to present the Burmese government with a list of battalions that will be transformed into border guard forces, officials[…]
Oct 5, 2009 (DVB), Bangladesh's border patrol army has sent troops to its border with Burma after the Burmese government resumed construction of its controversial border fence. The move comes[…]
Aug 7, 2009 (DVB), Armed conflict will reignite in Burma if the ruling junta continues to force ceasefire groups to transform into border guards, a key armed ethnic group warned[…]
July 30, 2009 (DVB), The Burmese government is using influential religious leaders and businessmen to convince ethnic ceasefire groups to transform themselves into border guards, as well as issuing direct[…]
June 9, 2009 (DVB), Bangladesh's border security force has sent an angry letter of protest to the Burmese government after Burmese border patrol troops last week opened fire on Bangladeshi[…]
Joseph A. AllchinJune 1, 2009 (DVB), The economic recession became real to Yomana in March. Seven years of working up to 13 hours a day came to an end when,[…]
Joseph A. AllchinJune 1, 2009 (DVB), The economic recession became real to Yomana in March. Seven years of working up to 13 hours a day came to an end when,[…]
May 18, 2009 (DVB), An official from Burma's largest armed ethnic group, who signed a ceasefire deal with the government in the 1990s, has said that the junta is conspiring[…]
May 5, 2009 (DVB), Burmese authorities yesterday seized firearms and ammunition from a Thai national smuggled across the border from northern Thailand, said a source close to Burmese officials. Officials[…]
Apr 28, 2009 (DVB), Two Thai border patrol troops were injured yesterday as a clash broke out between them and a pro-Burmese government group, while a mortar fired by the[…]
Apr 27, 2009 (DVB), Burma has temporarily suspended construction of a controversial fence along the Burma-Bangladesh border following a meeting between border officials from the two countries. The fence is[…]
Apr 7, 2009 (DVB), A villager in Bangladesh has said that the construction of a border fence will disrupt the livelihoods of Burmese villagers dependent on Bangladeshi trade and services.[…]
Mar 6, 2009 (DVB), Over 100 passenger pickup truck drivers in the Thai border town of Mae Sot blocked a busy crossing point this morning, in protest over Thai authorities[…]
Jan 21, 2009 (DVB), Residents of Keng Tung township and the border town of Tachilek in Shan state have complained that officials have been extorting money from villagers and local[…]
Htet Aung Kyaw Jan 19, 2009 (DVB), Although the word 'vacation' is still a strange one to most ordinary Burmese people inside the country, many Burmese in exile, including this[…]
Htet Aung Kyaw Jan 19, 2009 (DVB), Although the word 'vacation' is still a strange one to most ordinary Burmese people inside the country, many Burmese in exile, including this[…]