Police in Letpadan have reacted with force against up to 200 students and their supporters after tensions boiled over at the protest site.

Three students arrested in Pegu Division's Letpadan, which has been the epicentre of protests in recent days.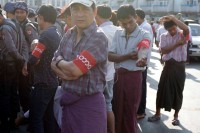 The thugs assisting police in two protest crackdowns this week resemble the notorious Swan Arr Shin, though authorities deny the group's existence.