Exiled Tibetan spiritual leader the Dalai Lama on Tuesday called on people around the world to practice religious tolerance.

Three people described what happened when their village was burned during the riots in Oakkan township on Tuesday.

Four religious leaders call for peace after a week of violence between Buddhists and Muslims rocks central Burma.

Residents in Thaketa township are stunned after an angry mob attacked a local Muslim school and several businesses on Monday night. Locals say people get along well with each other[…]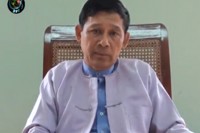 The Union Parliament yesterday approved the president's appointment of Irrawaddy division's parliamentary speaker Hsan Sint as the country's new religious affairs minister
Observers claim the government is looking to secure Rohingya votes prior to elections this year, despite confusion still surrounding their long-term status
Oct 27, 2009 (DVB), Burma's military government "frequently" abuses the right to religious freedom for the country's myriad ethnic and religious groups, an annual US government report states. The regime[…]
June 3, 2009 (DVB), A prominent Burmese monk who organised relief efforts following cyclone Nargis last year has called for religious leaders in Burma to join hands in solving the[…]
Feb 11, 2009 (DVB), While pagodas damaged by Cyclone Nargis in May last year remain in disrepair, the military regime has spent millions of dollars on building a replica of[…]
Jan 13, 2009 (DVB), Christian prayer houses in Rangoon wards have been told by the government's Ministry of Religious Affairs to stop holding group prayer services or face closure, according[…]
Jan 5, 2009 (DVB), The first Burmese Buddhist monastery in Finland was officially consecrated in Kuopio on 3 January.by five monks led by Penang abbot U Pannya Wuntha and abbot[…]
Dec 9, 2008 (DVB), Former actor Kyaw Hein, who became a Buddhist monk on 4 November, has been holding religious discussions this week in Bago, north of Rangoon, according to[…]
Nov 25, 2008 (DVB), Monks in Bilin township, Mon state, decided during a recent meeting to launch a boycott against government officials and supporters by refusing alms from them and[…]
Sep 8, 2008 (DVB), An abbot who was reported by the Assistance Association for Political Prisoners to have been arrested in a raid on Marlayon monastery has denied the story[…]
Sep 5, 2008 (DVB), A directive has been sent by the state Sangha Maha Nayaka committee to monasteries and lecturing colleges in Chauk, Magwe division, ordering monks not to take[…]
Aug 21, 2008 (DVB), A government official in Arakan state has urged abbots to take action against "bogus monks", though a local monk said poverty had driven people to dress[…]
Aug 4, 2008 (DVB), Min Thein Kha, a well-known writer, astrologer and former political prisoner, died at a private clinic in Rangoon on Friday morning at the age of 71[…]
Jul 21, 2008 (DVB), Buddhist migrants from Burma working in the Aizawl district of India's Mizoram state have complained of being pressured to convert to Christianity by their employers and[…]
Jul 18, 2008 (DVB), Burmese migrants in the Thai border town of Mae Sot celebrated the beginning of the three-month Buddhist lent yesterday by going to temples, making merit and[…]
Jul 16, 2008 (DVB), Buddhist monks across Burma have said they are continuing their boycott against government officials by refusing to accept donations or passing them on to needy people.[…]
Jun 25, 2008 (DVB), A man accused of involvement with a gang responsible for the theft of Buddha statues in Magwe division died last week after being beaten during an[…]
Jun 17, 2008 (DVB), Burmese government officials went to Sasana Theikpan monastery in Bahan township on Friday afternoon and ordered the monastery to shut down and the resident monks to[…]
Feb 28, 2008 (DVB), The Burmese government's newly-approved referendum law has banned monks and prisoners from voting, and made campaigning against the referendum punishable by up to three years in[…]
Nov 23, 2007 (DVB), An annual ceremony in South Dagon township, Rangoon, has been postponed after organisers refused to pay money for troops to local authorities. The Buddhist ceremony, which[…]
Oct 3, 2007 (DVB)-A man in Magwe division's Aung Lan township, who shouted a pro-Buddhist slogan after seeing footage of the government's crackdown on recent protests, was arrested by local[…]
Sep 11, 2007 (DVB), Senior monks in Pakokku, Magwe division, were called to a meeting with high-level government officials on Sunday and offered money as compensation for monks who were[…]