After 40 years of pain, new hope for Burmese football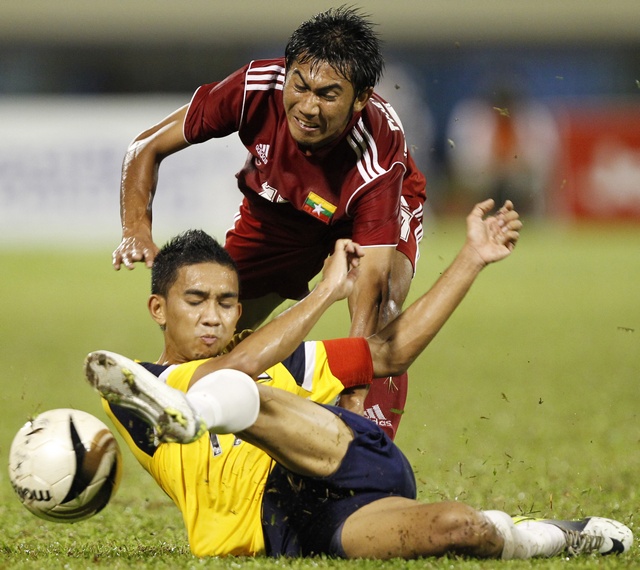 For an hour, the Burmese fans were solidly behind their national team with the noise of their cheers and drums spiking whenever the players surged towards the opposing Laos goal.
But as the game went on, and it became clear the players would settle for the 0-0 draw that would take them to Southeast Asia's AFF Suzuki Cup, the crowd turned on their own team.
Unthinkably, they threw their support behind the visitors from tiny, neighbouring Laos, urging them to score a goal that could have knocked Burma out of the qualifying tournament and further into the international wilderness.
It never came, but as the final whistle blew, cheers for Laos mixed with boos for the home team as the fans, disaffected by Burma's four-decade slide to a record low in the world rankings, shuffled out of the stadium.
In the immediate aftermath of last month's match at Thuwanna Youth Training Centre Stadium, Burma's coach Park Sung-Hwa defended the pragmatic approach.
"The supporters wanted us to win but you must understand the circumstances because a draw was enough for us to go through," said the South Korean.
"They supported us well during the tournament but maybe the fans were angry because we didn't attack at the end. We understand that the fans wanted us to win but in the end, we got a result that suited us."
It seemed a reasonable explanation from Park, who will now guide Burma's "White Angels" in their opening Suzuki Cup match against Vietnam in Bangkok on Saturday.
But the approach did not find favour among Burma's proud supporters, who have watched their team's steady decline blamed on a lack of support and facilities, and widespread, crushing poverty.
"Myanmar [Burma] has a very big history in football that our fans are very proud about," said Ye Naing Win, the chief editor of Myanmar Special, a weekly Burmese-language sports newspaper, and who attended the Laos game.
"Our fans are very passionate about the national team so it is hard for them to understand why we can't get to that level again."
Burma stood among the best in Asia from the mid-1960s to the 1970s, which is regarded as the country's golden age for football.
In that era, led by legendary coach Sein Hlaing, Burma won the Asian Games gold medal in 1966 and 1970, and triumphed in five consecutive editions of the Southeast Asian Peninsular Games from 1965 to 1973.
Burma also finished runners-up at the 1968 Asian Cup and qualified for the Munich Olympics in 1972, where they won the Fair Play Award.
"Political developments give reason for hope"
However, since then moments of brightness have been rare: reaching the 1993 SEA Games final, and the Asean Football Championship semi-finals in 2004.
The low point came two years ago, when they were thrashed 7-1 by Vietnam at the Suzuki Cup and finished bottom of their group.
"Our fans felt very sad, disappointed and angry at our bad performance in 2010," admits Soe Moe Kyaw, media and communications director of the Myanmar Football Federation (MFF).
There is a determination to do better this year after the appointment of Park, who guided Korean club Pohang Steelers to the Asian Club Championships in 1997 and 1998 and led his country's under-23s to regional titles in 2002 and 2004.
With his salary reportedly paid by a Korean multi-national company, the 57-year-old was installed as Burma's coach earlier this year.
He's now trying to bring out the best in Burma's promising young players, who last year finished third in the SEA Games' under-23 competition and reached the semis of the under-19 and under-16 AFF Championships.
"The good thing about him is that he is a realistic coach," says Ye Naing Win. "He has been in the job for a while so he knows about the situation of the team and the problems with [Burmese] football."
Park knows there is plenty of work to be done if Burma is to avoid embarrassment against Vietnam, Thailand or the Philippines in the Suzuki Cup's group stages.
"We have a lot of good players available but we have to train them to play and work as a team," he said.
"We are working on their fitness and stamina and also on their tactics and organisation to ensure that they are ready to play in the final round."
With three wins and a draw during the qualifiers, Burma rose 28 spots from a historic low of 184th to 156th in the latest world rankings. But to sustain the improvement much work is needed, particularly at grass roots.
"Not just football but every sports sector in our country has struggled because of lack of government support in recent years," laments the MFF's Soe Moe Kyaw.
"Because of our lack of football infrastructure in Myanmar [Burma], there is not much opportunity for youngsters to learn football nowadays compared to the past."
Political developments give reason for hope, with formerly isolated Burma's opening-up to the outside world expected to bring extra sponsorship.
"Obviously there are companies queuing up now to get into Myanmar [Burma] and to promote their brands," said Ian Mathie, senior vice-president, football, for Southeast Asia and Australia at marketing and media company World Sport Group.
"Football sponsorship is a proven way to attract interest and to gain market share."
But for now, coach Park is realistic about the task facing his team at the Suzuki Cup.
"It will be very difficult because Myanmar [Burma] have never beaten Vietnam or Thailand in the tournament and we need to get a win against one of them to progress to the semi-finals," he said.
"But we are preparing as well as we possibly can and we hope that we can do well."