Exile media crafting new role from inside Burma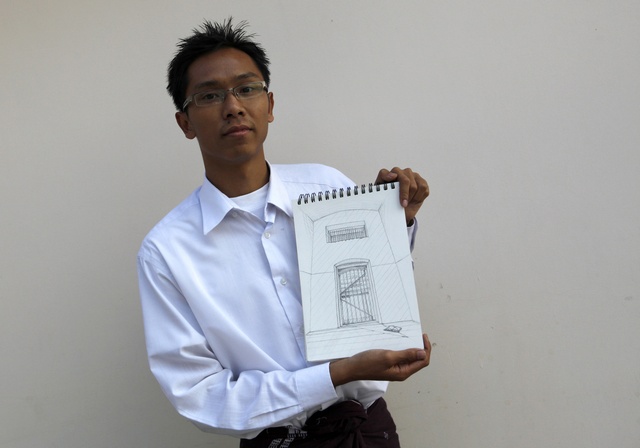 Their journalists risked jail terms to report inside Burma under years of brutal junta rule, but once-exiled media now operate openly – and face flak for being too cosy with the new leaders.
In a dramatic change of fortunes, the Democratic Voice of Burma, the Irrawaddy website and Mizzima News agency have all set up offices in Rangoon, lured back by the reforms their journalism helped engender.
And this week a free copy of The Irrawaddy magazine will hit newsstands in Burma's major cities for the first time since it was founded two decades ago.
It is a move that the organisation says will test the new quasi-civilian government's commitment to change in the country, as the former pariah state undergoes sweeping reforms.
"This is the first time we got permission from the government to distribute the magazine inside the country," Kyaw Zwa Moe, editor of The Irrawaddy's English edition, told AFP, adding that the publication would continue to be "quite critical".
The Irrawaddy and DVB have long operated from bases in northern Thailand as they tried to report on the secretive junta from exile overseas.
But now journalists, among them former political prisoners, are received by high officials in the government that replaced the disbanded junta in 2011.
"Before, I never slept well. I could be arrested… it could happen anytime," said Hla Hla Win, a DVB video reporter who spent two-and-a-half years of a 20-year sentence in jail before her sudden release in January along with other political prisoners.
"I've been surprised by the new administration, I never imagined they would allow such things… they are more soft dealing with journalists."
Under military rule the Oslo-based DVB was accused everyday by the state-run press of spreading "killer broadcasts", along with the BBC and other foreign media.
"Burma is still far from meeting the criteria of a free press"
But the news organisation, which boasts an audience of five million, recently opened a downtown office and although it did so under an assumed name and in a discreet apartment, its journalists no longer work in secret.
Burma has taken significant strides towards greater press freedom.
Censorship was abolished in August and pictures of opposition leader Aung San Suu Kyi and US President Barack Obama adorn the front pages of magazines and journals, which now dare to report on former no-go areas such as corruption.
Media groups, enticed to return by the new freedoms, now face the challenge of crafting an independent voice from inside the country without compromising reputations for courageous reporting they earned in exile.
Critics are already grumbling that they are diluting their once fearless journalism.
"I am disappointed to see that these 'transplanted' exiled media are practising too much self-censorship now," said Maung Maung Myint, of the Burma Media Association, which represents exiled journalists.
"In some cases, they have lost their impartiality… The government is definitely playing with them," he added.
Maung Maung Myint cited DVB-led seminars on public broadcasting for the Ministry of Information as an example of the group's warm relationship with the powers that be.
The DVB, which will probably close its office in Oslo but keep studios in Thailand, vigorously defends its editorial independence, arguing that by speaking to once-secretive ministers and army officials, its journalism has become more balanced and accurate.
"In the past, as in every closed society, most 'news' was rumour and it was very difficult to check the story or hear different voices," said DVB editor Aye Chan Naing. "That is not the case any longer."
But he recognised that talking to a government that once considered them "as enemies" – so much so it arrested 17 DVB journalists – could be seen as "controversial".
The Irrawaddy, in an effort to preserve its editorial independence, has also adopted a "one foot in, one foot out" strategy by maintaining its base in Thailand, according to its editor Aung Zaw.
"Our critical reporting style, approach to stories and editorial position have remained the same," he said, adding the outlet is "not mouthpiece of activists, opposition or the regime".
Burma is still far from meeting the criteria of a free press.
A Reporters Without Borders map pinned to a wall in DVB's office shows the country coloured in black – an ignominious distinction shared notably by North Korea and Iran.
Some journalists have been prosecuted for their stories, although none has been arrested recently.
Kyaw Zwa Moe said The Irrawaddy was "just testing the waters" with the one-off issue this week, both in terms of the appetite for the publication from readers and the political situation.
He said it was important to maintain the organisation's Thai office because "things can change".
"Things are not certain yet in Burma, especially the reform process."