Regional heavyweights were welcomed to Burma's new capital on Wednesday in a glittering ceremony for the opening of the 25th ASEAN Summit.

Police and military line the streets of Burma's capital, ahead of the East Asia Summit.

Suu Kyi says that the US and other 'well-wishers' have been overly optimistic as the pace of change in Burma slows.

Par Gyi's widow, Ma Thandar spoke to the press at the '88 Generation offices on Wednesday.

Burma's foreign minister Wanna Maung Lwin was in New York on Wednesday to address the United Nations General Assembly.


The United States Secretary of State John Kerry called on Burma's leaders to move ahead with reforms as he concluded his two-day visit to the country.

Ooredoo's cheap SIM cards are ending up on the black market, with even official dealers selling them at higher prices.

Government authorities say they will take appropriate steps to ensure the safety of foreigners and Burmese nationals working for aid agencies in Arakan state. Meanwhile IDPs are facing food shortages as the decrease in staff affects supply chains.

Whereas his inaugural speech last year focused on the military's commitment to reform, the commander on Thursday affirmed the importance of the military in the reform process and defended Burma's 2008 Constitution.

The UN envoy concludes his six-year tenure as Special Rapporteur with a press conference at which he praised Burma's reforms but questioned the impartiality of a domestic inquiry into the alleged massacre of Rohingya Muslims in Duchira Dan on 13-14 January.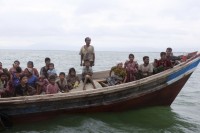 Reuters has uncovered what they say is confirmation that illegal camps are maintained in the southern Thai jungle as holding centres for Rohingya boatpeople who are sold on to human smuggling outfits.


Hundreds of Muslims have been made homeless in Sagaing Division after rioters looted and burned homes, shops and at least one mosque in the village of Htan Gone on Saturday night.

A village outside of Arakan's capital Sittwe quickly became the latest focal point of sectarian violence over the weekend as armed police shot into a crowd of Rohingya protestors. Tensions[…]

UN special rapporteur on human rights Tomas Quintana arrived in Arakan state on Monday days after clashes between local police and Rohingya Muslims left at least seven people injured

Across Burma, Martyrs' Day is being commemorated to honour General Aung San and seven other independence leaders who were assassinated 66 years ago. At the Martyrs' Mausoleum in Rangoon, Burma's[…]

In several cities around Burma ceremonies were held to incinerate massive hauls of drugs seized over the last year, in a bid to raise awareness on World Drug Day.

The United Nations refugee agency has released a report that coincides with World Refugee Day, that says there are now more refugees in the world than there were nearly 20[…]

About 200 senior Buddhist monks met at a monastery in Rangoon to discuss ways to end violence between Buddhists and Muslims in Burma. The monks drafted a law that proposed[…]

Buddhist mobs armed with sticks and machetes burned Muslim homes for a second day in Shan state's Lashio on Wednesday, contradicting claims in state media that soldiers and police had[…]

Police have named 18 Rohingya refugees as suspects for the deaths of eight Buddhists in an immigration detention centre, and say they will face trial in Indonesia.