Burma opposition leader, Aung San Suu Kyi, said she would rather lose the election than win through scandals as she campaigned in her constituency on the fringes of Burma's commercial capital, Rangoon on Saturday.

The German discussed the mandate that his team has been issued, and how they will use it to contribute to electoral fairness in Burma.
DVB sat down with Ambassador Mitchell to discuss how the challenge an the opportunity of Burma's upcoming election. How resilient is Burmese democracy?

Aung San Suu Kyi's party is pushing the slogan 'Time for Change' in Burma. Volunteers in their leader's electorate say that change begins at home.

Last week the Shan State Army North rejected an invitation to Naypyidaw to be part of a lavish declaration of peace in Burma. Now the Burmese army is paying them an unwelcome visit.

Twenty eight people have now been confirmed dead as a result of a disastrous landslide in eastern Burma on Sunday.

The group was expected to travel across 14 states in Burma, and operate for around five to six weeks.

For the 33.5 million Burmese voters who head to the polls on 8 November — many of whom will be first-time voters, choosing from more than 6,000 candidates, is not an easy task.

DVB's Nay Thwin sat down with Kachin Independence Organisation executive member Gun Maw to discuss why his group rejected a long-sought-after ceasefire agreement with Naypyidaw.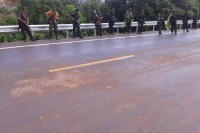 Some ten thousand Karen would-be voters have been disenfranchised after Burma's election commission announced that 102 villages in Burma's east are too dangerous for polls to go ahead.

Four hundred fire fighters and forty-four fire engines were called to the scene of a vicious blaze at a Rangoon warehouse rented by Coca-Cola.

Thailand has been preparing to send off a group of Rohingya Muslims who were victims of human trafficking to various countries, including the United States.

Election 2015: Join DVB for a window onto what will shape the monumental decision that Burma's people now have the opportunity to make.

Chinese nature conservation workers and researchers have discovered a new group of Nujiang golden monkeys inhabiting the Lushui County of Yunnan Province, a stone's throw from Burma's Kachin State.

In a soft-spoken but positive TV broadcast last night, the NLD leader called for federalism and cooperation with the military.

China says more than 100,000 refugees have returned to the Kokang region of northern Shan State from camps in its Yunnan Province.

Burma's President Thein Sein lined up alongside China's President Xi Jinping in a show of solidarity with Beijing, just months after tensions peaked on their shared border.

Full time photographer, part time mountaineer Kyaw Thar is displaying photographs of a gruelling solo journey to the tops of northern Burma's highest peaks.

The ruling USDP has said will run in Kokang electorates. But is the war-torn region ready for polls so soon?

A group which supports some among Burma's 210,000 HIV/AIDs sufferers, says large scale displacement has made it impossible to find the patients.

Waters have receded in many of the areas that were worst hit by deadly flooding and landslides that have now affected over one million people across Burma.

Join the Roadshow team as they meet the Moken— some still sailing now-troubled waters, others making a new life as fish out of water on both sides of Burma's border with Thailand.

Join the DVB Roadshow team as they meet Chin hill tribe women who are among the last inked by a fading tradition.

Noted political scientist and author Francis Fukuyama spoke to DVB on the sidelines of his talk in Rangoon, where he discussed economic policy, the rule of the law, and the need for Burma to be patient on the road to democracy.

A general election set for November could cap off five years of historic reform for Burma, but has disastrous flooding drowned Burma's hopes for democracy?

Villagers across Irrawaddy Division are abandoning their homes in droves after warnings that floodwaters would remain well over danger levels in the days ahead.

Burmese democracy icon Aung San Suu Kyi has appealed for international assistance for Burma's flood disaster, in a video posted to her Facebook account.