Conflict Karen Lead Story News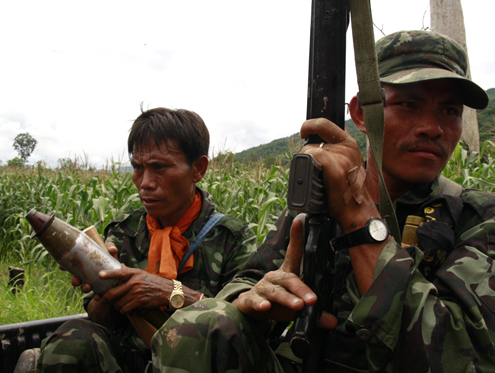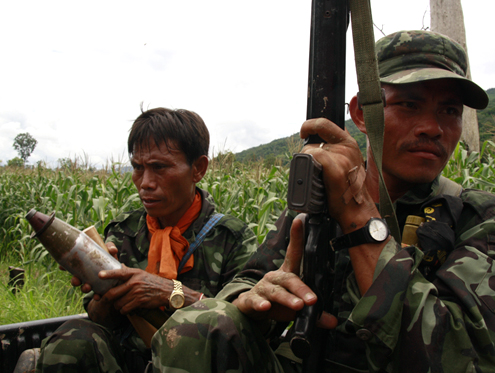 "The DKBA renegades employed guerrilla tactics," said a local BGF commander.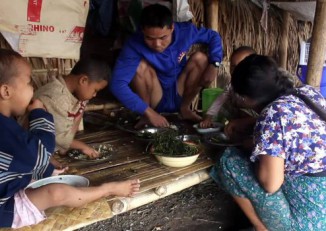 "We have only rice for survival," said Saw Swe Tun, the camp administrator.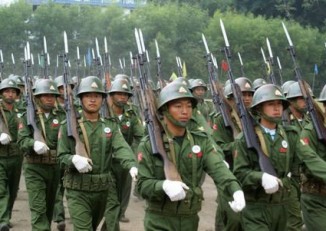 According to Shan media, the Wa army sent reinforcements and supplies to hill stations recently seized from the NDAA on 4- 5 October.
More

A pro-government Karen militia engaged a local rebel group in a shootout on Friday, in the most recent episode of unrest in Burma's east.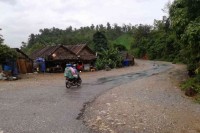 The mountain road between Karen State's Kawkareit and Myawaddy reopens after clashes between govt forces and DKBA rebels had forced its closure.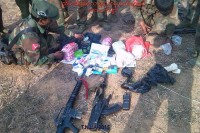 A gunfight between the Ta'ang National Liberation Army (TNLA) and a government-backed militia took place in northern Shan State late last week.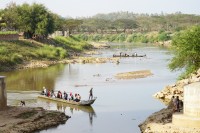 The Karen Border Guard Force (BGF) has closed 23 border ports along the Moei River in retaliation for curbs on oil transportation by Thai authorities.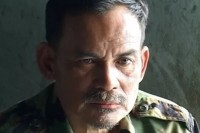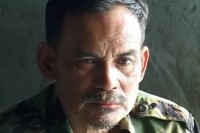 The ailing military chief of the DKBA, Gen. Saw La Bwe, has temporarily transferred leadership powers to his deputy Saw Moshe amid concerns for his health.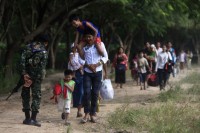 The Karen NGO describes the recent surge in fighting as "part of a calculated military strategy" by the Burmese army and its allies, the Karen Border Guard Force.

Unarmed soldiers from the KNU, the BGF and the KPC march together without arms in a show of unity as Karens mark their New Year at Shwe Koko.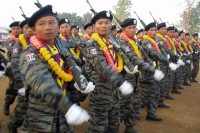 A senior ranking commander belonging to a Border Guard Force was shot dead after being mistaken for a Democratic Karen Buddhist Army officer
A convoy carrying two senior Burmese govt officials recently ambushed by the DKBA near the border town of Myawaddy
Outbreak of diarrhoea in makeshift refugee camps in northeast Burma setup by Kachin Independence Organisation is affecting hundreds of children taking shelter there and resulted in two recent deaths
At least six people have been killed in a deadly clash between government security forces and Shan State Army soldiers in southeast Burma on 9 July
UWSA welcome new President's speech on development of border areas as they look to peacefully resolve differences with Naypyidaw over BGF proposals and autonomy
Three people were said to have been killed on 24 December when KNPP troops ambushed a Burmese army convoy escorting workers of the Salween Dam Construction Project in Southeast Burma
On Karen Martyrs day, 60 years since Saw Ba U Gyi was martyred, DVB caught up with the leading dissenting voice against the Burmese military government's Border Guard Force (BGF), DKBA commander Na Kham Mwe.
Members of the DKBA's infamous 999 brigade have defected to join BGF dissenter Na Kham Mwe of DKBA 5th brigade
Tensions high as SPDC look set to launch offensive against dissident DKBA commander Na Kham Mwe of brigade 907, hundreds of refugees fleeing fighting
Rumours circulate that Democratic Karen Buddhist Army has suffered a 'vertical split' as junta prepares to launch an offensive in eastern Burma
Reduction in trade at the Tachilek border crossing between Thailand and Burma may be a result of tension over the border guard transformation
Rumours circulating that the DKBA is refusing to transform into a border militia, stoking fears of an outbreak of fighting in Karen state
Eight-member alliance warns that it will 'attack systematically' any offensives launched by the government in its attempt to transform groups into border forces