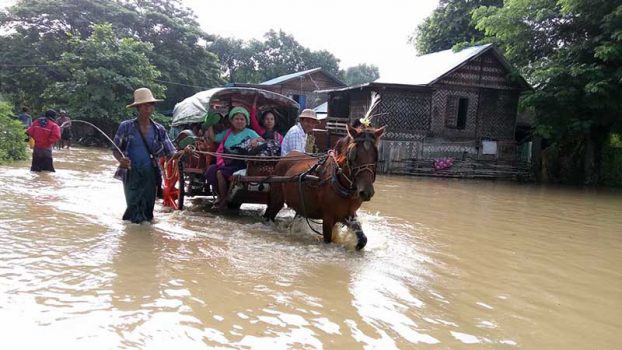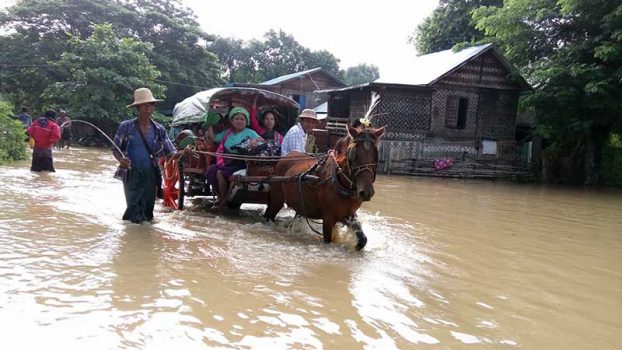 Locals are calling for official assistance, as well as measures to prevent an outbreak of waterborne diseases such as dysentery.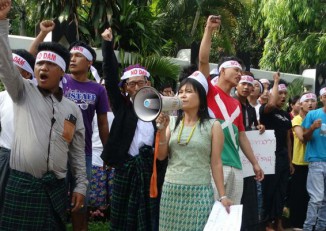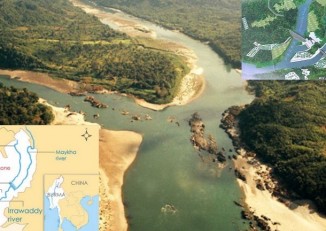 More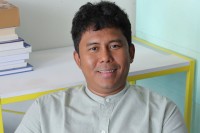 Burmese environmentalist Myint Zaw has been honoured with a prestigious prize for his activism against a billion-dollar dam project.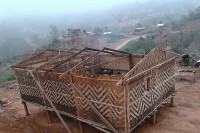 Strong winds destroyed about 100 houses belonging to resettled villagers in the Pinlaung area of southern Shan State, about 100km northeast of Burma's capital Naypyidaw.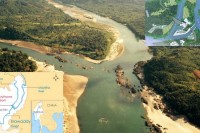 Chinese dam-builders say resumption of the Irrawaddy seven-dam project will bring electricity, revenue, jobs and tourists to the region while a local NGO claims it will destroy the environment and livelihoods, and further fuel the conflict in Kachin State.

Residents from 23 villages in southern Shan state, who have been relocated to make way for the Upper Paunglaung Dam project, have urged the government to keep its promise in providing them with compensation and basic facilities in their new location.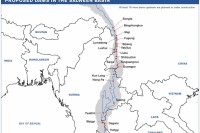 Thailand's Energy Minister Pongsak Raktapongpaisal has urged his Burmese counterpart to speed up the US$12-billion Tasang hydroelectric dam project.
Demonstrators gather outside Indian parliament to protest Indiai's financing of Tamanthi dam, which will flood an area the size of Delhi
Govt to hand decision regarding the Myitsone project to new Environment Ministry, offering hope of a rethink on the controversial dam
Outbreak of diarrhoea in makeshift refugee camps in northeast Burma setup by Kachin Independence Organisation is affecting hundreds of children taking shelter there and resulted in two recent deaths
Activists describe Chinese companies as 'reckless' and lament lack of transparency and consultation over dam-building in countries like Burma
Overseas investment in Burma's hydropower sector leads to complicity in displacement, violence and environmental ruin, group warns
Three people were said to have been killed on 24 December when KNPP troops ambushed a Burmese army convoy escorting workers of the Salween Dam Construction Project in Southeast Burma
SPDC condemn another river in Kachin State as Ngawchankha Hydro deal is signed with Chinese
Major police operation nets 60 suspects following attack on controversial Myitsone dam in April that killed three workers and injured 20
Civilian casualities were 'unavoidable' in Tuesday's attack in Karenni state aimed at halting progress on a controversial dam
Three bombs explode close to controversial dam days after a similar attack in Rangoon left nine dead and hundreds injured
No compensation given to majority Karen villagers whose houses and farmland have now been submerged by 185-foot high dam
Kachin locals in northern Burma claim that China-backed dam will flood nearly 800km of farmland and displace up to 15,000 people
Nov 23, 2009 (DVB), Burmese and Thai activists today urged both the Thai premier and a regional human rights body to cancel plans for a dam on the Salween river[…]
Aug 26, 2009 (DVB), Over 60 villages in northern Burma have been ordered by the government to relocate to make way for a new dam on the country's major river,[…]
June 25, 2009 (DVB), Six villages located near the proposed site of a hydropower plant in Burma's western Arakan state have been displaced by Burmese military, with added concerns that[…]
Apr 10, 2009 (DVB), Leaders of Burma's principal armed opposition group met with the Thai foreign minister on Monday to discuss human rights abuses and the possibility of reconciliation with[…]
Mar 5, 2009 (DVB), Locals from Kyauktaw township, Arakan state, are concerned that the recently opened Zeegyaung Dam will flood their farmland and homes. The electricity-generating dam was officially opened[…]
Oct 10, 2008 (DVB), Wild animals have been forced to flee to the jungles of India from Sagaing division by forest clearance for the Htamanthi dam project which has destroyed[…]
Jul 29, 2008 (DVB), Christian religious leaders in Kachin state in northern Burma have been interrogated by local authorities about a poster campaign against the government's ongoing Chibwe dam project.[…]
Jun 27, 2008 (DVB), Residents of Meepya village in Kyauk Tan township, Rangoon, have been forced to work on a reconstruction project in order to receive aid materials given by[…]