Lead Story News Pegu Division Protest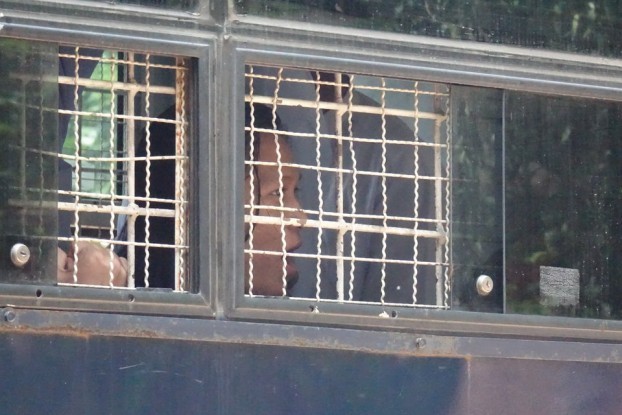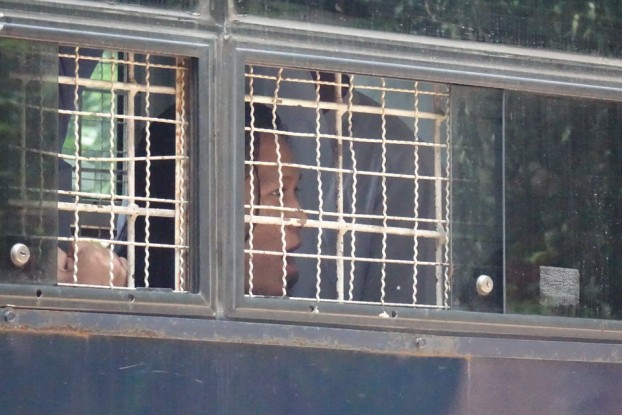 Seven activists incarcerated at Tharawaddy prison have been placed in solitary confinement as punishment for bringing in prohibited items.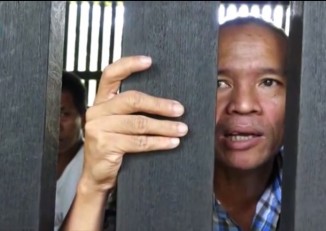 A solo demonstrator demanding the release of student activists has been sentenced to two years in prison for sedition.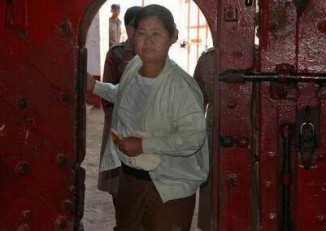 Incarcerated political activist Naw Ohn Hla has been handed an additional six-month sentence for allegedly disturbing religious assembly eight years ago.
More

On this week's episode of DVB Debate, the panel sizes up the political and economic role for former exiles and economic migrants in a new Burma.

The story behind the Latpadaung copper mining project, which culminated in the death of villager Khin Win after police opened fire on a protest on 22 December 2014.

A protest camp of over 100 residents of the Rangoon suburb of Michaungkan has been forcibly dispersed from their sit-in location at Maha Bandula Park in the former capital.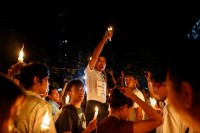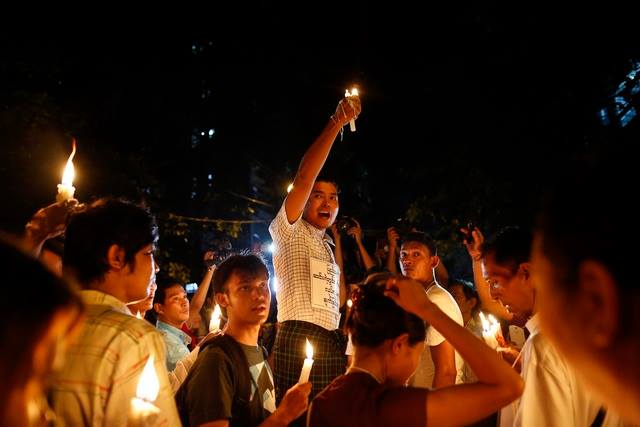 Burma's Minister of Electric Power Khin Maung Soe apologised to the public for the recent increase in electricity prices and promised that the decision would be reviewed in parliament.
Feb 12, 2009 (DVB), Malaysian police forced the Burmese embassy in Kuala Lumpur to accept a statement from opposition activists during a demonstration outside the embassy on 11 February, one[…]
Oct 23, 2008 (DVB), Veteran Burmese protester Dr Salai Tun Than, who is currently in New Delhi, has vowed to carry on with his solo demonstrations inside Burma as soon[…]
Sep 30, 2008 (DVB), Members of the Sittwe monks' union have called for the release of U Eitthriya, who was sentenced to seven and a half years in prison for[…]
Sep 27, 2008 (DVB), A monk who took part in a demonstration in Sittwe today to mark the one-year anniversary of the monk-led protests which were crushed by the military[…]
Sep 27, 2008 (DVB), A monk who took part in a demonstration in Sittwe today to mark the one-year anniversary of the monk-led protests which were crushed by the military[…]
Sep 11, 2008 (DVB), Detained protest leader Ko Htin Kyaw clashed with prison officials yesterday when he refused to appear in court, according to sources close to his family. Htin[…]
Sep 8, 2008 (DVB), Local authorities in Myin Chan township, Mandalay division, have been given training and directions for dealing with demonstrators, according to a source close to the township[…]
Sep 7, 2008 (DVB), Young monks from Pakokku will continue to refuse alms from government officials until they apologise for beating, insulting, killing and imprisoning monks during the Saffron Revolution[…]
Sep 5, 2008 (DVB), Political tensions are running high in Thailand, with demonstrators from the People's Alliance for Democracy calling for the resignation of the government led by Samak Sundaravej.[…]
Htet Aung Kyaw Sep 5, 2008 (DVB), Political tensions are running high in Thailand, with demonstrators from the People's Alliance for Democracy calling for the resignation of the government led[…]
Sep 4, 2008 (DVB), Activists have sprayed red paint on the walls of various public building in Rangoon, reportedly to commemorate last year's September protests and their violent suppression by[…]
Sep 2, 2008 (DVB), As the first anniversary of the September protests approaches, security has been tightened around pagoda compounds in Bago and police have been patrolling the town. Armed[…]
Aug 29, 2008 (DVB), Ten people, including Bogalay township National League for Democracy chairman U Aung Khin Bo, have been sentenced to 30 months' imprisonment for their involvement in public[…]
Aug 29, 2008 (DVB), Barbed wire barriers erected by armed government soldiers on the streets of Pakokku in an effort to prevent demonstrations have brought traffic to a standstill, local[…]
Aug 26, 2008 (DVB), A planned demonstration by monks in the Arakan state capital Sittwe was disrupted by local authorities, according to Arakan National League for Democracy joint secretary U[…]
Aug 21, 2008 (DVB), Prominent monk U Gambira and activist Ko Htin Kyaw, who led demonstrations against commodity price hikes last August, appeared before the district court inside Insein prison[…]
Ye Thu Aug 8, 2008 (DVB), Twenty years ago this week in Rangoon, the air was filled with intensity and excitement , there was a light of hope shining brightly[…]
Ye Thu Aug 8, 2008 (DVB), Twenty years ago this week in Rangoon, the air was filled with intensity and excitement , there was a light of hope shining brightly[…]
Aug 7, 2008 (DVB), On the eve of the 20th anniversary of the 8888 uprising, the All Burma Federation of Student Unions has called on the Burmese people to rise[…]
Jul 3, 2008 (DVB), Authorities have transferred Nyunt Aung, a detained youth member of the National League for Democracy in Monywar township, Sagaing Division, to Myitkyinar prison in Kachin State[…]
Goldie Shwe Apr 7, 2008 (DVB), One of the courageous members of the National League for Democracy who gathered to protest on the 63rd Anniversary of Anti-Fascist Revolution Day on[…]
Goldie Shwe Apr 7, 2008 (DVB), One of the courageous members of the National League for Democracy who gathered to protest on the 63rd Anniversary of Anti-Fascist Revolution Day on[…]
Apr 3, 2008 (DVB), A 62-year-old activist who was arrested after staging a solo demonstration in front of the US embassy in August last year has been sentenced to 20[…]