2015 Elections Constitution Lead Story News Politics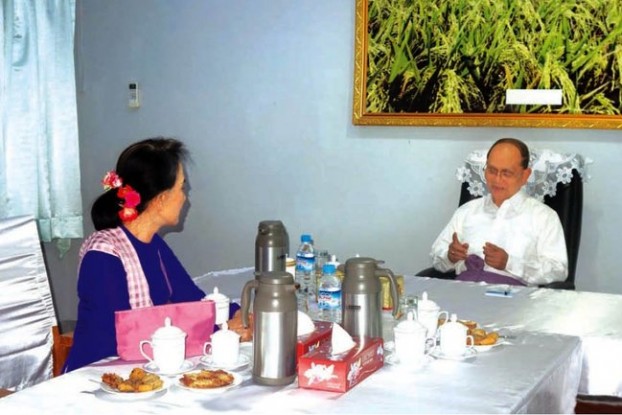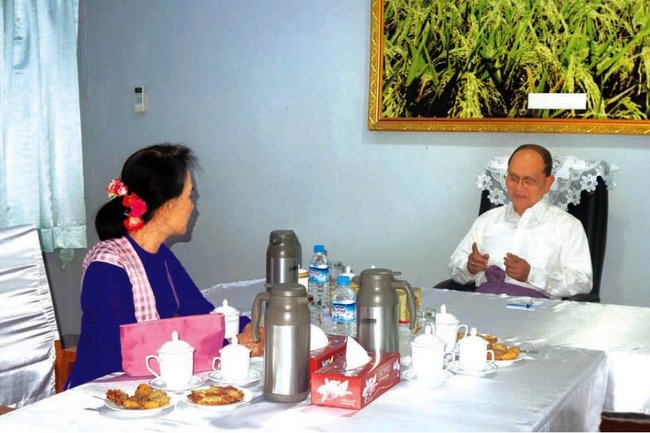 The pair reportedly met privately to discuss constitutional reform and steps to ensure free and fair elections later this year.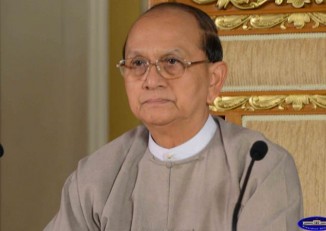 An announcement in state media accuses certain political party officials of putting words in President Thein Sein's mouth and launching personal attacks on others.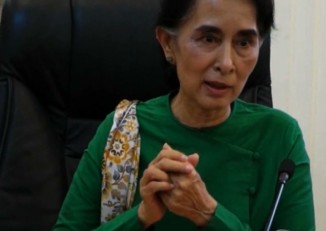 Suu Kyi continues to call for dialogue between herself, the government and other major political players despite the abrupt cancellation of a scheduled meeting on constitutional reform set for Friday.
More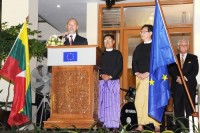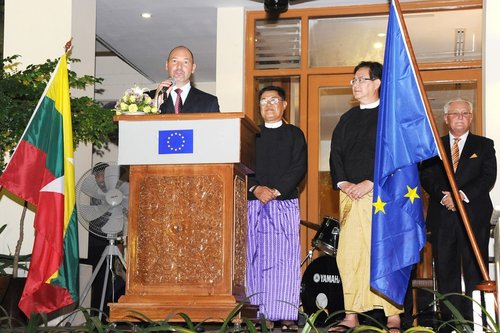 The EU lays out a list of 21 "benchmarks" which it expects the Burmese authorities to fulfill, including: cooperation with the UN; the release of all political prisoners; the strengthening of rule of law; greater media freedom; and "effective measures to combat intolerance, communal violence and hate speech".

Burma's Deputy Information Minister Ye Htut attended the 'Preventing Hate Speech in Myanmar: Divergent Voices in a New Democracy' forum in Rangoon on Friday. After the forum, Ye Htut said[…]

Peace talks between the United Nationalities Federation Council and government peace negotiators ended in a promise to engage in political dialogue yesterday in Chiang Mai.
Feb 18, 2009 (DVB), The National League for Democracy has issued a special statement supporting the United Nations' call for dialogue without preconditions and urging the military regime to accept[…]
Oct 20, 2008 (DVB), Efforts have been made to resolve the problems between National League for Democracy youth members and party chairman Aung Shwe after 109 youth activists resigned last[…]
Aung Htoo Sep 7, 2008 (DVB), If we compare United Nations special envoy Ibrahim Gambari's visit to Burma to a chess game, we can say that during his latest trip[…]
Aung Htoo Sep 7, 2008 (DVB), If we compare United Nations special envoy Ibrahim Gambari's visit to Burma to a chess game, we can say that during his latest trip[…]
Sep 3, 2008 (DVB), U Kyi Win, lawyer for Daw Aung San Suu Kyi, has said that government reports of his meeting with the detained democracy leader were misleading, in[…]
Aug 26, 2008 (DVB), A National League for Democracy spokesperson has dismissed the Thai prime minister's comment that the international community should focus on the 2010 elections instead of dialogue[…]
Htet Aung Kyaw Aug 5, 2008 (DVB), While the whole world is busy with the Beijing Olympics, many Burmese are preparing for the 20th anniversary of the 8888 uprising which[…]
Htet Aung Kyaw Aug 5, 2008 (DVB), While the whole world is busy with the Beijing Olympics, many Burmese are preparing for the 20th anniversary of the 8888 uprising which[…]
Jul 25, 2008 (DVB), Five 1990 elected people's parliament representatives have declared their opposition to the upcoming 2010 elections and said they will only participate in a political process based[…]
Htet Aung KyawJul 18, 2008 (DVB), Although the National League for Democracy and main ethnic parties didn't recognise the results of the constitutional referendum in May, the ruling junta is[…]
Htet Aung KyawJul 18, 2008 (DVB), Although the National League for Democracy and main ethnic parties didn't recognise the results of the constitutional referendum in May, the ruling junta is[…]
Jul 10, 2008 (DVB), U Aye Thar Aung of the Committee Representing the People's Parliament has said CRPP members have no interest in participating in the 2010 election announced by[…]
Mar 19, 2008 (DVB), United Nations special envoy Ibrahim Gambari told the UN Security Council yesterday he was disappointed his recent visit to Burma had delivered "no immediate tangible outcome".[…]
Mar 10, 2008 (DVB), United Nations special envoy Ibrahim Gambari left Burma today after a visit in which UN calls for the release of political prisoners and election monitoring were[…]
Mar 6, 2008 (DVB), A spokesperson for the National League for Democracy has said the party is hopeful some progress will be made during the visit of United Nations special[…]
Mar 4, 2008 (DVB), United Nations special envoy Ibrahim Gambari will travel to Burma tomorrow for his third visit since the military regime's brutal crackdown on public demonstrations in September[…]
Feb 12, 2008 (DVB), The international community has given a mixed reception to the Burmese regime's announcement that a constitutional referendum will be held this year, followed by a general[…]
Feb 11, 2008 (DVB), The 88 generation students group has criticised the Burmese regime's claims that it will hold a referendum this year and a general election in 2010, in[…]
Nyo Ohn Myint Feb 8, 2008 (DVB), Naypyidaw, the jungle capital of Burma, has been very busy in past weeks with top advisers in greens and generals in charge of[…]
Nyo Ohn Myint Feb 8, 2008 (DVB), Naypyidaw, the jungle capital of Burma, has been very busy in past weeks with top advisers in greens and generals in charge of[…]
Jan 31, 2008 (AP), Detained Burmese pro-democracy leader Aung San Suu Kyi is not satisfied with the progress of her meetings with a representative of the ruling military junta, a[…]
Jan 23, 2008 (AP), China on Tuesday rejected US demands for stepped-up pressure on Burma, whose governing junta has been accused of spurning real dialogue with the pro-democracy opposition. Foreign[…]
Jan 22, 2008 (AP), A senior US official urged the international community Monday to put more pressure on Burma's military rulers, saying the junta has made no progress in opening[…]
Jan 18, 2008 (DVB), The United Nations Security Council has expressed regret at the "slow rate of progress" by the Burmese government and called for special advisor Ibrahim Gambari to[…]