Burmese migrant workers say they are being held captive and forced to work for half the minimum wage.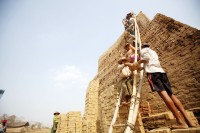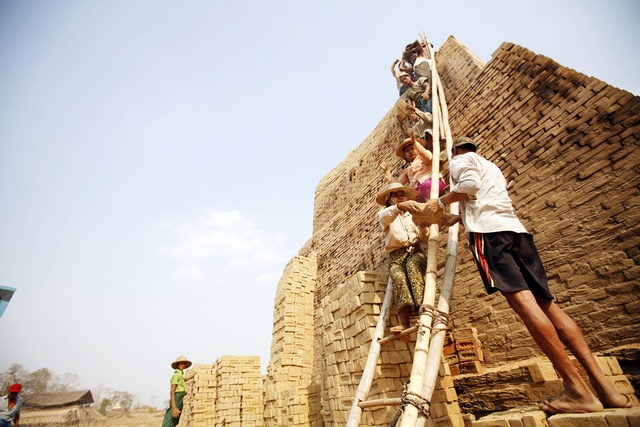 Burma's workers are losing out on social benefits because they are not aware of their privileges, according to a labour official.

Watch today's top stories with Angus Watson.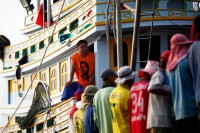 The families of 15 people lost at sea after a fishing boat capsized in early August will receive 1.5 million kyat (US$1,500) each for their losses, according to a spokesperson of the boat operator.

Burma's parliament has announced it will ratify the International Labour Organization's Convention on the Worst Forms of Child Labour on 18 December, exactly one year after signing.

Since Thein Sein's reformist government took power two years ago, labourers across Burma have been striking for better pay
Burmese migrants, who have arrived 'legally' in Thailand under a bilateral agreement between the two countries, continue to be systematically exploited and abused by their Thai employers, activists have warned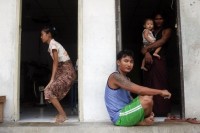 Thousands of Burmese migrants face unemployment after new minimum wage requirements imposed by the Thai government earlier this month forced several factories and workshops to close down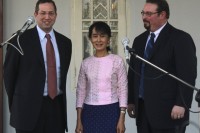 The Burmese government has failed to take adequate steps to address human trafficking, especially in conflict-affected territories such as Kachin state, despite making progress in some areas
With a new labour bill effective, US officials met with Burmese labour leaders to discuss the law and working conditions within the country
Labour Administration Department's director Chit Shein said the newly appointed official has already begun meeting with migrant worker groups in the country to study their situations
Government to bring in 100,000 Burmese labourers needed to fill the void left by the hundreds of thousands who fled flooding
A group of Asian labour associations condemn an apparent 'ruling' that promises to fire and blacklist workers who participate in industrial action, with new labour laws possible post-election
Feb 4, 2010 (DVB), Seven villagers in central Burma remain in captivity after being abducted by the Burmese troops in December last year, while a neighbour claimed they had been[…]
Nov 23, 2009 (DVB), The International Labour Organisation should do more to protect those who complain about abuses in Burma, the families of men imprisoned recently after complaining to the[…]
Nov 18, 2009 (DVB), Complaints of forced labour in Burma have risen by nearly 50 percent in the past five months, with more than half of these stemming from the[…]
Sept 2, 2009 (DVB), A Burmese woman who fell victim to human trafficking on the China-Burma border has escaped from a guesthouse in China, while her friend who was also[…]
June 25, 2009 (DVB), Six villages located near the proposed site of a hydropower plant in Burma's western Arakan state have been displaced by Burmese military, with added concerns that[…]
June 17, 2009 (DVB), Human trafficking within Burma remains "significant", whilst trafficking of young women into forced labour and commercial sexual exploitation is a "major problem", according to a US[…]
June 9, 2009 (DVB), Teenagers are being kidnapped and sold to the Burmese army for as little as $US20, while those caught trying to escape are often shot or poisoned,[…]
June 8, 2009 (DVB), A United Nations group has called for a revision of a clause in the Burmese constitution that apparently justifies the use of forced labour, and has[…]
June 2, 2009 (DVB), A woman who broke her collar bone whilst being forced by Burmese authorities to work on the construction of a road in Irrawaddy division has said[…]