Arakan Lead Story Natural Disasters News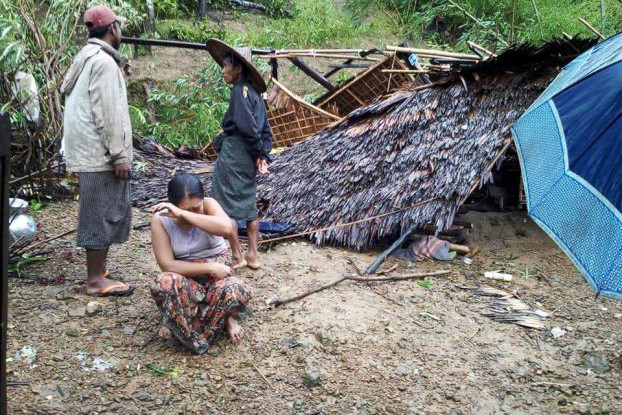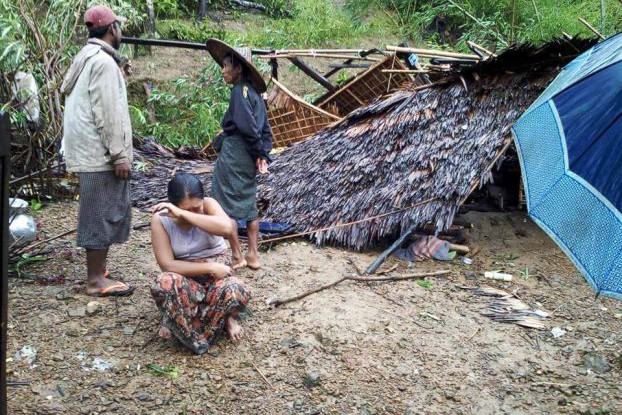 Nearly 170 people were left homeless when a whirlwind struck Arakan State's Minbya Township on Thursday.
Waters have receded in many of the areas that were worst hit by deadly flooding and landslides that have now affected over one million people across Burma.
Villagers across Irrawaddy Division are abandoning their homes in droves after warnings that floodwaters would remain well over danger levels in the days ahead.
More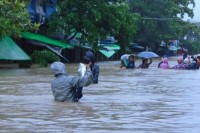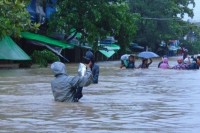 "We are cooperating and inviting international assistance. We have started contacting possible donor organizations and countries," said Ye Htut.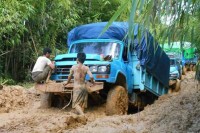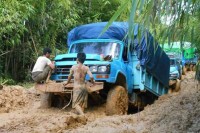 Hundreds of refugees in northern Kachin State are not receiving humanitarian aid, according to the Kachin Baptist Council (KBC).

Watch today's top stories with Angus Watson.
Actresses Yadana Khin, Thinzar Wint Kyaw and Khin Wint Wah team up with Free Funeral Service Society to deliver relief supplies to victims of flooding in Hlegu, a town 40km north of Rangoon.

Displaced residents who fled to China earlier this month to escape renewed fighting in Kachin State are suffering from a shortage of food and aid.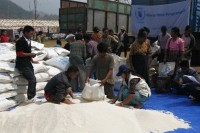 The United Nations humanitarian relief programme geared towards assisting those displaced by the Kachin conflict has so far raised only US$14.6 million of the US$50.9 million UN officials estimate is needed
May 5, 2009 (DVB), Calls for the release of over 20 aid workers who were arrested after assisting in cyclone Nargis relief efforts last year, have been issued by a[…]
Mar 12, 2009 (DVB), A man who organised rescue efforts via the internet for Cyclone Nargis victims has been sentenced to 17 years in jail. Min Thein Tun (also known[…]
Feb 11, 2009 (DVB), A book of articles written by famous Burmese writers about Cyclone Nargis is selling well in Burma, raising funds for victims of the cyclone which hit[…]
Jan 27, 2009 (DVB), Hotel and tourism minister major-general Soe Naing has ordered the immediate closure of a social support training programme in Pyapon township in the delta region because[…]
Dec 19, 2008 (DVB), Famous actor Kyaw Thu, who is also vice president of the Free Funeral Service Society, has said he is leaving the world of film to concentrate[…]
Dec 12, 2008 (DVB), Newly-released National League for Democracy member Ohn Kyaing has said he will finish his work assisting cyclone victims that was disrupted by his arrest. Ohn Kyaing[…]
Oct 2, 2008 (DVB), Five months after the devastating Cyclone Nargis struck Irrawaddy division, survivors in Bogalay and Laputta township are still struggling for survival, local residents said. The situation[…]
Oct 2, 2008 (DVB), U Ohn Kyaing, a National League for Democracy member and dedicated participant in cyclone relief efforts, was arrested last night at about midnight, according to an[…]
Sep 11, 2008 (DVB), The influx of donations and volunteer doctors after Cyclone Nargis has led to improvements in healthcare in hospitals in some areas of Irrawaddy division, locals said.[…]
Sep 1, 2008 (DVB), A Mandalay marionette troupe is preparing to travel to cyclone-affected areas this week to donate aid materials worth 10 million kyat to survivors of Cyclone Nargis.[…]
Aug 27, 2008 (DVB), Relief efforts by the Free Burma Rangers to help cyclone victims in the Irrawaddy delta are under threat due to funding shortages, according to an FBR[…]
Aug 25, 2008 (DVB), Villagers in Irrawaddy division have complained that local authorities have continued to extort money from cyclone victims under various pretexts, despite a letter of complaint they[…]
Aug 21, 2008 (DVB), Human rights activist U Myint Aye is to be charged with misappropriating relief funds despite the lack of evidence against him, according to a police officer[…]
Jul 31, 2008 (DVB), Prominent comedian and activist Zarganar and sports writer Zaw Thet Htway have appeared in court for the first time since they were arrested in June. The[…]
Jul 28, 2008 (DVB), United Nations humanitarian affairs chief John Holmes said the UN is working with the Burmese regime to address the loss of local aid expenditure due to[…]
Jul 15, 2008 (DVB), Villagers in Daydaye township, Irrawaddy division, have complained that local authorities have taken back items given to them at a public donation by the government and[…]
Jul 11, 2008 (DVB), Residents of Phoe Lay village, south of Bogalay, are lacking food, shelter and clean water and have been unable to restart farming after a tiller provided[…]
Jul 8, 2008 (DVB), The families of Zarganar, Zaw Thet Htway and others involved in voluntary aid work for cyclone victims who were arrested by Burmese authorities say they are[…]
Jul 4, 2008 (DVB), United Nations officials have said that progress is being made in delivering aid to victims in Burma two months after Cyclone Nargis devastated parts of the[…]