A Mandalay-based activist has been sentenced to one month in prison with hard labour for protesting the arrest of Phyu Hnin Htwe, an All-Burma Federation of Student Unions (ABFSU) member who faced charges relating to the controversial Latpadaung mining project.
Tin Mar Ni was detained and charged using Article 18 of the Peaceful Assembly and Peaceful Procession Law in October of last year after staging a prayer demonstration at the Maha Myatmuni Stupa in Mandalay, a site of great Buddhist significance, for the release of fellow activist Phyu Hnin Htwe.
Phyu Hnin Htwe was in detention charged with the kidnap of two Chinese national workers from Wanbao Mining Ltd, the owner of the Latpadaung mine which has seen ongoing protests and violence for the past 10 years, but was released when the charges against her were dropped − the same day that Tin Mar Ni was arrested for campaigning for her freedom.
In response to the Chanmyay Tharsi Township court's sentence on 7 January, Phyu Hnin Htwe reacted by saying,"I am sad to hear that someone has been jailed for praying for my release. This case shows that the judicial sector in Burma is completely broken and meaningless."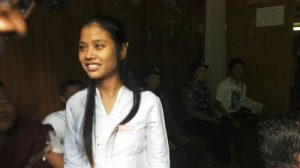 Hundreds of local villagers and their supporters have been protesting the Latpadaung copper mine since its inception more than 10 years ago. Many have been displaced to make way for the project, which was originally contracted to a Canadian firm, Ivanhoe Mines.
The mining project was temporarily suspended when activists and monks staged a mass sit-in protest in 2012. The protest was broken up brutally by riot police on 29 November that year when some 80 protestors were injured, including several Buddhist monks, many with horrific burns that experts have attributed to white phosphorous.
A subsequent investigation headed by opposition leader Aung San Suu Kyi failed to pronounce anyone guilty for the violent crackdown, and to many villagers' dismay, recommended to the government that the project be resumed.
Controversy has heightened again in recent weeks after the fatal shooting in December of protestor Khin Win and subsequent protests and widespread outrage, with officials announcing an enquiry into the incident.
[related]