Student protestors and Buddhist monks declared a hunger strike on Tuesday afternoon after authorities in Pegu Division failed to accede to their demands that they be allowed to continue their rally from Letpadan to Rangoon.
Min Min Zaw, a member of the Committee for Democracy Education Movement, which is one of the leading groups in the nationwide protests against the National Education Law, said the students had opted to join Buddhist monks who had earlier in the day announced plans to refuse food.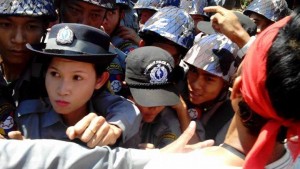 "The sayadaw  [reverent monks] declared a hunger strike and so we students have all agreed to join them," he said. "We have been on hunger strike for over one hour and will continue this if the police do not lift the barricade and if the local authorities do not give in to our eight-point demand proposal."
He last spoke to DVB at 1pm.
The eight points requested by the 500 protestors include: permission to continue their march to the next town, Tharawaddy; from there, they would take transport to Rangoon, but would be allowed to fly banners and flags and campaign via tannoys and loudspeakers. They also requested that security forces keep a distance from their convoy. If conditions for the demonstration were met, they said, they would disperse in Rangoon.
Min Min Zaw said a female student was shaken up after being pushed violently by a police officer during a confrontation when students earlier held a sit-in vigil at a main intersection in Letpadan.
[related]
He said other student "columns" in towns and cities across Burma – including Monywa, Mandalay, Sagaing, Kale, Prome, Paungde and Rangoon – have pledged to hold a hunger strike in solidarity with the activists in Letpadan.