Interview Lead Story News Video
DVB sat down with ILO country liaison officer Steve Marshall to discuss how five years of political and economic reforms have touched Burma's working class.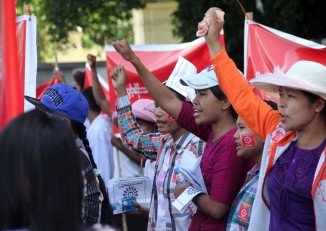 Around 500 workers from the factories of Hlaing Tharyar Industrial Zone in the outskirts of Rangoon held a rally in the city on International Workers' Day.
International Workers' Day celebrations were held all over Rangoon and among migrant communities in Thailand on Thursday, with migrant workers calling for better labour rights and minimum wage.
More
Nov 19, 2007 (DVB), Six activists who were sentenced to between 20 and 28 years' imprisonment each after attending May Day celebrations at the American Centre in Rangoon have had[…]
Nov 16, 2007 (DVB), Six activists given long-term prison sentences for attending May Day celebrations at the American Centre in Rangoon are to appeal their sentence, their lawyer said yesterday.[…]