Around 500 workers from the factories of Hlaing Tharyar Industrial Zone in the outskirts of Rangoon held a rally in the city on International Workers' Day, demanding better labour rights and higher pay.
Hla Hla, a worker from the Gallant Ocean seafood factory attended the protest at the Bo Seinman grounds in Bahan Township on Friday morning. He told DVB: "We have given 11 demands. This includes a pay rise to a minimum of 5,600 kyat (US$5.60) per day; protection of labour rights: the release of detained workers; the return of seized farmland; protection of farmers' rights; and the release of detained student protestors."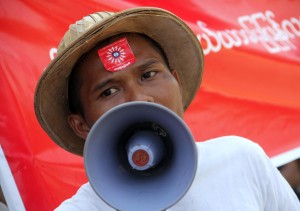 The workers are currently paid between 1,500 – 3,000 kyat per day.
The protestors sought official permission to go ahead, which was granted after participant numbers were reduced from 1,000 to 500. Demonstrators rallied from the Bo Seinman grounds in Bahan Township to Tamwe Township.
Meanwhile, a May Day celebration organised by the Confederation of Trade Unions-Myanmar was held at the Aungmya Tharyar football field in Hlaing Tharyar Township.
Union Minister Aung Min attended the event, and delivered a message from President Thein Sein.
Thurein Aung, director of the Action Labour Rights group, said, "This is the fourth May Day celebration since the government changed. The development we are seeing from previous years is that the workers themselves are more actively organising themselves, with more precise demands."
[related]