Locals at the site of the Latpadaung copper mine were not invited to participate in the reconsecration of a hallowed pagoda.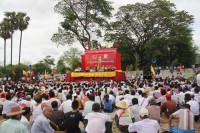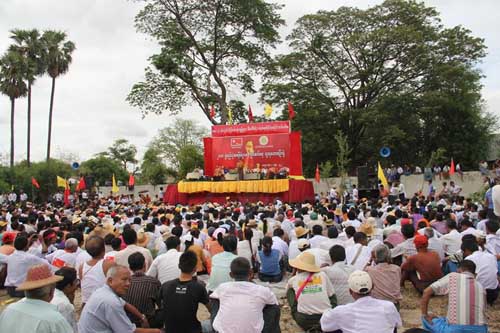 United Nations' Special Rapporteur on human rights in Burma, Tomás Ojea Quintana, arrived in Monywa, Sagaing Division, on Monday to meet with villagers living near the controversial Latpadaung Copper Mine.

Nine activists have been released following their arrest on Wednesday after a protest near the Latpadaung copper mine turned violent.

Authorities fence up over 300 acres of farmland that falls within the Latpadaung Mining Project area, angering residents who have farmed the land for generations.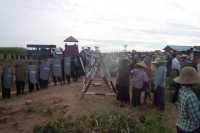 Authorities in Sagaing division have acceded to a demand by residents in Mogyopyin village, near the Latpadaung copper mine project, to remove police guard posts from around their village following a violent altercation last week which left both protestors and police in hospital.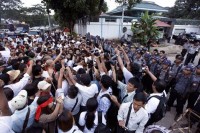 Around 150 villagers and Buddhist monks gather at Shwezigon Pagoda in Monywa to conduct a prayer ceremony to mark the anniversary, nearly one year ago, of the night riot police brutally firebombed peaceful protestors at a historical Buddhist site near the Latpadaung copper mine.

Once again, tensions peak at the Latpadaung mining project after officials begin to fence off farmland that falls within the project zone.


Protesters marched through Rangoon on Monday to urge the government to stop the Latpadaung Copper Mining project – a joint venture between China's Wangbao and military-owned Union of Myanmar Economic[…]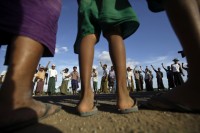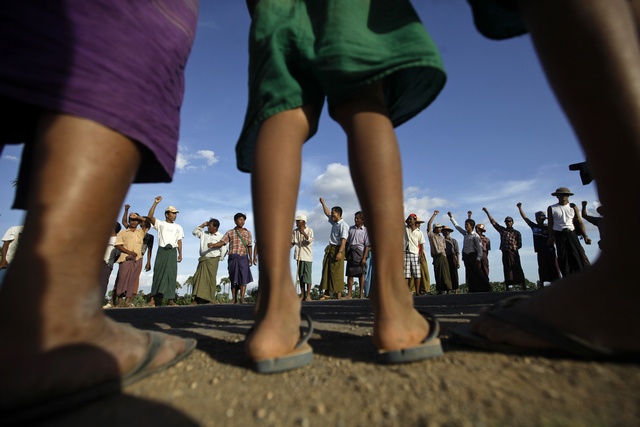 Hundreds of Burmese villagers, students and monks have joined protests at a Chinese co-owned copper mine which they allege has forced people off their land and polluted the area, activists said on Tuesday.
Four villages ordered to relocate as China's Norinco looks to expand Monywa copper project, Burma's largest mine