Amnesty International has today called for the release of 91 persons who it says are languishing behind bars in Burma as political prisoners.
The London-based rights group claims that the ruling government led by President Thein Sein has stepped up a crackdown on dissent ahead of a general election on 8 November.
"Myanmar's authorities have been locking up and harassing scores of peaceful activists as part of an intensifying and far-reaching crackdown ahead of November's elections," Amnesty said in a report on Thursday titled 'Back to the old ways', as it launched a campaign to free the 91.
Among the prisoners of conscience listed is Philip Blackwood, a former bar-restaurant manager in Rangoon, who was arrested and subsequently charged with offending religion after he allegedly posted online an image of the Buddha wearing headphones as part of a promotion for his nightclub.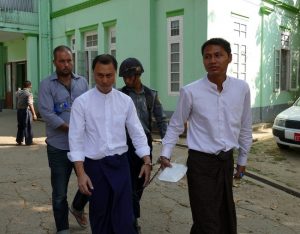 He and his two Burmese colleagues Tun Thurein and Htut Ko Ko Lwin, who are also listed in the Amnesty report, were each sentenced to 30 months in Rangoon's notorious Insein Prison.
A holder of both New Zealand and British citizenship, Blackwood is the sole foreign prisoner of conscience in Burma, according to Thursday's report.
"Amnesty International considers the case against them [Philip Blackwood, Tun Thurein and Htut Ko Ko Lwin] to be a violation of the right to freedom of expression … It is important to note that freedom of expression extends to ideas of all kinds, including those that may be considered insulting or offensive," said Laura Haigh, Amnesty's Myanmar researcher.
In an email to DVB, she noted that "the case against the three men takes place in a broader context of rising religious intolerance in Myanmar."
The recognition of the trio as prisoners of conscience comes at a time when British media interest in the case has increased. London's The Times is among the leading newspapers that is suggesting the British government has "abandoned" Blackwood.
Earlier this week, Burma Campaign UK, which has launched a petition calling for Blackwood's release, accused the British Foreign Office of failing to protect its citizens, a charge that Minister Hugo Swire immediately rejected.
DVB asked Bo Gyi, the co-founder of the Assistance Association for Political Prisoners-Burma, whether he considers Blackwood and his colleagues to be "prisoners of conscience".
"It is difficult to say," he responded. "But it is sure that his [Blackwood's] imprisonment is too much. Actually, he should not be in prison at all."
Human Rights Watch's senior researcher in Asia, David Mathieson, said, "Given Burma's disturbing rise in Buddhist ultra-nationalism, Phil Blackwood and the three other Burmese in prison on charges of insulting religion should be viewed as political prisoners given the Burmese authorities pandering to extremists and distorting the law to punish alleged transgressions of nationalist orthodoxy.
"The international community should be strenuously decrying the travesty of justice meted out to all four, and call for their immediate and unconditional release, and put a stop to political vigilantism shabbily dressed as religious protection."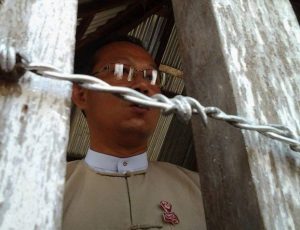 The third Burmese that Mathieson referred to is Htin Lin Oo, a former member of Aung San Suu Kyi's National League for Democracy (NLD), who in June was jailed for two years with labour, also on charges of religious defamation, after he was arrested for an impassioned speech in which he panned Buddhist hardliners for stoking inter-religious tensions in the country. The NLD moved quickly to expel him from the party in the wake of the controversy.
At the time of his sentencing, the UN's High Commissioner for Human Rights called the sentence "appalling". Htin Lin Oo is currently incarcerated in Monywa Prison.
Of the 91 detainees on Amnesty International's list, 54 are activists and students being held in Tharawaddy Prison, who are currently on trial for their involvement in protests against the National Education Law.
Demonstrations were held across the country from December until March when police in the Pegu township of Letpadan launched a violent crackdown on students who were holding a sit-in protest in the town. Some 127 protestors were arrested, and while many were later released, at least 54 remain behind bars.
One of those is Phyo Phyo Aung, a charismatic 27-year-old activist, who was previously sentenced to four years' imprisonment by the military government in 2008 after she volunteered to help arrange funerals for victims of the Cyclone Nargis disaster.
During her current period of incarceration, Phyo Phyo Aung has won a Citizen of the Year Award and other human rights honours.
Amnesty International emphasised on 8 October that though it lists the names of 91 political prisoners in Burma, the actual number "is likely to be higher".
It said it had documented a marked surge in repression as Burma's general election draws closer. "Peaceful activists have been more often charged with offences without bail so they are kept in pre-trial detention for extended periods, while prison sentences have become longer", it noted.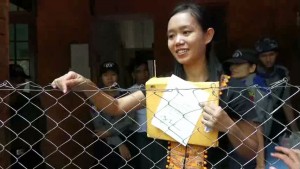 "Myanmar's authorities have clearly been playing a long game ahead of the elections, with repression picking up pace at least nine months before the campaigning period started in September. Their goal has been straightforward – take 'undesirable' voices off the streets way ahead of the elections and make sure they're not heard," said Laura Haigh.
The organisation urged the international community, which it says "has largely relaxed pressure" on Burma over the past two years, "to step up efforts to push President Thein Sein to release all prisoners of conscience".
"World leaders cannot take at face value Myanmar's claims to have ended repression. The election offers a crucial opportunity for governments to make clear to Myanmar's authorities that locking up and silencing peaceful critics is unacceptable. It's an opportunity that mustn't be missed," said Laura Haigh.
Read the full Amnesty International report HERE
NOTE: Amnesty International considers as a prisoner of conscience any person imprisoned or otherwise physically restricted solely because of his/her political, religious or other conscientiously held beliefs, ethnic origin, sex, colour, language, national or social origin, economic status, birth, sexual orientation or other status, or for exercising his or her right to freedom of expression or other human rights – who has not used violence or advocated violence or hatred.
Read more about Phil Blackwood's case
Read more about Burmese political prisoners