DVB Debate Lead Story News Video

The second season of DVB Debate begins with a discussion about whether there should be more separation between religion and the state. On the panel: writer Ye Naing Moe, politician Yan Kyaw and U Sein Win Aung, Treasurer of the Shwe Dagon Pagoda.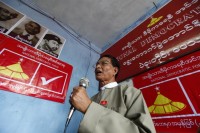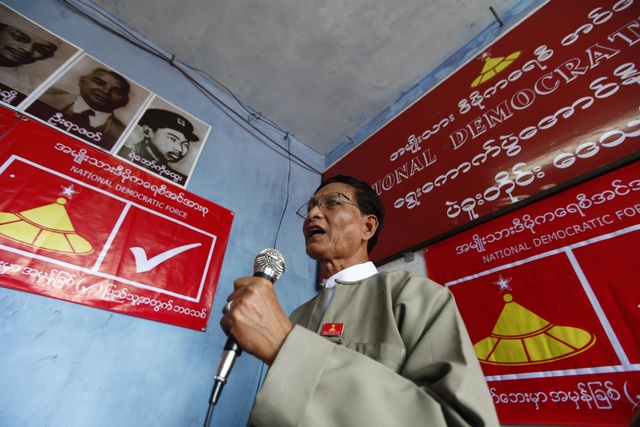 Nine political parties, the core of whom are known informally in Burma as the "Third Force" and include the National Democratic Force and the Democratic Party-Myanmar, have announced that they have formed an alliance.

After more than five decades of censorship, the art scene is blooming in Burma and artists enjoy a newfound freedom. But now, disagreement exists about the role art should play in society.
A female political prisoner in Kachin state's Putao prison was beaten up by prison guards when she tried to stop them from beating up two other inmates
Htet Aung KyawFeb 20, 2009 (DVB), In much of Europe, the US, Australia and Japan, media workers are safe and sound. But in Burma, while the military junta is still[…]
Htet Aung KyawFeb 20, 2009 (DVB), In much of Europe, the US, Australia and Japan, media workers are safe and sound. But in Burma, while the military junta is still[…]
Naing Ko Ko Feb 19, 2009 (DVB), An election in Burma is supposedly going to be held in 2010 by the elite generals. Within the half century from 1960 to[…]
Naing Ko Ko Feb 19, 2009 (DVB), An election in Burma is supposedly going to be held in 2010 by the elite generals. Within the half century from 1960 to[…]
Tine Gyaw Feb 4, 2009 (DVB), In Burma's current political arena, there are five distinct groups with different approaches to democratisation, the struggle for power, and participation in the 2010[…]
Tine Gyaw Feb 4, 2009 (DVB), In Burma's current political arena, there are five distinct groups with different approaches to democratisation, the struggle for power, and participation in the 2010[…]
Aung Htoo Jan 27, 2009 (DVB), A constitution which guarantees the rights of the people and restricts the powers of the government is a crucial foundation in the building of[…]
Aung Htoo Jan 27, 2009 (DVB), A constitution which guarantees the rights of the people and restricts the powers of the government is a crucial foundation in the building of[…]
Jan 22, 2009 (DVB), The announcement by the National Council of the Union of Burma of its plan to form a new exile government to rival the National Coalition Government[…]
Htet Aung Kyaw Jan 19, 2009 (DVB), Although the word 'vacation' is still a strange one to most ordinary Burmese people inside the country, many Burmese in exile, including this[…]
Jan 19, 2009 (DVB), Professor Josef Silverstein called on the Burmese democracy movement to unite and take action to challenge the military government's right to rule, in an interview with[…]
Jan 19, 2009 (DVB), Professor Josef Silverstein called on the Burmese democracy movement to unite and take action to challenge the military government's right to rule, in an interview with[…]
Htet Aung Kyaw Jan 19, 2009 (DVB), Although the word 'vacation' is still a strange one to most ordinary Burmese people inside the country, many Burmese in exile, including this[…]
Jan 13, 2009 (DVB), The recent election of 47-year-old Barack Obama as US president and the nomination of 44-year-old Abhisit Vejjajiva as prime minister of Burma's neighbour Thailand have highlighted[…]
Pascal Khoo Thwe Jan 8, 2009 (DVB), For the majority of people in Burma, 2008 will be remembered as the year an apocalypse by the name of Cyclone Nargis visited[…]
Pascal Khoo Thwe Jan 8, 2009 (DVB), For the majority of people in Burma, 2008 will be remembered as the year an apocalypse by the name of Cyclone Nargis visited[…]
Dec 4, 2008 (DVB), General Kyaw Zaw, a veteran politician and one of the Thirty Comrades, has urged the people of Burma to keep on fighting against the military dictatorship[…]
Gemma Dursley Dec 2, 2008 (DVB), Since Burma's pro-democracy protests of 2007, many of those at the centre of the Saffron Uprising have been quietly jailed, and the optimism that[…]
Gemma Dursley Dec 2, 2008 (DVB), Since Burma's pro-democracy protests of 2007, many of those at the centre of the Saffron Uprising have been quietly jailed, and the optimism that[…]
Meelyin Nov 18, 2008 (DVB), On 27 October 2008, the Women's League of Burma launched its shadow report on the Convention on the Elimination of All Forms of Discrimination against[…]
Meelyin Nov 18, 2008 (DVB), On 27 October 2008, the Women's League of Burma launched its shadow report on the Convention on the Elimination of All Forms of Discrimination against[…]
Oct 31, 2008 (DVB), Czech minister Ondøej Liška stressed the importance of education in bringing about democracy and an active civil society in Burma in an interview with DVB. Liška,[…]
Oct 31, 2008 (DVB), Czech minister Ondøej Liška stressed the importance of education in bringing about democracy and an active civil society in Burma in an interview with DVB. Liška,[…]
Oct 30, 2008 (DVB), Veteran politicians Thakin Tin Mya, Thakin Hla Kone and U Shwe Ohn have been invited to attend a seminar in Hong Kong to discuss the current[…]
Yaysin Oct 28, 2008 (DVB), If the Burmese government is to live up to its international responsibilities on women's rights, it must allow women to participate fully in the political[…]
Yaysin Oct 28, 2008 (DVB), If the Burmese government is to live up to its international responsibilities on women's rights, it must allow women to participate fully in the political[…]