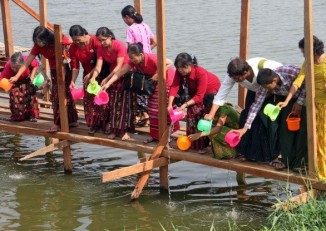 Activists staged the symbolic acts to draw attention to the continued detention of Burmese citizens.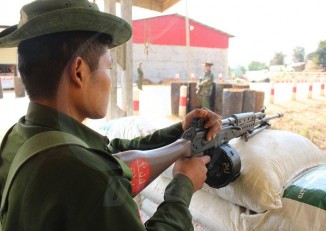 More

Today's top stories with Helen Regan.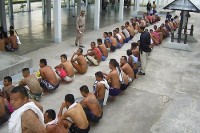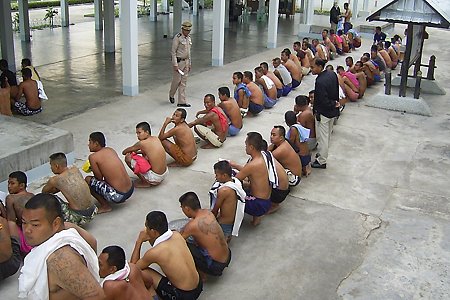 More than 600 Burmese prisoners have been released recently in Thailand, Burma's Deputy Home Affairs Minister Brig-Gen Kyaw Zan Myint said in parliament on Friday.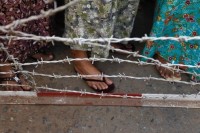 Burma has agreed to release some 70 political prisoners, an official said Tuesday, after President Thein Sein vowed to free all dissidents by the end of the year

A conference to work out a definition for political prisoners was held by the Committee to Verify Remaining Political Prisoners in Rangoon on Thursday. The outcome would be used to[…]
Activists and opposition have expressed frustration on Tuesday after an order to cut jail terms for all inmates appeared to fall far short of hopes for an amnesty for political detainees.
Burmese military rulers must free all political prisoners, including Aung San Suu Kyi, and ensure that upcoming polls are inclusive and transparent, a group of UN member states said Thursday.
Feb 18, 2010 (AFP)-A UN envoy visiting military-ruled Burma to inspect progress on human rights ahead of elections has met prisoners in the country's remote northwest, officials said Wednesday. Special[…]
Sept 17, 2009 (DVB), More than 7000 prisoners in Burma have today been released in a "goodwill" gesture by the ruling junta, although it remains unclear whether any political prisoners[…]
Apr 29, 2009 (DVB), Burma has agreed to take back 68 Burmese nationals who have been imprisoned in Bangladesh following a meeting between the Burmese government and a Bangladeshi paramilitary[…]
Mar 9, 2009 (DVB), Exiled Burmese women's activist group, the Women's League of Burma, have marked International Women's Day by calling for the release of all women political prisoners in[…]
Sep 2, 2008 (DVB), At least 39 human rights and pro-democracy activists were arrested during August this year and 21 were given prison sentences, according to Assistance Association for Political[…]
Jul 9, 2008 (DVB), Family members of political prisoners in Insein prison said prison authorities have been searching the detainees' cells for red and black items and returning them to[…]
Apr 4, 2008 (DVB), An assistance programme run by the National League for Democracy providing food and other necessities to inmates of Insein prison has been stopped by new regulations,[…]
Mar 11, 2008 (DVB), Seven people who were being held at South Dagon township police station in Rangoon after being arrested for theft have reportedly been recaptured after escaping early[…]
Basil Fernando Feb 12, 2008 (DVB), Last week, the Asian Human Rights Commission issued three appeals on cases of concern from Burma which illustrate the "un-rule of law" that pervades[…]
Basil Fernando Feb 12, 2008 (DVB), Last week, the Asian Human Rights Commission issued three appeals on cases of concern from Burma which illustrate the "un-rule of law" that pervades[…]
Bo Kyi Feb 1, 2008 (DVB), The fundamental challenge that the people of Burma are facing today stems from the military's monopolization of power and its abuses against those who[…]
Bo Kyi Feb 1, 2008 (DVB), The fundamental challenge that the people of Burma are facing today stems from the military's monopolization of power and its abuses against those who[…]