The Myanmar Garment Manufacturers Association (MGMA) has threatened to close down factories if the proposed 3,600 kyat (US$3.60) per day minimum wage is approved by the Burmese government.
Representatives of Chinese- and South Korean-owned garment factories at an MGMA meeting on Thursday said they would shut down their businesses by September if the minimum wage proposed earlier this week by the National Committee for Minimum Wage (NCMW) were adopted.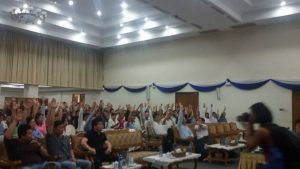 Participants at the meeting unanimously objected to the NCMW's 3,600-kyat-per-day recommendation, saying it would be unaffordable.
Speaking to DVB on Friday, MGMA Secretary Khin Khin Nwe said, "We already promised to honour a minimum wage of 2,500 kyat. My point is that everyone wants to give their employees higher pay. It's not for a lack of generosity, but simply because it is not affordable for us [manufacturers and factory owners]."
MGMA claims to represent about 300 firms, mostly garment factories, which employ upwards of 200,000 workers. In a news release on its website on Tuesday, the owners association reacted to what it noted would be a "colossal" increase in pay.
"The newly proposed minimum wage figure [of 3,600 kyat per day] represents a more-than doubling of the industry average introductory wage for unskilled workers," it said. "For some factories, 3,600 kyat represents 4.5 times what is normally paid to unskilled workers who are participating in induction training. As such, this represents a colossal change for the garment industry."
The factory owners' association also pointed out that Burma has "the highest overtime pay in the region."
The association's comments came after a workshop held in Rangoon over the previous week when it was decided by the NCMW to propose a fixed minimum salary of 3,600 kyat per day or 450 kyat ($0.45) per hour for all workers in Burma, except small enterprises with 15 workers or less, and family businesses.
[related]
The NCMW said it would allow both employers' and workers' associations two weeks to lodge objections to the proposal, after which time, if unopposed, it would be submitted to the Ministry of Labour, Employment and Social Security.
There are currently more than 30 Chinese-owned garment factories in Burma and nearly 60 South Korean factories, together employing about 210,000 workers, all of whom could face redundancy if the matter is not resolved.
MGMA's President Myint Soe said Burmese factory owners would follow suit with their foreign counterparts to cease operations if the current proposal were accepted into law.
"We are willing to work with employees who stand by us through thick and thin," he said. "However, for those who do not wish to cooperate with us, we may have to part ways."