FROM THE DVB NEWSROOM
21-year-old dies of heart attack at Insein Prison
Regime officials claim that Min Hein Khant, 21, died of a heart attack at Insein Prison on Sept. 24. "We learned that he had been suffering from this disease since May of this year," a former political prisoner told DVB. He was reportedly not allowed to receive proper medical care at Insein Prison.
Min Hein Khant was sentenced to 27 years in prison on incitement and terrorism charges. He was arrested along with three others in November 2021 after soldiers raided an apartment in Yangon on Aug. 10, 2021. Two others died while jumping from the building to evade arrest.
Regime reshuffles its council
Moe Myint Tun and Soe Htut were removed from their posts in the military regime to be investigated for corruption on Sept. 25. This is the second council reshuffle since August. Moe Myint Tun and Soe Htut will be replaced by Nyo Saw and Maung Maung Aye.
Maung Maung Aye is the Chief of General Staff for the Burma Army, Navy and Air Force. He has been sanctioned by the E.U. Nyo Saw is an advisor for Min Aung Hlaing and recently joined the Foreign Exchange Supervisory Committee (FESC).
India to increase fencing along Burma border
India will build an additional 70 kms of fencing along its border with Burma in Manipur State to halt the flow of undocumented migrants, drugs and arms, RFA reported. India began building a fence along the border earlier this year but less than 10 percent is completed.
Human rights groups expressed concern that it would be more difficult to seek refuge in India. "The closure of the border is only intended to fence off Myanmar refugees, but I don't think it will prevent many other crimes and other illegal trade," said Salai Dokhar from India for Myanmar. The group states that more than 5,000 refugees from Burma have arrived in Manipur since the 2021 coup.
Migrant workers protest against remittance plan
Migrant workers from Burma in Thailand staged a protest against the military order to remit a portion of earnings, via regime-controlled banks, in front of U.N. headquarters in Bangkok on Sept. 24.
Naypyidaw has mandated migrant workers to remit at least 25 percent of their foreign currency income through its banks. The protest was organized by Bright Future, a migrant workers group based in Thailand. Protesters held banners reading: 'You won't get any money from us!' The migrant workers submitted a letter to U.N. officials.
News by Region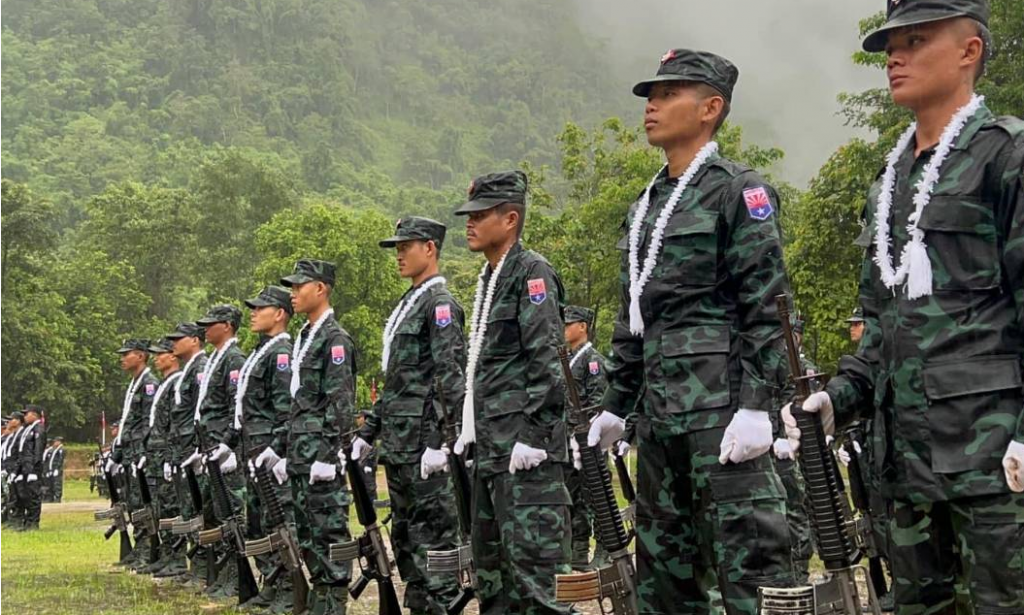 KAREN—The Karen Peace Support Network released a report titled "A Shifting Power Balance" on Sept. 26. It claims that the Burma Army has lost 62 military camps to the armed wings of the Karen National Union (KNU) and other resistance groups since the 2021 military up to July 26 of this year. Read more here.
BAGO—Sixteen Burma Army troops were killed along with one civilian and one People's Defense Force (PDF) member from fighting in Thayarwady Township from Sept. 2-24, according to Thayarwady PDF. Two homes were damaged by Burma Army shelling.
"The Burma Army fired different kinds of weapons," said a Thayarwady resident. Fighting has resumed in western Bago Region. The PDF has warned residents against traveling in the area.
KACHIN—Three Burma Army troops, including a Military Security Affairs officer – who was receiving medical treatment at Hpakant Township Hospital – were killed on Sept. 25. "An armed group with three vehicles entered the hospital that afternoon and opened fire at them. There were many security guards at the hospital but they ran away," said a witness at the hospital.
YANGON—Domestic gold prices and the USD exchange rate has declined since August. A tical of gold rose to a record high of over K3.9 million ($1,848 USD) last month. It is now below K3.5 million ($1,658.52 USD). The USD exchange rate dropped from K4,000 to 3,370 ($1.90-1.60 USD) as of Sept. 25. 
Traders attributed the decline to the regime's efforts to control the dollar exchange rate. "Domestic gold prices continued to decline starting this month. Domestic gold prices were still declining despite international gold prices rising last week," said a dealer in Yangon.
SHAN—An Airstrike occurred on the Ta'ang National Liberation Army (TNLA) Brigade 1 territory in Muse Township on Sept. 25. Three other airstrikes took place in nearby mountains with no reported casualties. Fighting between the Burma Army and the TNLA in Kutkai and Muse townships resumed on Sept. 17.