Four Burmese migrants workers accused of murdering a high school student in the southern Thai port city of Ranong were brought from prison by police on Wednesday to take part in a public re-enactment of the alleged crime.
The re-enactment was carried out under heavy security with dozens of police and military personnel, and drew a large crowd of bystanders. The four Burmese – Moe Zin Aung, Wai Lin, Sein Gadone and Kyaw Soe Win – wore bulletproof jackets and motorcycle helmets for protection.
Min Oo of Thailand-based migrant worker rights group Foundation for Education and Development (FED) said he and representatives of the Burmese embassy in Bangkok were allowed to see the suspects on Wednesday after previous attempts had failed.
"We sought to visit the boys over the past two days, but only today managed to get permission," he said on Wednesday. "We are trying to get permission from their parents to conduct regular visits."
He added that the embassy is forming a team to investigate the case and is actively seeking legal representation for the four suspects, who are currently being held at Ranong Province Police Station.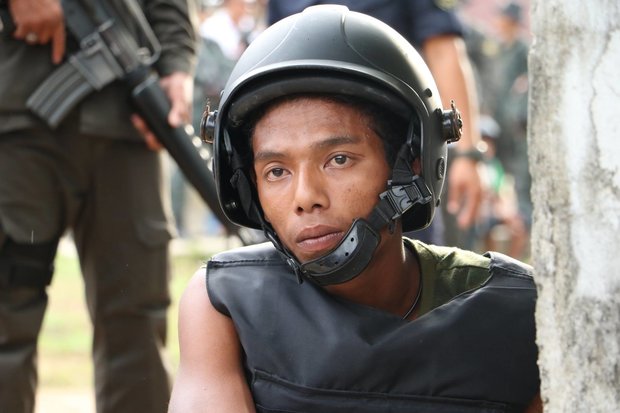 The four face charges of murdering Orawee Samphaothong, 18, on 28 September in Ranong. The young woman was stabbed 17 times in an isolated alley while walking to visit a school friend who lived about one kilometre from her house. Police found 200 baht in cash in her purse and a smartphone, but no weapon.
Fisherman Kyaw Soe Win, 18, was originally apprehended on a fishing trawler, sailing about 13 nautical miles off Phangnga last Friday night. Also arrested on board a different vessel was Maung Sein, 20, the Bangkok Post reported on 24 October.
Maung Sein was released on 25 October due to lack of evidence.
Zaw Min Soe, the father of Kyaw Soe Win, rejected the allegations that his son killed the girl.
"I can tell you that it was not my son who committed this crime. We were working together on the same fishing trawler, and were on shore leave when the murder took place," he told DVB. "We were unaware of the incident when we went to sea the day after the killing. Almost a month later, we received an order from our boss to return to the shore, but we decided to stay at sea for two more days to keep to the original schedule. When the police came out to sea and arrested my son, he was dumbfounded."
He said that Kyaw Soe Win appeared to want to say something when he visited him in prison on Wednesday but would not say anything in the presence of Thai police officers.
FED's Min Oo said all four suspects "did not appear normal" during the crime scene re-enactment.
"They looked groggy and detached – especially the boy who re-enacted with the stick [as a murder weapon]," he said.
Thai media have reported that Ranong police insist they have solid evidence against the suspects.
[related]
The case has drawn macabre parallels with the infamous police investigation that followed the murder of British tourists David Miller and Hannah Witheridge on the Thai resort island of Koh Tao in September 2014, when Thai police made little secret of their belief that the crimes could only have been committed by Burmese migrants.
Arakanese youngsters Zaw Lin and Win Zaw Htun were arrested for the double murder and forced to re-enact a crime that both later denied, insisting their confessions were obtained by threats and torture.
The pair have been tried in a Thai court and a verdict is due on 24 December.
Read more on the Koh Tao murders