In the sunlight from the door opening of her bamboo hut, Naw Sodo Shoko shows us pictures of what she does at her job: neatly folded elephants and swans from towels and bed sheets and colourful flower ornaments ready to ornate a fancy dinner table or hotel reception.
However, we are not in a luxury hotel, we are in Mae La refugee camp, and the pictures are from the training center where she works as a teacher in a vocational training program. There, other refugees such as herself decorate make-believe hotel beds and tables, for a time when they might be able to apply for a job where the hotel rooms are not make-believe anymore, where being a chambermaid, a waitress or a receptionist is no longer role play.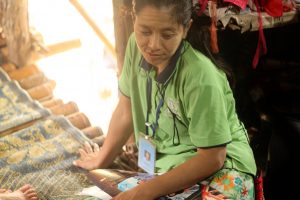 "My dream is to go to Australia, where my family lives, and maybe get a job in a hotel", she says. Having fled Burma in 2010, after threats for being the daughter of a local politician, she does not see repatriation to her homeland as an option.
As she and her family arrived at the Thai-Burmese border too late to register as refugees with the UN, the dream of going to Australia will remain no more than that for now – just a dream.
The same goes for almost all of those living in the nine refugee camps in Thailand, and for the 10,000-plus who have undertaken the vocational training programme since it was initiated in 2011.
The list of vocational training pursuits includes: sewing, cooking, hospitality, mechanics, electronics, hairdressing, computer skills and construction. Combined with classes in running a small business and skills needed outside the camps, the programs give a total of 250 hours of education.
"Among those who have finished the hospitality training, some have already left for resettlement to third countries," she says. "Others maybe do flower arrangements and decorations when we have a festival in the camp. Otherwise there is not much to do. There are no hotels here."
As international donors increasingly focus on projects inside Burma and turn their backs on the country's 110,000 refugees in Thailand, NGOs are stepping in to try to prepare them for a day when the camps close and they have to find work elsewhere to survive.
"We do not know how long the camps will last. But in ten years it is not likely that they exist like today," says programme coordinator for the Adventist Development and Relief Agency (ADRA) Thailand, Matthias Rimarzik.
Over the last year, their training programmes – formerly known as 'livelihood trainings', have been restructured and re-baptised as 'vocational training to prepare for transition' in seven camps. They work together with ACTED, another INGO, and have signed a cooperation framework with the Thai 'Office of Vocational Education Commission' (OVEC). The two organisations are working together in designing and developing their programs, which also give certification in both Burma and Thailand.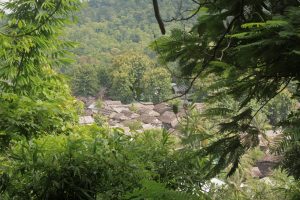 "Four years ago, we started the training program to help people increase self-reliance and livelihood in the camps," says Rimarzik. "Since 2013, there has been a shift towards preparedness. I think donors want to see their project in a perspective, not just in the status quo. Therefore we turned the programs towards 'preparedness', as the donors want to know: 'Can it progress in the future?'"
Preparations in anticipation of the camps close are still in the early stages. At the same time, NGOs' budgets in Thailand have been cut, and resettlement is an opportunity for fewer and fewer refugees.
The Border Consortium, the main provider of food and shelter in the refugee camps, is reporting an expected shortfall of 10 percent of their funding for expected costs, and is consequently reducing rice and charcoal rations in addition to cuts in programmes and staff.
The United Nations High Commissioner for Refugees in Thailand received just 35 percent of their requested fund last year, and has gone from spending over $16 million in 2011 to an expected $14 million in 2015.
ADRA is also feeling the pressure of donors cutting back on funds to the refugee camps, and now only has funding for the next two years secured.
"Most NGOs and donors see that there is an urgency to be prepared for the closing of the camps. The refugees however, are mostly still not believing in that," says Rimarzik.
ADRA sees its programmes as a valuable resource for refugees for the day when they make the decision to leave the camp, either to go back to Burma for good, or to apply to be a legal migrant worker in Thailand. But, according to Sodo Shoko, most refugees view the training as just something to pass the time.
"It is good to have something to do. Those who don´t are wasting their minds," she shrugs.
Saw Poe Thurah, principal at the Thirisenda High School in the same refugee camp, shares that opinion. He got a job there after a teacher-training project with ADRA in 2009, a programme that is not being held this year because of budget cuts.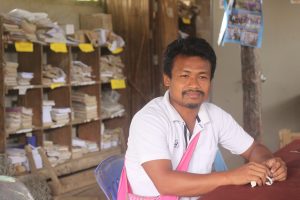 Having the responsibility for hundreds of pupils and teachers in the midst of Mae La, he is a busy man, and is going back and forth between his office and the courtyard outside to keep an eye on the kids coming out from a class. His former co-students from the training course however, have not been as busy.
"Most people don´t get a job, like I did," he says. "But it is good for the self. For me, my education is not recognised anywhere else, but here I can use it."
Having jobs in Mae La – a jungle camp of some 40,000 displaced persons – make Naw Sodo Shoko and Saw Poe Thurah two of the lucky ones. Sodo Shoko says she is earning 1,000 baht ($30) a month. Still, it is not always enough, especially with rice rations being cut.
Solidarités International, another NGO active in the camp, has vocational training through fish and frog farming. Country director Philippe Labbé Lavigne sees other benefits from the training other than only the technical skills developed.
"Many refugees are not business savvy. They are used to having NGOs covering their needs, and not encouraging them to think about the future," he explains. "With training programmes, they can gain both the confidence to make a decision about their life, and to become more prepared for how the world works outside."
He thinks there is a long way to go before more refugees can get another status in Thailand or repatriate to Burma.
"The bureaucracy to get legal documents in Thailand is extremely complicated, and for people to consider returning, the security and possibilities in Myanmar are not yet there."
That means that many of those with newly gained vocational skills will not have any use for them in the immediate future.
"For some programmes, few opportunities exist within the camp, and after finishing the training, that can be frustrating,' says Lavigne. "But if people want to open a small shop or business selling or doing something that there is a market for within the camps, there can be good opportunities for that."
With new priorities in their work, ADRA is hoping to attract more donors. The current programme is funded for the next two years, after which time they face an additional challenge as the Australian government – which is the provider of half the budget – is expected to pull out.
"We still see the need to intensify, not reduce, training opportunities in the camp. Several donors focus more on working within Myanmar, and we see funding here as a major challenge in the years ahead," says Rimarzik.
However, the UNHCR and all the NGOs that DVB spoke to are united on one crucial issue – that it is still too early for mass repatriation.
"Every year there are 6,000- 8,000 fewer refugees," says Lavigne. "But as fewer are resettled, and it is so hard to get the proper documentation to become migrant workers in Thailand, we still need funding."
[related]
Neither Saw Poe Thurah nor Naw Sodo Shoko saw repatriation as a solution, least not for the time being. Flicking through the images on her phone, showing us pictures of her family in Australia, Naw Sodo Shoko says the bureaucracy involved in securing resettlement leaves her struggling to stay optimistic.
"Right now, I don´t know what to do. I can see no future," she says.