Once a country famed for its forbidden wilderness, Burma was mostly covered by forest until only a few decades ago. That is now changing with the nation one of the least environmentally-protected in the region. Driven by demand from neighbouring countries, Burma's forests are under threat. As more trees are felled, a new government sworn in next year will quickly face the task of addressing the regulation of land and natural resources.
The destruction of Burma's rosewood forests is a case in point. Used in the production of high-end furniture, bourgeoning wealth in China has seen demand for the product reach previously unprecedented levels. Some rosewood varieties including tamalan and padauk are fetching more than US$7,000 per tonne. But the growth of trade is fast becoming its downfall. Certain rosewoods are now facing commercial extinction in as little as two years. The situation is so dire a leading resources expert is already claiming Burma is "no longer resource-rich in timber."
Speaking recently at Chiang Mai University, Kevin Woods gave a blunt assessment on the future of the timber industry: "Valuable, marketable hardwoods have been long over-harvested. The remaining marketable timber that is accessible is quite few and far between now."
How this situation has arisen was the focus of Woods' presentation. Concentrating on the legal environment in Burma, he discussed the explosion of land conflict cases following the introduction of agricultural laws in 2012, the most divisive being the Farmland and Vacant, Fallow and Virgin Land Acts. With the stroke of a pen, public land became marketable and was quickly privatised. A fight erupted "for control of the timber trade."
Such a distinction highlights the enormous change in ethnic conflicts over forests. For centuries, Burma's forest dependents – roughly one-third of the population – had protected and relied upon forest resources for their existence. But the new legal framework meant the Burmese government owned virtually all the land. Only worsening the situation, the courts have been "a cruel joke" for decades according to international monitor Human Rights Watch. Political activists receive life sentences as shady dealings go unaccounted for, and the country continues to be one of the most corrupt in the world.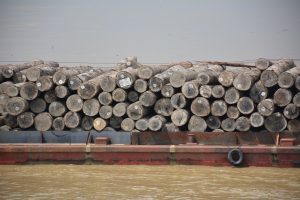 While Chinese demand has led to rosewood varieties facing commercial extinction, the Burmese legal system has allowed it to do so through both its laws and lopsided law enforcement. It is a sad fact that the timber trade with China has contributed little to broad-based economic growth or a value-added downstream economy. Most timber is traded illegally, even though both countries signed agreements to strictly regulate export markets in 2006 and 2014. Up to $6 billion in potential tax was lost between 2013 and 2014 alone.
It is a pattern replicated across other industries from the jade trade to oil extraction. Burma has continued to hemorrhage valuable natural resources for the benefit of very few. These are the business elite, a group well connected to the departing military-backed government and with a distinctive mindset according to human rights organisation Displacement Solutions: "Control over land rights and the accrual of wealth from land is something to be exercised [by the elite]… with little regard for the rights of the rural and urban poor."
Burma may be resource rich, said Woods, "but it's resource rich in terms of what it has up for sale." While the elite have profiteered, the Burmese people have been left with some of the worst social indicators in the world and a civil war that is still ongoing. Public expenditure on health and education remains amongst some of the lowest globally, while millions of people have been displaced due to ethnic conflicts.
Just what the rules will be for these business cronies under a new National League for Democracy-majority government remains to be seen. In its election manifesto, Aung San Suu Kyi's party promised that if voted into power it would take "effective action as necessary to establish a society free of corruption." According to Woods, navigating the path to reform will be difficult.
"In order to overhaul the crony capitalism economy that pervades the country, a political and economic revolution of sorts will be needed. The foundation must be good governance with strong social and economic institutions in place, backed by political will," Woods said.
[related]
Creating good governance will require significant legislative changes but how likely that is remains to be seen. The balance of power remains tilted to the armed forces with its many crony connections. Crucially, the military will be able to appoint the Minister of Home Affairs who will preside over the General Administration Department, which essentially controls the entire administration from the village level up.
So far, Suu Kyi has remained quiet on specific plans to regulate companies and the management of natural resources. What we do know is that land privatised under the previous ruling administration looks likely to remain private. The source of much contention in recent years, Suu Kyi's party has instead pledged to "identify fallow, vacant and virgin lands that are suitable for agriculture, and distribute these lands to landless people, providing them with legal ownership rights."
It will undoubtedly be difficult for the incoming NLD-led government to reconcile the interests of the Burmese population with those of the military and the business elite who are so powerful and well entrenched. Hopes are high from all quarters, including Woods.
He concluded: "The NLD should be as brave as they have been in gaining political prominence as in launching their progressive economic platform that is to help the country's poor while trying to protect the country's natural resources and farmlands."