FROM THE DVB NEWSROOM
Local aid workers detained in Rakhine State
Eight aid workers involved in Cyclone Mocha relief efforts were detained at a Burma Army checkpoint in Mrauk-U on June 2. All were released, except for the team leader. They made alleged comments that the regime was not providing effective assistance and were relying on public donations for humanitarian aid. "They were arrested on the way back from donating goods," said a Mrauk-U resident. Rakhine nationalist Wai Hin Aung was detained last month in Sittwe along with four aid workers. He was released soon afterwards with only two of the four aid workers. The two others are facing prosecution.
India protest against 'illegal immigrants' from Burma
A protest in New Delhi on June 4 called for Manipur State authorities to take action against "illegal immigrants" from Burma, NDTV reported. A protest organizer said it was against "divisive forces and external aggression" in Manipur State. Violence between ethnic Meitei and Kukis has killed at least 98 people last month. "The illegal migrants from Myanmar are responsible for the unrest and violence faced by Manipur. They indulge in poppy cultivation that has also added to deforestation on the hills," said a medical student. Manipur State has seen an influx of migrants and refugees from Chin State since the 2021 military coup. The Kuki of India and Chin of Burma are kindred. Collectively, they're known as Zo people.
Russia repurchasing military equipment from Burma
Russia repurchased components of tanks and missiles that were previously exported to Burma and India, Nikkei Asia reported. UralVagonZavod, a machine company that builds tanks for the Russian army, bought $24 million USD worth of military products from the Burma Army on Dec. 9, 2022. The components repurchased included 6,775 sighting scopes and 200 cameras to be installed on tanks. UralVagonZavod had previously exported military equipment to the Burma Army in 2019. Russia has been sanctioned by western countries following its 2022 invasion of Ukraine.
News by Region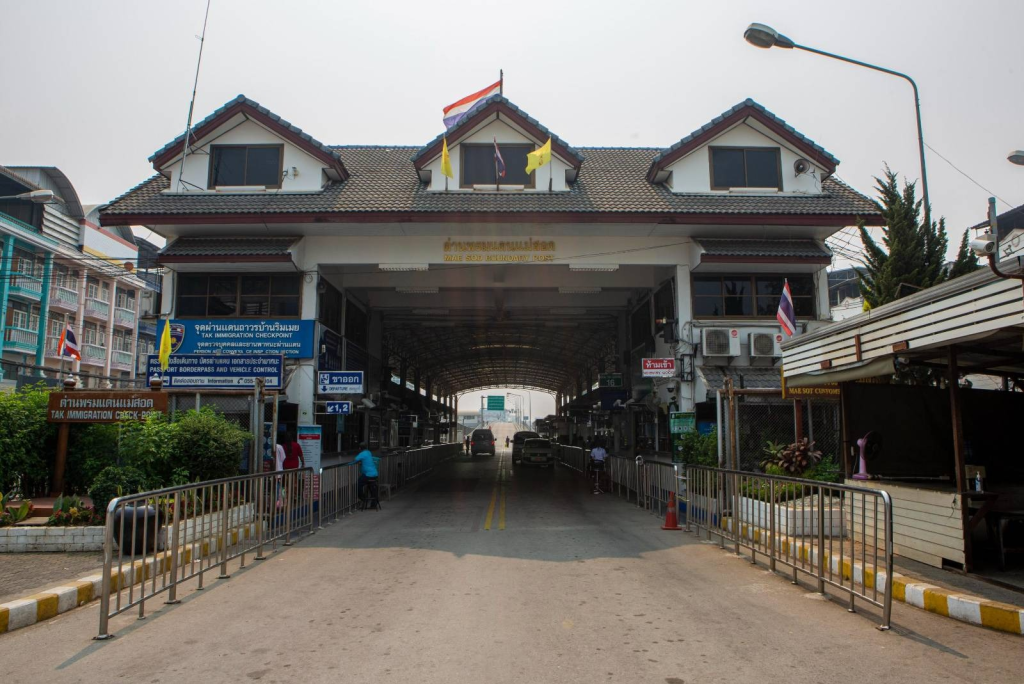 KAREN—The Karen Border Guard Forces (BGF) threatened to close the Thai-Myanmar Friendship Bridges that connect the border towns of Myawaddy and Mae Sot, The Nation reported. The threats come after Thailand's Provincial Electricity Authority (PEA) announced it would cut electricity to Shwe Kokko and Lay Kay Kaw in Karen State at the behest of Naypyidaw. Shwe Kokko is an alleged crime hub of casinos, cyber scams, and human trafficking. It is controlled by the regime-backed BGF. Beijing has called on Naypyidaw to rein in criminal networks that operate near the China and Thai borders.
KACHIN—Eviction notices have been issued to railway staff living in a housing compound in Myitkyina. The railway staff have been participating in the Civil Disobedience Movement (CDM). They have been instructed to vacate the premises by June 15. "There are individuals facing hardship who have been residing in staff housing. Around 30 [will] be evicted, posing significant challenges for us," a CDM worker said.
RAKHINE—Students and teachers were forced to return to school on June 1 without renovations to school buildings damaged by Cyclone Mocha. "Those who cannot attend school due to various reasons have been immediately summoned to the office," an education worker told DVB. The school year began on June 1.
SHAN—One member of the Myanmar National Democratic Alliance Army (MNDAA) was killed in northern Shan State on June 3. The Burma Army reportedly attacked the MNDAA in Kokang Self-Administered Zone on June 2. "Over 80 members of the [MNDAA] forces positioned themselves near the Kanmain, a Buddhist monastery, and opened fire on the No. 2 police station," a local told SHAN News. Fighting was reported in Hseni Township on June 4. This comes after the Arakan Army (AA), Ta'ang National Liberation Army (TNLA), and MNDAA held talks with the military in Mongla on June 1-2.
YANGON—Songwriter Aung Naing San was arrested in Sanchaung Township and charged with incitement, regime media reported June 4. He allegedly commented on Facebook about the attempted murder of singer Li Li Naing Kyaw. "We used to be friends and had done a lot of work together, but since 2009, we had a falling out because of mutual hatred. It's nothing related to politics," wrote Aung Naing San.
Five people were injured by an explosion at a customs office in Kyauktada Township on June 5. "I have no idea how the explosion could have occurred within the office's premises. Ambulances and military personnel were promptly dispatched to the scene," a resident said. The deputy head of the department was injured along with two staff. Two visitors were also injured.