FROM THE DVB NEWSROOM
Arrested garment factory workers to be prosecuted
Action will be taken against workers arrested at two Yangon factories "for inciting riots." Soldiers arrested two workers from Sun Apparel Myanmar Garment Factory and six from Hosheng Myanmar Garment Co. Ltd. The workers were demanding a daily wage increase of $0.38. "They were followed to the administration office as they had been told to solve the dispute there. They were arrested on the way back [to the factory floor]," said an unnamed Hosheng Myanmar employee. Workers protested June 13 after the dismissal of seven workers who demanded the raise. Sun Apparel Myanmar factory employees also said they demanded a fairer wage. Soldiers arrested three members of Action Labor Rights and accused them of being an illegal group.
NUG calls for improved relations with ethnic nationalities
The National Unity Government's (NUG) Acting President Duwa Lashi La said that the resistance must build trust with ethnic nationalities in order to build the foundation for a federal democratic union. "The transitional constitution that is currently being drafted needs to be compatible with the interim administration councils that have emerged during the revolution. When we prepare the draft, it needs to be a strong political agreement that can guarantee the freedom of the people and the needs of all ethnic groups," said Duwa Lashi La at a virtual cabinet meeting held on June 27. Resistance groups across the country have established local administrations since the 2021 coup, including Karenni State's Interim Executive Council (IEC).
News by Region
KARENNI—The Burma Army recaptured two border outposts that it lost in Mese Township on June 17 and 27, regime media reported. The outpost in Pantain was recaptured on June 17 and the outpost in Sukpaing on June 27. The Burma Army suffered an undisclosed number of casualties during the battle. It acknowledged that its Border Guard Force (BGF) based in Mese Township, the Karenni National People's Liberation Front (KNPLF), joined the resistance.
MON—An officer from the communication corps of the New Mon State Party (NMSP) in Ye Township was shot in Kalauk Gyi village on June 28. He is now at Mawlamyine Hospital. No group has yet claimed responsibility for the attack.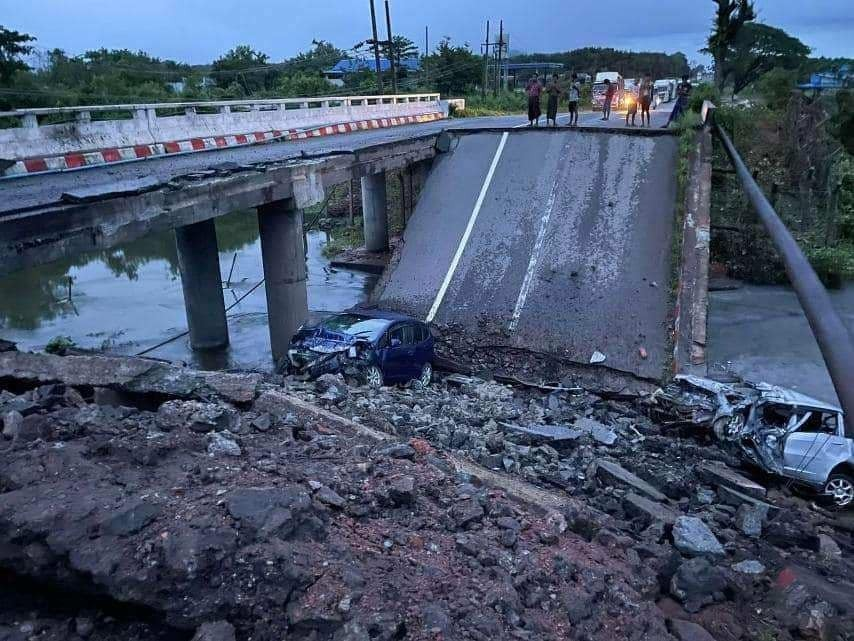 One person was killed and another was injured by an explosion on a Yangon-Mawlamyine Highway bridge June 29. "A driver was killed and another injured when the bridge was destroyed. Administration groups that came with police officers to check on the bridge were also shot at," said an unnamed township resident. No group has claimed responsibility.
RAKHINE—Some Internally Displaced Persons (IDP) staying in camps have been moved to higher ground due to flooding. "The tide from the creek has risen because of the rain. Fifty houses on lower grounds are flooded and do not even have space to cook. All of the rooms are flooded," said a woman staying in Zaydi Pyin IDP camp in Rathedaung Township. Nyaung Chaung in Kyauktaw Township, Tain Nyo in Mrauk-U Township, and Rat Chaung IDP camp in Myebon Township, are all facing the same situation. The Department of Meteorology and Hydrology predicted that heavy rains and flooding may occur across the country due to the monsoon season. The U.N. Office for the Coordination of Humanitarian Affairs (UNOCHA) states there are more than 70,000 IDPs in Rakhine State, and in Chin State's Paletwa Township, who are living in IDP camps.
SAGAING—More than 8,000 people in eastern Shwebo Township have fled their homes and shops June 26-29 in anticipation of the arrival of Burma Army troops on the Shwebo-Myitkyina Road.
Read our latest op-ed Innovative fundraising and old school repression on Myanmar's digital frontline by Zach Abuza.