FROM THE DVB NEWSROOM
Aung San Suu Kyi denied outside medical care
Jailed State Counsellor Aung San Suu Kyi is reportedly ill and her request for an outside doctor was denied. "She was suffering swelling in her gums and could not eat well and is feeling light-headed along with vomiting," a source told Reuters on the condition of anonymity.
The National Unity Government (NUG) spokesperson Kyaw Zaw called on the international community to pressure the military regime to provide adequate health care to Aung San Suu Kyi and all political prisoners. Aung San Suu Kyi, 78, had her 33-year sentence reduced to 27 years on Aug. 1. She was detained on Feb. 1, 2021 during the military coup along with President Win Myint.
Malaysia calls for stronger action at ASEAN Summit
Malaysian Foreign Minister Zambry Abdul Kadir called for stronger measures against Naypyidaw during the Association of Southeast Asian Nations (ASEAN) summit in Indonesia. "Malaysia and other member countries gave their views that we cannot allow this to continue without strong and effective measures imposed on the junta," he said.
ASEAN members are meeting in Jakarta from Sept. 4-7. Violence in Burma has increased since the military regime agreed to the ASEAN Five-Point Consensus in April 2021. Indonesia is the current chair of ASEAN.
Burma nationals arrested for illegal entry to Malaysia
Thirty-six people, including 16 Burma nationals, were arrested in Kuala Lumpur for entering Malaysia without proper documentation on Sept. 4. Authorities inspected the bus the group was traveling in from Thailand.
Twenty Bangladesh nationals were among those detained under the Malaysian Immigration Act. Each reportedly paid a broker 10,000 MYR ($2,145.69 USD). They are being held at an immigration detention center.
News by Region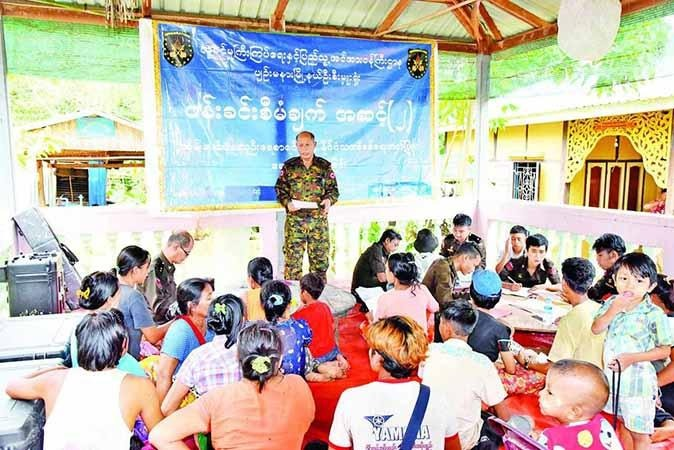 NAYPYIDAW—Residents are worried about violence after regime officials held meetings in at least two villages of Pyinmana Township on Sept. 3. "They portrayed the NUG and the PDF [People's Defense Force] in a negative light, instilling fear of potential conflicts among locals," said a resident.
Meetings with local militias reportedly took place on Aug. 28 and Sept. 1. A retired police chief and two militiamen were killed in Pyinmana Township on July 29.
AYEYARWADY—Police told the family of Aung Myint Soe, the National League for Democracy (NLD) party ward chair in Athoke Town, Yekyi Township, that he died on Sept. 3. Aung Myint Soe was arrested with nine others after a failed bomb attack on police officers at a tea shop on Aug. 30. "They tortured and killed him," said a relative of Aung Myint Soe. Locals report that the other 9 arrested are unable to see their families.
KACHIN—Former journalist Than Tun Aung was shot and killed on his motorbike in Mohnyin town on Sept. 4. "He was killed instantly by the gunfire," said a witness.
"During the anti-coup protests, he was known to have argued with protestors [while] taking photographs," a local told DVB. "He had received warnings from the PDF," said another local. No group has claimed responsibility for his murder.
ARAKAN (RAKHINE)—The Burma Army deployed more than 70 military personnel on Crow island in Maungdaw Township on Sept. 3. "There are rumors that the military is providing training to the Arakan Rohingya Salvation Army," said a resident.
Crow island is located near the Bangladesh border and has more than 50 shrimp farms operated by Rohingya. "The shrimp can be exported to Bangladesh. So, Rohingya businessmen from Maungdaw approached the authorities to get the lease. Now, there are drug businesses," said a political expert living in Maungdaw Township.
MANDALAY—A Burma Army officer was killed and three were injured after a bomb detonated in Nyaung-U Township on Sept. 4. The explosion occurred during a football match organized by the regime.
SAGAING—A resistance group called Indaw Revolution states that the Indaw Township court handed out life sentences to two people under the Counter-Terrorism Law and sedition on Sept. 2. Two others received seven-year sentences under only the Counter-Terrorism Law. "Two of them are from Indaw Township. The rest are not from Sagaing," said a spokesperson. The four were arrested in July 2023.