FROM THE DVB NEWSROOM
Aung San Suu Kyi's special appeal hearing postponed
The Supreme Court postponed the hearing for State Counsellor Aung San Suu Kyi's special appeal that was scheduled for Aug. 8. "The court announced the delay on Aug. 7, but it didn't specify the reason why or give the exact date of the future hearing," said an unnamed source close to the court. This special appeal is focusing on Aung San Suu Kyi's corruption convictions. She was arrested during the military coup on Feb. 1, 2021 and sentenced to 33 years in prison. Aung San Suu Kyi received a partial pardon from the military on Aug. 1. This reduced her prison sentence from 33 to 27 years. DVB is waiting for more information to determine if President Win Myint's special appeal will also be delayed by the court. His prison sentence was reduced from 12 to eight years on Aug. 1.
Singapore bank to restrict transactions to Burmese accounts
Singapore's United Overseas Bank (UOB) stated in a confidential note last week that it will restrict all incoming and outgoing payments to and from Burmese account holders, Nikkei Asia reported. It will also impose curbs on Visa card and Mastercard transactions by Burma nationals. The restrictions will take effect on Sept. 1 and will impact transactions in all currencies. UOB is frequently used by members of the military regime as well as prominent businesses and wealthy Burmese. The bank told Myanmar Airways International (MAI) last month that it will close all of the airline's accounts by mid-August. Banking experts expect other Singapore banks to take similar steps against Burmese account holders.
At least two Rohingya killed after boat sinks at sea
The bodies of two Rohingya have been recovered, while 45 others remain missing, following the sinking of a boat in Sittwe Township, regime media reported. The 55 Rohingya left Rathedaung Township on Aug. 6. "They were en route to Malaysia when a powerful wave engulfed their boat, causing it to sink. The remains of two women were recovered, but the fate of the other 45 remains unknown," said a local administrator. Eight survivors were apprehended and are currently being held at Sittwe City No. 1 Police Station. At least 189 Rohingya have been arrested outside of Rakhine State this year alone, according to the regime. Nearly 800 Rohingya arrested in 2022 received prison sentences. They are being prosecuted under the immigration law.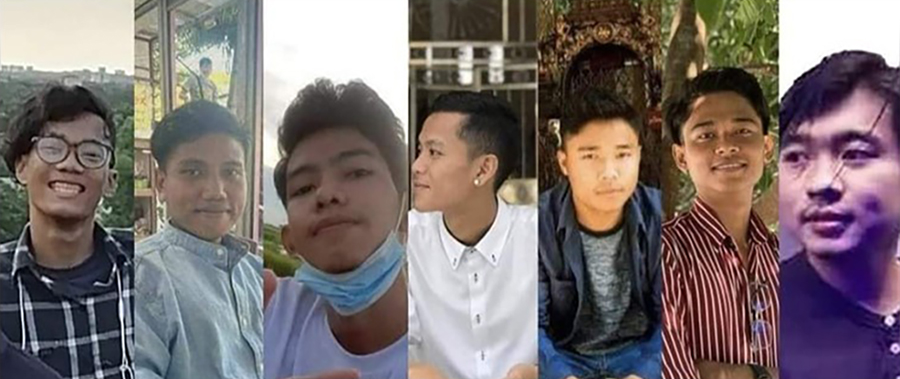 Students' death sentences commuted to life
The death sentence for seven university students was commuted to life in prison, states the Dagon University Students' Union (DUSU). A military court at Insein Prison sentenced the seven to death in November 2022 for murdering an ex-Burma Army serviceman who was the Global Treasure Bank manager in South Dagon Township. "We found out about this on Aug. 5 despite the order being made on Aug. 1. Three of them are detained in Insein prison while the rest were transferred to Thayarwady Prison," said an unnamed DUSU spokesperson. Several death sentences were commuted to life imprisonment by the regime on Aug. 1.
News by Region
KARENNI—The Interim Executive Council of Karenni State (IEC) stated on Aug. 6 that it has formed seven departments to manage security, finances, and social services. A total of twelve departments will be formed. It stated that it is establishing a legal and administrative system under the guidelines of the IEC. The departments will work with experts, donors, and resistance groups, including the National Unity Government (NUG). Karenni officials established the IEC on June 6, 2023.
SHAN—Five civilians were killed and nine others were injured by the Burma Army in Muse and Kutkai townships since the end of July, the Shan Human Rights Foundation (SHRF) stated on Aug. 8. The Burma Army has been fighting with the Kachin Independence Army (KIA) and Ta'ang National Liberation Army (TNLA) in the two townships. Two Burma Army soldiers raided a house in Sutlon village on July 30 and allegedly raped a woman while holding her husband and children captive. The Burma Army killed three civilians on July 26 and reportedly disguised the bodies as TNLA soldiers. A man was killed and his wife was injured during an airstrike on Sai Khaung village on July 25. The Burma Army arrested two young men in Tima village and killed them during interrogation, according to witnesses.
RAKHINE—Around 8,000 residents have been evacuated after heavy rainfall caused flooding in much of Rakhine State and Chin State's Paletwa Township. The rains have flooded streets and destroyed some bridges. "Rainforest streams swelled with water, and the combination of runoff from mountains and saturated ground caused bridges to be carried away by the rising waters," said an evacuated resident.
NAYPYIDAW—More than 5,000 civil servants, including military personnel, attended the opening ceremony of the Maravijaya Buddha in Naypyidaw on Aug. 8, according to sources close to the regime. Nearly 4,000 monks also visited the Buddha statue in Dekkhinathiri Township. The statue was made from 5,292 tonnes of marble stone dug from Sagyin village, Madaya Township in Mandalay Region in 2019. It was finished in March 2023 and opened to the public on Aug. 1.
Read our latest story: UN accuses military of committing 'frequent and brazen' war crimes.
Listen to our latest interview with Chris Gunness, director of Myanmar Accountability Project (MAP). DVB English is available wherever you listen to podcasts.