FROM THE DVB NEWSROOM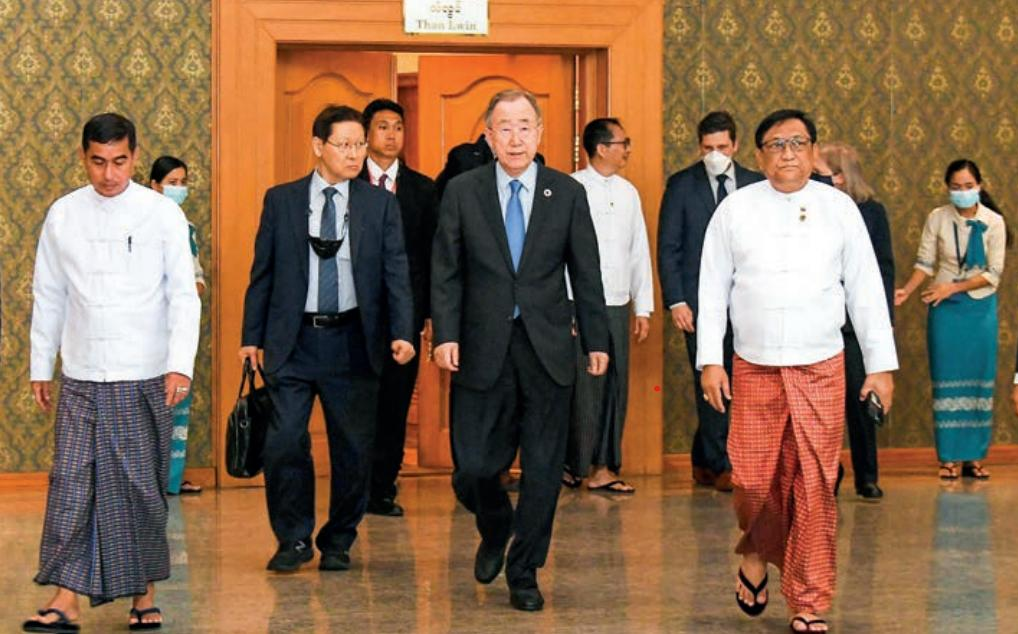 Ban Ki-Moon visits Naypyidaw
A delegation led by former U.N. Secretary General Ban Ki-Moon arrived in Naypyidaw to reportedly meet with Min Aung Hlaing on April 24. The visit is on behalf of The Elders, a group of statesmen advocating for global peace, justice and human rights. Regime media broadcast footage of Ban Ki-Moon's arrival. The visit comes one day before the Track 1.5 Dialogue in India to discuss the crisis in Burma. Regime officials and ministers from China, Thailand, Laos, Bangladesh, Cambodia, and Indonesia are expected to be in attendance.
Gifts for artists to attend Academy Awards
Gold brooches will be given to artists that attend the Academy Awards ceremony on May 6, stated the Myanmar Film Association. "They might give incentives, but the people who participate are not real artists," said an artist who recently fled Burma to Thailand. Anti-coup activists have called for a boycott of the event.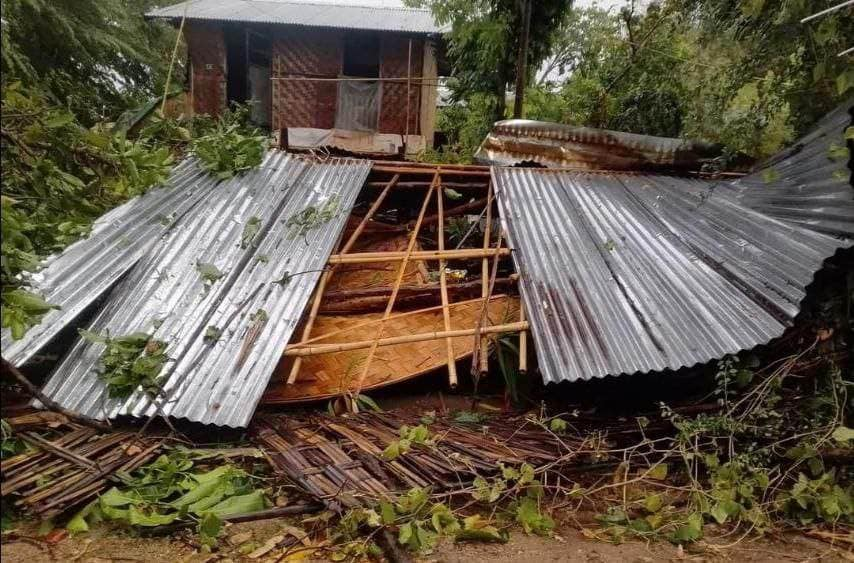 Storms leave path of destruction
Six civilians have been killed and 109 have been injured in storms across Burma from April 21-23. At least 1,235 homes were destroyed across the country, including in Naypyidaw's Lewi Township, Magway's Salin and Natmauk townships, Ayeyarwaddy's Danubyu Township, and Bago's Shwedaung Township. Regime media reported that victims are receiving assistance from Naypyidaw.
News by Region
KAREN—The shelters of 800 displaced persons (IDPs) living in the Palawtapost IDP camp near the Moei River were destroyed on April 23. "There was a very strong storm. We need materials to repair the tents. There are a lot of people at the camp, so food is also needed," a local aid worker told DVB.
KACHIN—Two men were killed in front of a restaurant where Burma Army troops are stationed in Hpakant Township on April 24. "I found out that two men were killed. I do not know why," a local told DVB.
SAGAING—Two were killed and five were injured in Kalay Township on April 21. "Three shells landed in the village. The injured are being treated at a hospital," a resident told DVB.
Residents in six villages of Tigyaing Township were forced to flee their homes during airstrikes on April 24. The Burma Army has been suffering losses on the battlefield since April 21, the People's Defense Forces (PDF) claimed. "There are currently no casualties. The battle on the ground is still tense," a PDF spokesperson said.
YANGON—The Insein Township Criminal Investigation Department (CID) office was attacked on April 23. "The explosions were very loud," a local told DVB. "The main target of the attack was the enemy junta's troops," said a spokesperson for a local resistance group.
Factories and workshops are ordered not to use electricity between 5 p.m. to 5 a.m, stated a Yangon Electricity Department directive on April 23. It claimed that two electricity poles were destroyed. It did not specify when the restrictions would be lifted.
Six members of the Kayan PDF were arrested in Kayan Township on April 22, a spokesperson told DVB. "We had warned the rest of our members to hide," the spokesperson added.
TANINTHARYI—Nearly 100 people from a village in Thayetchaung Township were arrested on April 23. "The Burma military also fired five shots while they chased the villagers," a local told DVB. Locals have been detained at the village's monastery. Elders and children have been released, locals stated.
Two passengers were killed by a car bomb in Myeik Township on April 23. "The front part of the car is completely destroyed," a local told DVB. The victims were Win Swe and Daw Maykabyar. "Maykabyar had relations with the junta and participated in the construction of Thingyan pavilions," said another local. Myeik PDF denied responsibility and vowed to identify the culprits.
Professional filmmakers join the DVB Short Documentary Contest 2023. Pitch your most creative short doc idea. Deadline: May 15. Email: [email protected] for more info.