FROM THE DVB NEWSROOM
Biometric data collected for 'e-ID' system
The biometric data of citizens, permanent residents, and tax paying foreigners residing in the country, is being collected in order to establish an electronic identification (e-ID) system, regime media reported. Fingerprints, facial features, iris patterns, blood type, names, and other personal information are among the data that regime authorities will collect. All residents of Burma aged 10 years and above will get a 10-digit ID number under the scheme.
The regime claims that it has already obtained biometric data from over seven million people. It also alleged that the e-ID system will allow people to apply for education, SIM registration, drivers licenses, passports, banking and other financial services. Activists have expressed concern that the regime intends to use the biometric data to increase surveillance.
Brokers defraud Burmese migrants in Thailand
Two brokers stole over 200,000 THB ($5,690 USD) from fifty-six Burmese migrant workers in Chonburi province, Thailand. The Burmese brokers lured the migrants to Thailand with the promise of jobs. "One of the brokers has returned half of the embezzled money, but the whereabouts of the other broker remains unknown.
The police apprehended another individual linked to this incident on fraud charges," said Ye Min, spokesperson for the labor rights organization Aid Alliance Committee. Ye Min urged migrant workers to exercise caution when dealing with brokers. Labor rights groups estimate that hundreds of thousands of undocumented migrants remain unemployed upon arrival in Thailand.
Imported medication costs surge due to inflation
The cost of imported medications has surged, leading some companies to suspend sales. By Aug. 25, the exchange rate had soared to over K3,700 per $1 USD. "The scarcity of medicine and the ensuing price surges have led to significant price hikes. Certain medications that once cost K2,000 have experienced more than a twofold increase, now fetching prices up to K6,000," said a business operator in Yangon.
"My aunt used to spend K100,000 per month on medicine. Now it has increased from more than 200,000 to 300,000. It is more than two times higher," said a local. The increase in medicine prices has made it harder for low-income people to receive treatment for diabetes, dialysis, and heart disease.
News by Region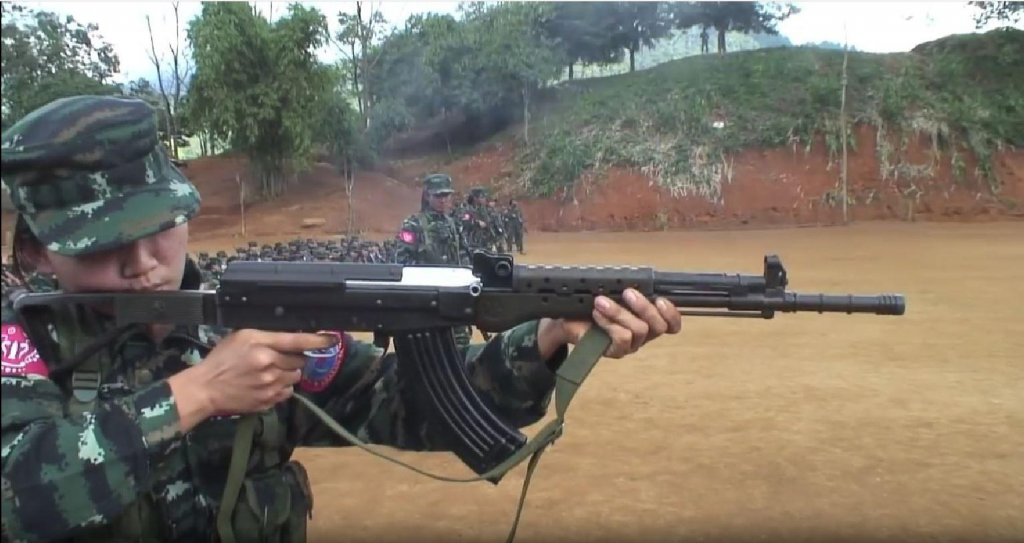 ARAKAN (RAKHINE)—The Burma Army is providing arms to the Arakan Rohingya Salvation Army (ARSA) in Buthidaung and Maungdaw townships, Western News reported. "They are providing these weapons to ARSA to fight against the Arakan Army," an unnamed source told Western News.
A source close to the Arakan Army (AA) said that ARSA members moved to Burma Army positions after fighting in Buthidaung Township in July. Khaing Thukha, the AA spokesperson, claimed that the ARSA has expanded its presence in cooperation with the Burma Army. An ARSA attack on police in northern Arakan in 2017 led the Burma Army to launch "clearance operations" against the Rohingya that killed 10,000 and forced over 700,00 into Bangladesh.
TANINTHARYI—Ten staff members from Dawei Prison were jailed for selling drugs inside the prison on Aug. 21. "There are no charges against them. The authorities imprisoned them. If they are prosecuted in accordance with law, they might receive more prison time," said a source close to the prison.
The sentences came after the Burma Army inspected the prison on July 11. Three prisoners who used drugs were given 2.5 years of additional jail time. Narcotics were seized at the home of the deputy warden at Dawei Prison on Aug. 14.
SAGAING—Four locals were killed in a Burma Army raid on a village in Wetlet Township on Aug. 26. Among them were three men and a woman who had been sexually assaulted before being killed. "The woman had been both raped and killed during the incident. In addition, the perpetrators reportedly seized more than K150,000 from locals," stated a spokesperson from the Wetlet Informational Network. The four victims had sought refuge in the monastery when the Burma Army arrived.
YANGON—People with HIV in Yangon have been facing difficulties obtaining antiretroviral therapy (ART) drugs since the coup. "The access to ART drugs in Yangon has been very limited lately. Some places even only offered ten tablets at a time. The number of people who are infected with HIV is increasing," stated a clinic providing HIV/AIDS treatment in Yangon.
Around 150-200 people are visiting HIV/AIDS treatment centers in Yangon daily and receiving laboratory services for tuberculosis (TB), HIV and other sexually transmitted diseases (STDs). Many people with HIV have faced difficulties in obtaining ART drugs since the 2021 military coup.