FROM THE DVB NEWSROOM
Brotherhood Alliance calls on military forces to surrender
The Brotherhood Alliance called on all pro-military forces to surrender or defect to its side on Nov. 1. The Myanmar National Democratic Alliance Army (MNDAA), the Arakan Army (AA), and Ta'ang National Liberation Army (TNLA) claimed that around 100 Burma Army troops, including 15 members of the pro-military Kunlong militia, had surrendered or defected since Operation 1027 began on Oct. 27.
"We strongly encourage Myanmar Army members affiliated with the [military regime] SAC [State Administration Council] to promptly surrender their weapons from military positions or reach out to us after being defeated," stated the Brotherhood Alliance.
The National Unity Government (NUG) Acting President Duwa Lashi La called on all pro-military forces to immediately follow the Brotherhood Alliance directive and cease fighting. "I urge troops, militias and [pro-military] pyusawhtee who have a spirit of love for their country to defect or immediately surrender and join the ethnic resistance groups and People's Defense Force," said Duwa Lashi La.
KIA threatened after another outpost seized
Regime media reported on Nov. 1 that it has "run out of patience" with the Kachin Independence Army (KIA/KIO). The KIA seized the Gundauyang hilltop military outpost, located on the Myitkyina-Bhamo highway in Waingmaw Township, on Oct. 31. Regime media added that the outpost was attacked by the KIA forces and many of its soldiers were killed.
The military claimed that it had warned the KIA not to carry out attacks on the Myitkyina-Bhamo highway twice since Oct. 6. "If there are any further acts of violence against the public, the necessary response will be taken," regime media reported. Airstrikes have been carried out on KIA weapons depots, ammunition production and storage facilities.
Rohingya repatriation discussions ongoing in Bangladesh
A regime delegation traveled to Teknaf, Bangladesh on Oct. 31 to discuss the repatriation of Rohingya refugees. Teknaf is located near the Bangladesh-Burma border. "We are mainly going to meet with families who are listed as wanting to return to Burma. We are going to discuss arrangements for their return in detail with officials from Bangladesh. We are prepared to receive up to 2,800 refugees this coming season," an unnamed regime official in charge of refugee resettlement told DVB.
The regime official told the meeting that the 2,800 Rohingya would be resettled in 15 villages located in northern Maungdaw Township. Regime officials from Arakan State and the Bangladeshi consulate in Sittwe attended the meeting. Nearly one million Rohingya have fled to Bangladesh to escape persecution and genocide in Burma. 
News by Region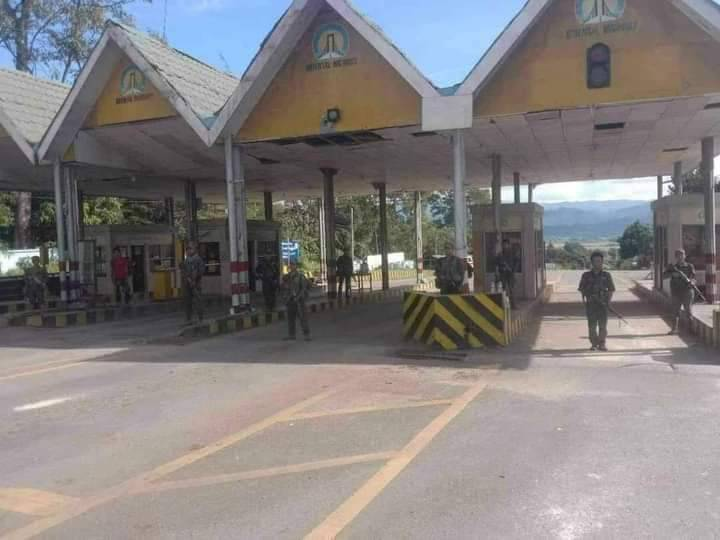 SHAN—A Shan student union member claimed that four civilians in Hsenwi have been killed and 10,000 are currently trapped on the other side of a bridge that was destroyed in the fighting between the Burma Army and the Brotherhood Alliance on Oct. 30.
"People from the villages between the Yepu inspection gate and the destroyed bridge are stuck. Their villages are very close to regime forces," said a Hsenwi resident. Mytel has been the only mobile phone service available since Oct. 27. More than 2,000 civilians displaced from their homes are sheltering in a monastery.
KAREN—Twelve civilians were killed and seven others were injured by artillery in fighting between the Burma Army and the Karen National Liberation Army (KNLA) in Kawkareik since Oct. 27.
"Nine civilians were killed on the first day and three others from Tadau ward killed on the second day after the artillery shells dropped over two wards," said a Kawkareik resident. Thirty-four Burma Army troops were killed and 11 KNLA were injured. Fighting halted on Oct. 29.
SAGAING—The Depayin People's Defense Force (PDF) claimed that eight people were killed and decapitated in Depayin Township. A Burma Army offensive took place in villages located in the western part of the township from Oct. 18-28.
The bodies were recovered after the Burma Army withdrew. The eight victims were all men. Two remain unidentified. "This is not humane. They were brutally killed. Since some family members of the victims have fled, they are not yet aware of the deaths," a Depayin Township resident told DVB.
TANINTHARYI—An unnamed anti-coup resistance group claimed on Oct. 30 that it had killed two Dawei prison staff after it attacked a vehicle carrying five prisoners on Ye-Dawei highway Sept. 30. The two were reportedly killed on Oct. 1.
"The two prison staff were loyal to the military and treated political prisoners horribly. We have also received many complaints about them," said the unnamed group's spokesperson. The five prisoners were released and sent across the border into Thailand.