FROM THE DVB NEWSROOM
Burma national among victims of Bangkok mall shooting
Two were killed and five others were injured in a shooting at the Siam Paragon shopping mall in Bangkok, Thailand on Oct. 3. One of the two murdered by the unnamed 14-year-old assailant was Moe Myint, 31, a Burma national who worked as a sales assistant in the mall.
Moe Myint sent 10,000 THB ($269 USD) to her parents in Burma every month, her employer told Thai media. The company expressed its condolences to Moe Myint's family and said it will provide compensation to them. The Thai government expressed its condolences to the victims' families.
NUG claims it provided $15.7 million to PDF
The National Unity Government (NUG) stated on Oct. 3 that it has provided approximately $15.7 million USD to the People's Defense Forces (PDF) since Sept. 7, 2021. It claimed that $13.5 million USD of the funds came from groups that provide monthly donations intended for the PDF.
The NUG stated that there are 293 PDF battalions across the country and 68 local resistance groups have applied to become official battalions. It claimed that around 30,000 Burma Army personnel have been killed in clashes with resistance forces since 2021. These figures could not be independently verified by DVB.
Indonesian state firms accused of selling weapons to Naypyidaw
Human rights organizations filed a complaint with the Indonesian Human Rights Commission on Oct. 2 alleging that Indonesian state-owned companies sold arms to the military regime. The Chin Human Rights Organization (CHRO), Myanmar Accountability Project (MAP), and former Indonesian Attorney General Marzuki Darusman filed the complaint.
PT Pindad, PT PAL and PT Dirgantara Indonesia are alleged to have sold military equipment to Naypyidaw after the 2021 military coup. A MAP investigation found that the arms were sold to the company True North, which acted as an intermediary for the regime. "Our investigation has turned up damning evidence that suggests shocking double-standards," said Chris Gunness, the MAP director.
News by Region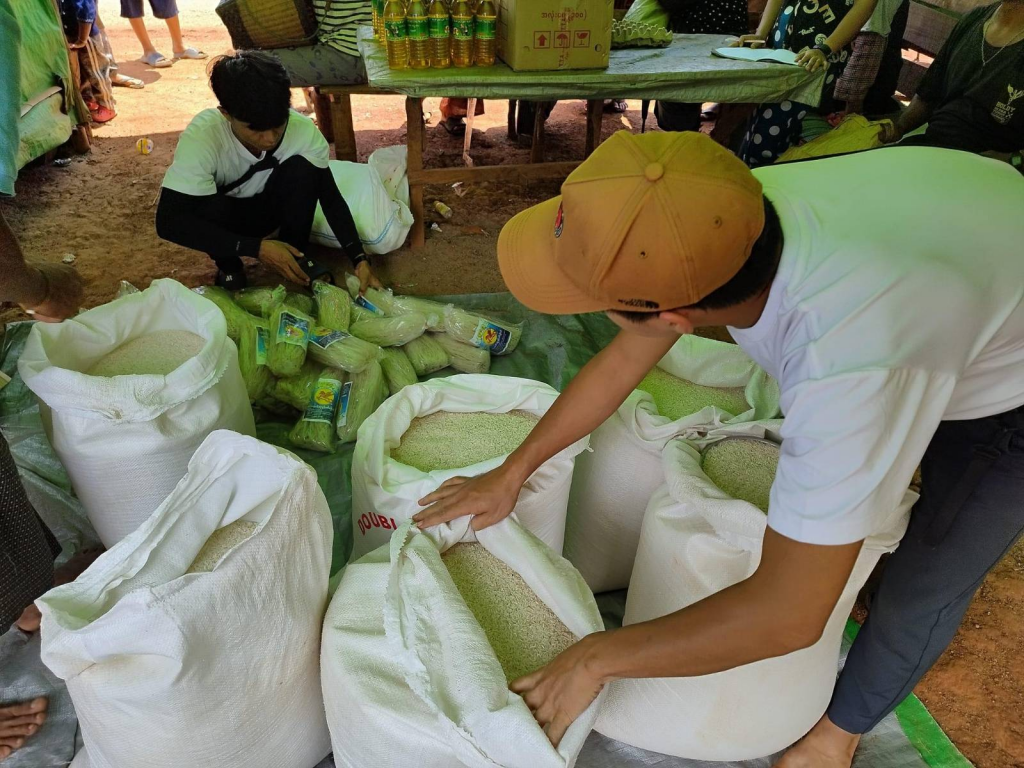 BAGO—At least 10,000 people are now facing hardships due to restrictions imposed by the Burma Army on the transportation of essential goods to Nyaunglebin District, located in the Karen National Union (KNU) Brigade 3 territory. The restrictions have caused commodity prices to rise.
"You can only travel by bicycle now. Three-wheeler vehicles are strictly prohibited from transporting anything. Locals are experiencing challenges due to the current circumstances," a Nyaunglebin resident told DVB.
CHIN—The Chin Defence Force (CDF) Mindat announced on Oct. 3 that it had received $35,000 USD worth of military equipment, including AK-47 rifles, ammunition, and other arms, from the International Mindat K'Cho Organization (IMCO) and two other groups. The CDF was formed after the 2021 coup.
A military court in Hakha sentenced a woman to life imprisonment and two men to seven years in prison each for aiding resistance forces, the Chin World reported. Two were charged under the Counter-Terrorism Law and one under the Public Property Protection Act for allegedly stealing property from Hakha University.
MAGWAY—Political prisoners in Thayet Prison have been tortured and prison officer Kyaw Zeya Soe has allegedly beaten prisoners, according to sources close to the prison.
"He is not doing this because he's been instructed to do so, but rather due to his personal sentiments," said the source. Reports of political prisoners being tortured to death in prisons across Burma have increased since 2021.
MON—Retired general Win Naing was killed in his home in Thaton Township by the PDF on Oct. 3. "We learned that he was a retired general. He had maintained a low-profile and lived quietly," a Thaton resident told DVB. The PDF claimed he was a military informant and helped recruit Burma Army personnel.
NAYPYIDAW—The regime stated on Oct. 3 that its Minister of Hotels and Tourism Thet Thet Khaing met with Chinese tourists with visas on arrival. Indian and Chinese nationals were recently allowed to obtain visas on arrival to boost tourism after COVID-19 and the 2021 coup. It claims more than 600,000 tourists entered the country from January to July this year.
SHAN—Fighting between the Burma Army and Ta'ang National Liberation Army (TNLA) in northeastern Shan State has forced more than 1,000 people to flee into China's Yunnan Province, RFA reported.
The fighting has been taking place in Muse and Kutkai townships since July 23. Regime airstrikes occurred there last month. "We have been fleeing from our homes for two months now," a resident told RFA.
YANGON—The resistance group Urban Owls claimed that it had shot Nyan Lwin Aung in Latha Township on Oct. 2. Regime media reports that he is now in critical condition at a hospital.
Urban Owls stated that Nyan Lwin Aung facilitated the import and installation of facial recognition security cameras for the regime's Ministry of Home Affairs and procured military equipment for the Ministry of Defense abroad. He is also accused of traveling to Russia together with high-ranking regime officials.