FROM THE DVB NEWSROOM
Burma national in Israel doesn't want to return home
Seng Raw Maran is a Burmese migrant worker in Israel. She sat down for an exclusive interview with DVB to discuss how her life in Israel has changed since the Hamas attack on Oct. 7. Her job was put on hold as Israel escalates its war against Hamas in Gaza.
"I have concerns about my livelihood. I can even hear the sound of bombing as we speak, but it is still manageable until an alarm instructs us to seek safety in a room resembling a bomb shelter," she said. Seng Raw Maran told DVB that she would rather stay in Israel than return home to Burma. "I think living in Israel is better," she said.
"For nationals of other countries, they have the chance to return to their homelands without fear when their government rescues them. Returning to Burma amidst its ongoing crisis would likely force us to flee," she added.
UN calls for international support to Rohingya
The U.N. High Commissioner for Refugees (UNHCR) urged the international community to provide support for the Rohingya during a meeting it hosted in Bangkok, Thailand on Oct. 17. 
"Something has got to change here. Otherwise, really, I'm worried about the future of Rohingya refugees and the patience of the host country in hosting them," said Filippo Grandi. He added that the ideal solution would be the voluntary repatriation of Rohingya to Burma.
This is due to the fact that funding for the Rohingya has declined. The meeting was attended by officials from the U.S., Bangladesh, U.K., India, Indonesia, Malaysia, Thailand and Rohingya organizations. Over one million Rohingya have fled Burma to escape persecution and genocide.
ABSDF suspends members for attending NCA
The All Burma Students' Democratic Front (ABSDF) has suspended three of its members, including its vice-chair, for attending the 8th anniversary of the Nationwide Ceasefire Agreement (NCA) in Naypyidaw. The decision was made during an emergency meeting the day after the NCA event on Oct. 16.
"Vice-chair Myo Win, Saw Maung Maung Oo and Min Zaw who attended the ceremony will be suspended from their duties, but they will continue to stay as members," said Sunny, the ABSDF general secretary.
The ABSDF was founded in 1988. It signed the NCA in 2015. The ABSDF, Karen National Union (KNU) and Chin National Front (CNF/CNA) boycotted the NCA event hosted by the military. It considers the document void since the 2021 military coup.
News by Region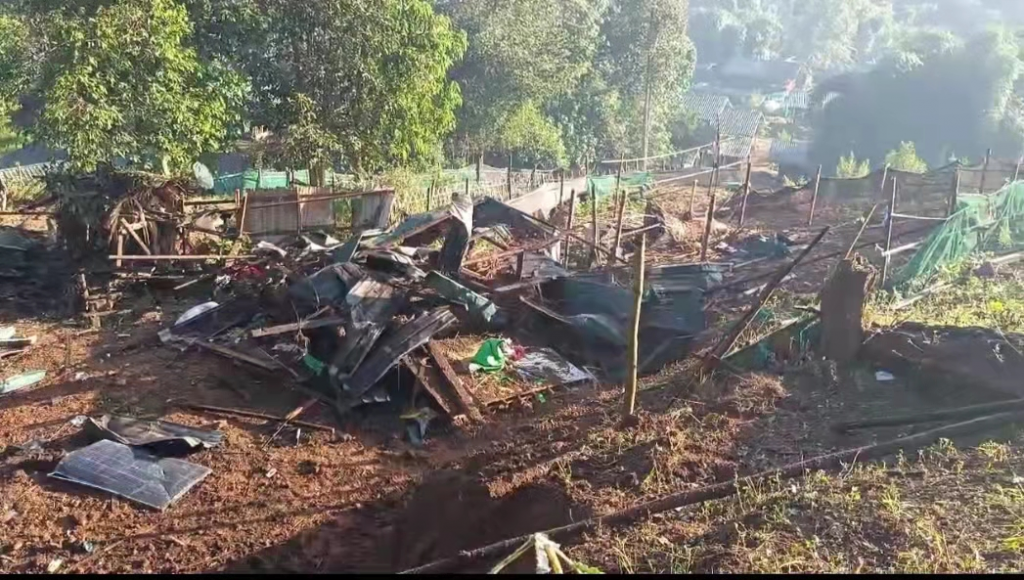 KACHIN—At least two people, including a senior Kachin Independence Army (KIA/KIO) officer, were reportedly killed and one person was injured by airstrikes on A Nang Pa and Kan Si villages in Hpakant Township near the KIA Brigade 9 headquarters on Oct. 16. "That is the number I can confirm. The details of the casualties and damages are still unknown," said an unnamed source close to the KIA.
Kachin media reported that there may have been civilian casualties at A Nang Pa. KIA spokesman Naw Bu stated that targeting civilians is a war crime. An airstrike on the Munglai Hkyet Internally Displaced Persons (IDP) camp killed 29 on Oct. 9.
AYEYARWADY—The military-proxy Union Solidarity and Development Party (USDP) has been paying residents in townships of Maubin district between K10,000-15,000 to attend meetings for its political campaigns since October.
"There were National League for Democracy party supporters amongst the participants. Now, they took the money from the USDP," said a Nyaungdon Township resident. The military is planning to hold an election in 2025, according to a senior USDP official.
BAGO—Two railways between Painzaloak and Nyaunglebin train stations were bombed on Oct. 17. "Both of the railways were destroyed by landmines. The attack occurred despite there being many military personnel guarding the railway," said a source from Myanma Railways. Both routes are on the Yangon-Mandalay line.
CHIN—The Chin Defense Force (CDF) Mindat urged residents to build bomb shelters in preparation for potential attacks as the rainy season comes to an end. "There is no fighting these days, but the Burma Army based in Mindat fired artillery shells toward Circuit 4 and 2 [CDF territory]," said Yaw Man from the Mindat Township People's Administration. Two children were injured and a house was damaged by artillery in October.
MON—The district head of the regime's Department of Fisheries was killed at a tea shop in Ye Township on Oct. 18. "An unidentified gunman with a motorcycle entered the tea shop where he was sitting and fired four gunshots. He was killed on the spot," said a witness.
SHAN—The United Wa State Army (UWSA) announced on Oct. 16 that it dismissed Chen Yanban, the Wa State Minister for Construction, and Xiao Yanquan, a former UWSA brigade leader and the mayor of Moung Neng county in Wa State.
Chinese police issued arrest warrants for the two high-ranking officials. The UWSA claimed that the officers had negatively impacted relations between Wa State and neighboring countries. It handed over more than 1,200 China nationals, arrested on suspicion of being involved in cyber crimes in Wa State, on Sept. 6-7.
(Unofficial rate: $1 USD = K3,340, Official rate: $1 USD = K2,100)