Chinese officials have told a Burmese delegation that the influx of refugees it has taken in from Burma as a result of the Kokang conflict has grown burdensome.
The delegation of the China-Burma Friendship Association – including patron Tin Oo, chairman Sein Win Aung and secretary Myo Aung – visited Yunnan Province from 3 to 8 March. They discussed with officials the relief and resettlement plans for those Burmese refugees taking shelter in the area, and the prevention of similar conflicts from breaking out in the future. The Burmese delegates met with local government authorities in Lincang on 7 March.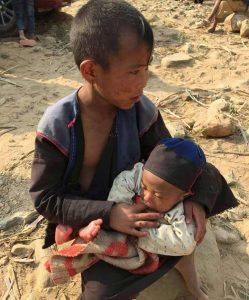 According to Sein Win Aung, Chinese officials reported that around 60,000 refugees had poured into the country since conflict broke out on 9 February between the Burmese army and ethnic militias, headed by the Myanmar Nationalities Democratic Alliance Army.
During a visit to temporary camps for displaced people, delegates met with some of those affected by the violence, according to a report from Burmese state media. Global New Light of Myanmar on Monday reported that: "People who were temporarily sheltered at the boundary pillar number 125 camp have already returned back to their homes", in the first assertion from Burmese authorities that refugees are now returning back to Kokang across the China-Burma border. A Burmese government taskforce is now reportedly situated at the border to assist Chinese officials with relief and resettlement efforts.
Chinese officials during the trip restated their denial of claims that the rebels were operating with China's support.
Of the visit, Sein Win Aung said: "Most importantly, the officials said that China is burdened by the refugee influx and denied providing assistance to the rebels. They emphasised the Chinese investment in sugarcane plantations in Laogai [Laukkai], and called for assistance to harvest them on time," adding that there are an estimated 15,000 refugees in seven relief camps in Yunnan Province.
[related]
Sein Win Aung also said that not all refugees were staying in camps, but that some were being sheltered at the homes of relatives.
"There are a lot of cross-border relations. There are Kachin on the both sides of the border, as with the Shan and Wa [ethnic groups] and so on. When there is conflict on one side, they go to stay with their relatives across the border," he said. "Some homes I saw had around 60 refugees staying in them – about eight people in each room. They were mostly Shan and Kokang."