A confrontation is looming in Mandalay Division; police have formed a roadblock outside the town of Taungtha as student protestors approach.
The students – estimated to number between 400 and 1,000 – have marched from Mandalay en route to Rangoon to protest the National Education Law, which they say prohibits student unions and centralises decision-making in Naypyidaw.
The protestors were reported at 2pm local time to be approaching Taungtha on foot from Myingyan, and were expected to reach the police barriers at the Nan Myint Taung bridge by 3pm.
Around 100 police, armed with riot gear and accompanied by two fire trucks, are manning the roadblock.
Ye Yint Kyaw, a protest leader, spoke to DVB by telephone at midday.
"According to our scouts, the police have fully blocked access to the bridge and are yelling at those who get close to take photos to turn back," he said.
"We will try to negotiate with them to let us through."
He said the protestors have been each handed a bottle of water and a handkerchief as preparation for the possibility of police using tear gas on them.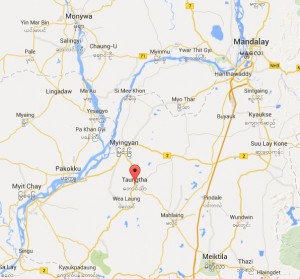 The students were stopped briefly by police the day before in Myingyan.
Earlier on Monday, the students took down the national flag at Myingyan Degree College and hoisted a flag with a fighting peacock on it, a symbol associated with student protests in days gone by.
Meanwhile, student demonstrations against the controversial National Education Law are spreading, with more protestors from Irrawaddy and Magwe divisions joining the march to Rangoon.
On Tuesday, students from Magwe's Pakokku announced a plan to join the protests to show solidarity with those currently marching to the former capital from central Burma's Mandalay and Tenasserim in the south.
Zayar Lwin, a member of the University Students Union in Pakokku, said that the group, along with the All Burma Federation of Student Unions (ABFSU) in central Burma, are planning to begin a march to Rangoon on Wednesday after rallying in the town.
"We plan to hold a rally in front of Pakokku University at 9am on Tuesday and then continue the protest throughout the town. On Wednesday we will march from the Independence Monument to Rangoon," said Zayar Lwin.
The Pakokku group of protestors will be taking a route through Chauk, Yenanchaung and Pegu Division's Prome, officially known as Pyay.
Another group of protestors in Tenasserim Division's Tavoy (officially known as Dawei) were also planning to begin a march to Rangoon.
[related]
"We are assembling students in the town and once we gain some numbers, will begin marching to Rangoon on Thursday," said Min Lwin Oo, a local student leader.
Students in the Irrawaddy Division's Pyapon, Bogale, Maubin, Henzada and Myaungmya towns say they plan to set off by foot to Rangoon on 30 January, said Ye Zarni, an organiser.
"We will begin a march from the town hall in Bassein [Pathein]. We are drawing up a route to Rangoon through populated areas," he said.
"Local farmers have pledged to provide us with security during the march."