Buddhist families who were displaced amid violence in northern Arakan State last month have been given shelter at a monastery in Buthidaung.
Government officials in Buthidaung said temporary shelters have been provided at the Alodawpyae Buddhist Monastery for 36 families – a total of 125 persons – who fled their homes in Maungdaw after a spate of clashes erupted in the town last month between Burmese security forces and armed mobs.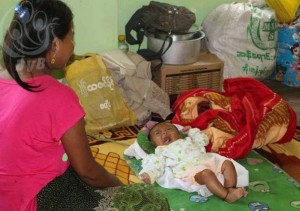 "For the moment, the government is providing them weekly food rations including rice, cooking oil, dry fish, eggs and beans," said Buthidaung township administrator Tin Latt. "We are also distributing private donations from local sympathisers."
He said a makeshift clinic had been set up to provide healthcare to the displaced families, and that police security had been arranged.
"We will help them to return home if and when they are willing, but until the situation is calm we will do our best to support them," he concluded.
Aung Thura Tun, a representative of local NGO Water Donors Association-Buthidaung, said the displaced villagers were in need of warm clothing as the cold season approaches.
"Some of these families do not have enough blankets or warm clothing – they need urgent assistance with that. Also we need to create a space for young women where they can have privacy. We cannot do all this work ourselves – we need assistance from other NGOs."
Sporadic clashes between security forces and armed mobs continued throughout November following coordinated attacks on Maungdaw border police outposts on 9 October.
Media and rescue workers are still restricted from the area.
Meanwhile, a man alleged to have been involved in the ambush of a border police convoy in Maungdaw two weeks ago has been detained, according to the office of the Burma's Commander-in-Chief Snr-Gen Min Aung Hlaing.
The office said that on 12 November, a three-vehicle convoy of the 1st Border Police Battalion based in Kyikanpyin village was transporting civil servants and border police personnel to an outpost in Ngakhuya village when they were ambushed by armed attackers at the bridge crossing outside Maunghnama-South village.
The attackers detonated an IED that they had planted on the bridge as the convoy drove pass, damaging one of the vehicles. No casualties were inflicted.
[related]
Burmese state media said that the man in detention, Mammud Karsi, has admitted to planting the IED along with four other accomplices a day before the attack. He also confessed that he and one other accomplice had triggered the explosive when they saw the convoy passing.
Karsi is now in custody facing charges while the hunt continues for his accomplices. Burmese authorities are working on the assumption that the attackers were Rohingya militants.