Burma's Department of Archaeology, National Museum and Library [sic] has issued a warning to the trustee committee overseeing Htilominlo Temple in Bagan, after it emerged that a local charity group claimed they had been granted permission by the committee to renovate the temple.
Built during the reign of King Htilominlo (1211-31 AD), the historic red-brick temple is one of the main attractions at Bagan Archaeological Zone. Standing 46 metres (151 ft) high, it suffered extensive damage in a 6.8 magnitude earthquake in August.
The Shwepyidaw Hsonemat Charity Association recently erected billboards at the temple site, stating that it was conducting renovation work after getting approval from the trustee committee.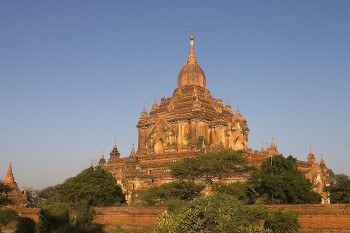 The Department of Archaeology in Bagan subsequently cautioned the trustee committee, saying it had no right to authorise such projects, and that the government was currently engaged in talks with UNESCO regarding renovation plans.
A statement by the government department on 16 November said the temple's trustee committee had given the charity group the green light to repair damage to the temple's crown and external walls. The statement noted that the committee is only a "caretaker" for the historic building but has no authority to authorise such work.
Shwepyidaw Hsonemat secretary Aung Paing Min said the group initially approached the President's Office seeking permission to renovate the temple, but was told to contact officials on the ground.
"We initially wrote a letter to President Htin Kyaw and followed every procedure advised by the officials – we were told to contact local authorities who then relayed us to the pagoda trustee committee. So we followed up with the committee as they suggested," said Aung Paing Min.
[related]
"Now we have been told we have no authority to renovate the temple. That's fine. We are still willing to help – not only at Htilominlo, but at any other temple. Just tell us what to do and we'll do it."
In total, 389 ancient temples were damaged in the earthquake that hit the archaeological zone on 24 August.